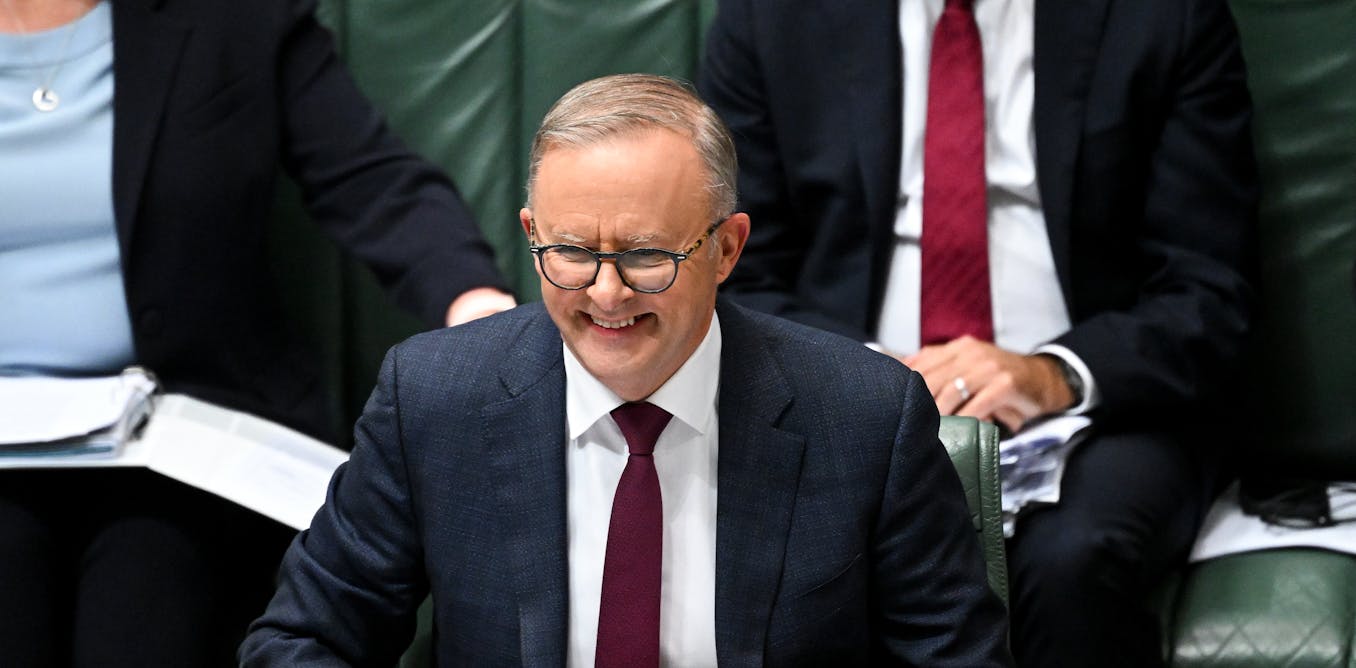 Labor and Albanese gain in Newspoll after Aston byelection triumph
A federal Newspoll, conducted March 29 to April 2 from a sample of 1,500, gave Labor a 55-45 lead, a one-point gain for Labor since the early March Newspoll. Primary votes were 38% Labor (up one), 33% Coalition (down two), 10% Greens (steady), 8% One Nation (up one) and 11% for all Others (steady).
56% were satisfied with Prime Minister Anthony Albanese's performance (up one), and 35% were dissatisfied (down three), for a net approval of +21, up four points. Liberal leader Peter Dutton's net approval dropped two points to -13. Albanese's lead as better PM widened from 54-28 to 58-26. Newspoll figures are from The Poll Bludger.
Analyst Kevin Bonham said this is One Nation's highest vote in a Newspoll since November 2018, and the worst net approval for Dutton. This poll was nearly all conducted before Saturday's Aston byelection.
With almost all votes counted in the Aston byelection, Labor won by a 53.6-46.4 margin, a 6.4% swing to Labor since the 2022 election. Primary votes were 40.9% Labor (up 8.3%), 39.1% Liberals (down 3.9%), 10.1% Greens (down 2.0%) and 7.0% for an independent (new). The UAP (6.1% in 2022) and One Nation (3.1%) did not contest. Turnout is currently 83.9% and will increase a little further.
---


Read more:
Labor wins Aston byelection; NSW election and Trump polling updates


---
This article in The Age has a map showing that the Liberals held seven Melbourne metro seats in 2019 – Goldstein, Higgins, Chisholm, Deakin, Menzies, Kooyong and Aston. At the 2022 election, Labor gained Higgins and Chisholm and teal independents gained Kooyong and Goldstein, and now Labor has gained Aston, leaving the Liberals with just Menzies and Deakin in metro Melbourne.
I wrote before the 2022 election that growing education polarisation, in which those without a university education, particularly in regional areas, are increasingly likely to vote for right-wing parties, while those with a university education vote left, would eventually favour Labor in Australia due to our big cities. The 2022 election and now Aston validate this argument.
---


Read more:
Will a continuing education divide eventually favour Labor electorally due to our big cities?


---
Labor's victory in Aston will give them 78 of the 151 House of Representatives seats, up from 77. It will increase their majority over all other parties from three to five.
Labor also gains in Essential poll
A federal Essential poll, conducted March 29 to April 2 from a sample of 1,133, gave Labor a 53-42 lead in Essential's two party measure that includes undecided, up from 52-43 last fortnight. Primary votes were 33% Labor (down one), 30% Coalition (down one), 14% Greens (steady), 6% One Nation (up one), 2% UAP (steady), 10% for all Others (up one) and 5% undecided (steady).
Albanese has a 52-35 approval rating, down from 53-34 in February. By 71-23, voters thought the federal government can make a lot or a fair amount of difference to the cost of living. By 54-46, they said they were financially struggling over comfortable, a reversal of a 51-49 lead for comfortable last fortnight.
On addressing climate change, 39% (down four since October 2022) said Australia is not doing enough, 33% (up one) said we are doing enough and 16% (up three) said we are doing too much. Since Labor won the May 2022 election, not doing enough has dropped eight points and doing too much has increased five points.
By 35-34, voters were opposed to the Greens' policy of ending all future coal mining and gas extraction projects. By 90-10, they thought the PM should be required to get parliamentary approval before going to war.
Morgan poll: 57-43 to Labor
In last week's federal Morgan poll, Labor led by 57-43, a one-point gain for the Coalition since the previous week. Primary votes were 35.5% Labor, 32% Coalition, 13% Greens and 19.5% for all Others. This poll was taken March 20-26, in the lead-up to the NSW election.
WA Voice poll: Yes leads by 60-40
The Poll Bludger reported on March 30 that a Painted Dog poll for The West Australian had Yes to the Indigenous Voice to parliament leading by 60-40 in WA. This poll was conducted over the weekend of March 25-26 from a sample of 1,052. It used the question wording proposed by Albanese.