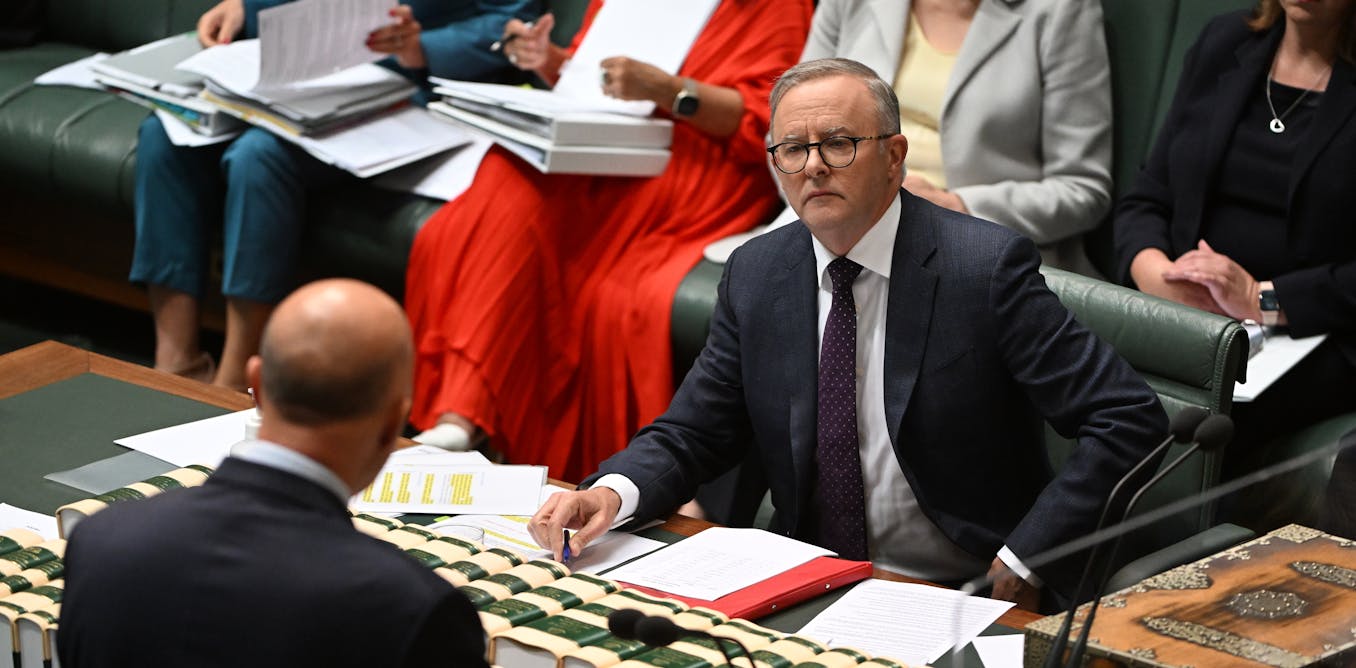 Labor's lead drops in Resolve and Essential polls, but they are still far ahead
A federal Resolve poll for Nine newspapers, conducted February 15-19 from a sample of 1,604, gave Labor 40% of the primary vote (down two since January), the Coalition 31% (up two), the Greens 10% (down one), One Nation 5% (down one), the UAP 1% (down one), independents 9% (up one) and others 2% (steady). Two points were lost to rounding.
Resolve does not give a two party estimate until close to elections, but applying 2022 election preference flows to these primary votes gives Labor a 58-42 lead, a two-point gain for the Coalition since January.
Prime Minister Anthony Albanese's ratings slumped, with 56% (down four) who said he was doing a good job, while 31% (up six) said he was doing a poor job. That gave Albanese a net approval of +25, down ten points.
Opposition Leader Peter Dutton had a net approval of -16, up one point. Albanese led Dutton as preferred PM by 55-23 (55-20 in January).
Labor led the Liberals by 36-32 on party that would perform best on economic management (37-29 in January). On keeping the cost of living low, Labor led by 33-24 (34-20 previously).
Between elections, Resolve asks the "independent" option of all voters without specifying an actual independent candidate. At the 2022 Victorian and federal elections, Resolve asked for specific candidates once ballot papers were printed, and the independent vote crashed both times to realistic levels.
---


Read more:
Victorian Labor slumps in Resolve poll but still in winning position; Labor failure on upper house reform comes back to bite


---
The 9% independent vote in this federal poll and the 13% independent vote in the Victorian Resolve poll below are very likely overstated.
I believe the Reserve Bank's hiking of interest rates and high inflation are undermining consumer confidence and making it more difficult for the Labor government. Last week, Morgan's consumer confidence was at its lowest since April 2020, although it recovered a little this week.
Labor's lead also down in Essential poll
In Essential's two party measure that includes undecided voters, Labor's lead fell to 51-42 from 55-40 last fortnight. Primary votes were 33% Labor (steady), 30% Coalition (steady), 14% Greens (down three), 6% One Nation (steady), 3% UAP (up two), 8% for all Others (steady) and 8% undecided (up three).
In other results from this poll of 1,044 respondents conducted before February 20, Albanese's ratings continued to decline from December (+33 net approval). He's now at +19 net approval, down from +24 in January, with 53% approval and 34% disapproval. These are Albanese's worst ratings in Essential since he became PM.
The Coalition led Labor by 32-31 on reducing government debt, and was tied 29-29 on handling rising interest rates. Labor led by 36-28 on managing the rising cost of living, and was 16-20 points ahead on insecure work, climate change and improving public services.
On the personal impact of interest rate rises, 3% said they were very positive, 14% somewhat positive, 33% no impact, 31% somewhat negative and 20% very negative. On economic conditions, 56% (up four since November) expected them to worsen in the next 12 months, 19% improve (down five) and 19% stay the same (steady).
Aston byelection to be held April 1
Last week I previewed the Aston byelection, concluding that the Liberals are likely to hold Aston. The byelection will be held on April 1.
---


Read more:
Liberals likely to win Aston byelection; Voice support increases in Essential poll


---
NSW election: March 25
It's just over a month until the March 25 New South Wales election, but there hasn't been a NSW voting intentions poll since January. In Essential's NSW sub sample of over 300, Liberal Premier Dominic Perrottet's ratings slumped to 45% approve, 42% disapprove (51-33 last fortnight), while Labor leader Chris Minns was at 37% approve, 26% disapprove (38-25 previously).
The Poll Bludger reported on Monday that Liberal upper house MP Peter Poulos had been dumped from the Liberal ticket after admitting to sharing nude photos of a Liberal colleague who had posed for Penthouse in the 1980s, perhaps explaining the drop in Perrottet's ratings. Labor's candidate for Monaro, David Campese, has quit.
Victorian Resolve poll: Labor has huge lead after election
A Victorian Resolve poll for The Age, conducted with the federal Resolve polls in January and February from a sample around 1,100, gave Labor 41% of the primary vote, the Coalition 30%, the Greens 13%, independents 13% and others 4%.
Resolve does not report a two party estimate except close to elections, but Labor would have about a 60-40 lead (54.9-45.1 at the November 2022 election). Labor Premier Daniel Andrews led new Liberal leader John Pesutto as preferred premier by 50-26.
US debt limit, UK local and NZ elections
I wrote for The Poll Bludger on Saturday that Democrats' failure to lift the United States debt limit before Republicans took over the House of Representatives on January 3 could cost them, the US and the world, though we probably have until June for this issue to be resolved.
United Kingdom Labour retains a huge lead over the Conservatives with local government elections in England on May 4. On current polling, the Conservatives would lose a large number of seats, leading to more pressure on PM Rishi Sunak. Labour has recovered ground in New Zealand, but a potential right alliance of National and ACT remains ahead of Labour and the Greens.