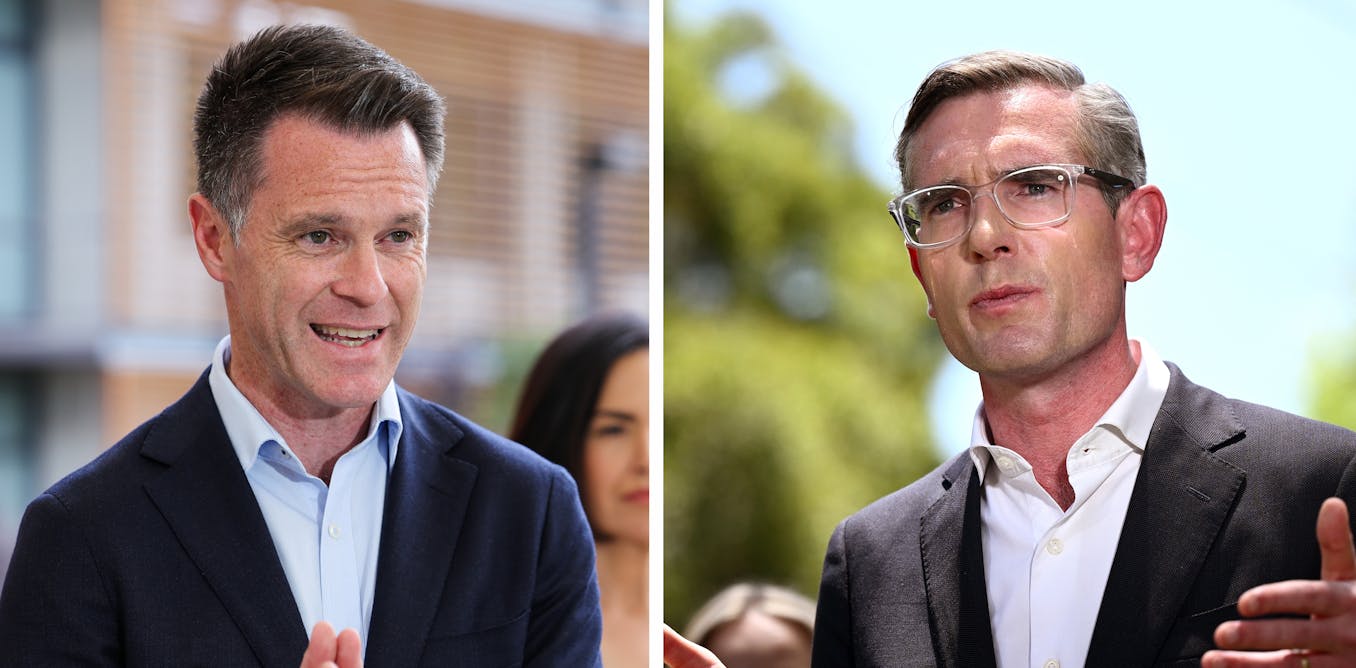 Labor's lead reduced in a NSW Newspoll four weeks before election; Voice support steady
The New South Wales state election will be held in nearly four weeks, on March 25. A Newspoll, conducted February 20-23 from a sample of 1,014, gave Labor a 52-48 lead, a two-point gain for the Coalition since a September NSW Newspoll. Primary votes were 37% Coalition (up two), 36% Labor (down four), 12% Greens (steady) and 15% for all Others (up two).
Liberal Premier Dominic Perrottet was at 50% satisfied (up three) and 41% dissatisfied (steady), for a net approval of +9, up three points, while Labor leader Chris Minns was at 41% satisfied (down one) and 33% dissatisfied (up six), for a net approval of +8, down seven points. Perrottet led Minns as better premier by 43-33 (39-35 in September).
On whether the Coalition deserves to be re-elected, by 48-36, voters thought it was time to give someone else a go (50-31 in September). This is the first NSW voting intentions poll conducted by anyone since January.
At the March 2019 NSW election, the Coalition won 48 of the 93 lower house seats, Labor 36 and there were three seats each for the Greens, the Shooters and independents. At February 2022 byelections, Labor gained Bega from the Liberals.
Ignoring defections, the Coalition begins with 47 of the 93 seats and Labor 37. So a single seat loss for the Coalition would be enough for them to lose their majority, but Labor needs to gain ten seats to win its own majority.
The Coalition won the 2019 election by a 52.0-48.0 statewide margin, so this poll suggests a 4% swing to Labor. Analyst Kevin Bonham's seat model gives Labor 43 seats and the Coalition 40 if this poll is correct, so Labor would be short of a majority (47 seats).
Prime Minister Anthony Albanese's ratings have dropped in federal Resolve and Essential polls. While federal Labor is still way ahead, their honeymoon appears to be waning.
---


Read more:
Labor's lead drops in Resolve and Essential polls, but they are still far ahead


---
Perrottet has kept his ratings up, and the NSW Coalition may be assisted by federal Labor's fading honeymoon. This poll is much better for the Coalition than two polls in January.
Newspoll's final poll was accurate at the Victorian 2022 state election, and overstated Labor's primary vote at the federal 2022 election. It's best not to assume that Newspoll is biased against Labor.
If Labor wins the NSW election, they would control the federal government and every state or territory government except Tasmania. A Coalition win would be its fourth successive four-year term.
Old NSW Morgan poll: 52-48 to Labor
The New South Wales state election will be held on March 25. A Morgan poll, conducted in January from a sample of 1,147, gave Labor a 52-48 lead, a three-point gain for the Coalition since December. This poll was not released until February 21.
Primary votes were 35% Coalition (up 1.5), 32.5% Labor (down one), 9.5% Greens (down 2.5), 6.5% One Nation (up two), 1.5% Shooters (up 0.5) and 15% for all Others (down 0.5).
As this poll was released recently, it gives the impression of movement to the Coalition. But the fieldwork was taken in January, and two other polls taken in January – YouGov and Resolve polls – gave Labor much bigger leads.
---


Read more:
Labor maintains lead over Coalition in both federal and NSW Resolve polls


---
Additional federal Resolve questions: Voice support steady at 58%
In additional questions from last week's federal Resolve poll for Nine newspapers, in a forced choice question on the Voice referendum, "yes" support was at 58-42, unchanged from the January Resolve poll, though four points below the 62-38 support for "yes" in December.
In the question that included undecided, 46% would vote "yes" (down one since the combined December and January result), 32% "no" (up two) and 21% were undecided (down two). On desire for information, 63% said they would like more information than is currently available, while 25% were happy to vote on the principle and current information.
The stage three tax cuts were introduced by the Morrison government, and are to be implemented in 2024, but could be changed by legislation before then. Support for these cuts was at 38-20 over opposition in early October, 57-23 after they were confirmed in the October budget, and has now fallen back to 41-21.
By 46-19, voters supported modifying the cuts to limit the benefits to those earning between $45,000 and $200,000 per year. The most popular proposals for increased taxes were an increase in the corporate tax rate (59-14 support) and an increase in tax on resources companies only (57-12 support).
There has been talk recently about reducing superannuation tax concessions, but these were the least popular of all options canvassed for increasing tax, at only 34-28 support.
By 65-14, voters agreed that young people who have not already bought a home will never be able to do so (57-16 in January 2022). All proposed solutions to housing affordability listed appear popular.
On economic conditions, 50% thought they would get worse in the next six months, 24% stay the same and 18% get better. If they had a major expense of a few thousand dollars, 40% agreed they would struggle to afford it, while 45% disagreed. By 78-9, voters agreed that the gap between the rich and the poor feels like it is getting bigger.
Morgan poll: 58.5-41.5 to Labor
In last week's federal Morgan poll, conducted February 13-19, Labor led by 58.5-41.5, a two-point gain for Labor since the previous week. Primary votes were 37% Labor, 33% Coalition, 13% Greens and 17% for all Others.