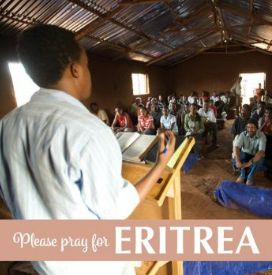 More Christians arrested in Eritrea
Dozens of Eritrean Christians have been rounded up and put in jail in another wave of arrests.
Release International reports that 44 Christians – 39 women and five men – were arrested as they gathered in their homes. 
They are being held in the Mai Serwa prison on the outskirts of Asmara, the Eritrean capital. 
The total number of Christians in Eritrean prisons is now believed to stand at over 400.
"Eritrea is like a giant prison," said Release International partner Dr Berhane Asmelash.
"The country is filled with jails. It is like North Korea."
Eritrea is one of the most challenging places to be a Christian after the government closed down most churches in 2002. 
The country permits Sunni Islam, Eritrean Orthodox, Roman Catholicism and the Lutheran Church, but all other religions are fiercely persecuted and regarded as "enemies of the state". 
Christians who do not belong to these denominations have been routinely imprisoned for their faith, some being held in shipping containers in the desert that are boiling hot during the day and freezing by night.
One Christian woman who cannot be named for security reasons was recently released after 16 years in prison. During that time, she was held in a shipping container at Mai Serwa prison and tortured.
She recalls the pressure put on her and others to give up their faith. 
"Many believers, mainly teenagers, came in and out of the prison, renouncing their faith in order to get released," she said.
"These included pastors. So the prison officers put pressure on me, saying: 'We will make you [renounce your faith] by force. If you do not comply, you will die.'"
The pressure continued when she was moved to another prison on the Red Sea Coast and placed in an underground cell where she and the other inmates, many of them Christians, were only given one cup of water a day.
One night, she and other female prisoners were made to run barefoot across thorny ground and then beaten in an attempt to make them renounce their faith. 
Instead, she told her torturers: "God gave me life; to give Him my life is a small thing." 
One time, the beating was so bad that she recalls seeing her soul separate from her body and hearing the singing of angels.
God sustained her during the torture and gave her a beautiful vision of being held in the arms of Jesus. 
"A man, who looked like Jesus, was holding a girl in his arms. The girl was happy and having fun, but the man was in deep distress, because he was protecting her from the beating," she shared.
"The sticks were not falling on me but on Jesus, so I was able to endure the beating. He was always with me in the suffering, so that even in that we are victorious."
She said it was her faith that got her through it.
"I received grace to endure the pain, and when I looked at the people who were beating me, I realised that although I was suffering now, this would take me to glory," she said.
"My torturers were laughing, but I knew their end would be loss, so I started to love them. At that moment a verse of scripture came into my heart, and I prayed: 'Forgive them, for they know not what they are doing.' I finished that night in victory." 
She also credits the sustaining power of prayer by believers around the world.
"Your prayers saved me. This victory is a victory for all of us," she said.
"The grace of God made everything possible. I feel so blessed to participate in Christ's suffering. Even now, I do not have any hatred against those who put me in prison and tried to make my life miserable. I love them."
Eritrea is one of the countries of concern in Release International's annual Persecution Trends report.
Release International CEO Paul Robinson is asking Christians to stand with their brothers and sisters in Eritrea "as they continue to go through this dark night of the soul".
"They need our prayers," he said.
"Freedom of faith is the cornerstone of all human freedoms. Release International continues to call on Eritrea to set free every Christian prisoner and permit full freedom of faith once again in their country."