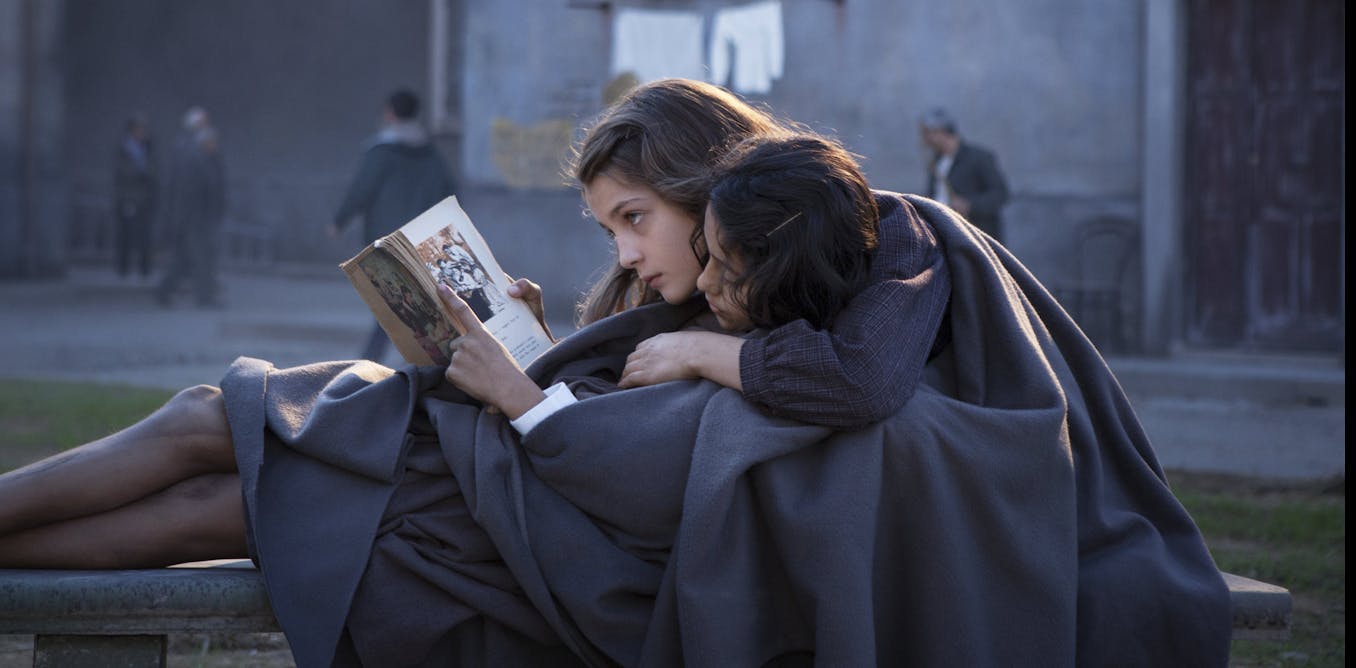 My favourite fictional character: I'll never forget these half-wild, 'too much' heroines – Philip Pullman's Lyra and Elena Ferrante's Lila
Reading Philip Pullman's Northern Lights to my children around 2007, I met its heroine, Lyra Belacqua. My children barely remember her. I will never forget her – nor Pantalaimon, her daemon; her soul in protean animal form.
Lyra was the first fictional girl to feel familiar to me. Before her, there'd only been men: Achilles, Julien Sorel, Prince Lev Myshkin, Pierre Bezukhov.
Lyra is a "barbarian", a "half-wild cat". She's a fierce and fearless teller of tall tales who clambers over rooftops and plays gangs in the streets of a steampunk Oxford. I love her disdain for clothes and cleanliness. I love her autonomy, her temper, her insatiable curiosity. And the fact that her best friend is a boy – and later, a drunk and ravaged polar bear.
---


Read more:
Friday essay: why grown-ups still need fairy tales


---
A gift for reading truth
But I especially love her gift for reading the alethiometer (from the Greek "aletheia", truth). This truth-teller, or symbol-reader, is like a compass of brass and crystal.
There are pictures round its rim: multilayered symbols that can mean many different things. (An anchor could be hope, steadfastness, a snag or the sea.) You ask a question by moving its three hands to particular symbols – and its long, swinging needle answers; mysteriously guided and simultaneously interpreted by the reader's mind.
This is an esoteric art that takes years of book learning to master. But Lyra teaches herself in weeks. She's a natural. She instinctively understands how to free and yet focus her mind to roam among the symbols.
She found if she held the alethiomter just so in her palms and gazed at it in a particular lazy way, as she thought of it, the long needle would begin to move more purposefully … and although she understood nothing of it, she gained a deep calm enjoyment from it, unlike anything she'd known.
Everyone in this world is after Lyra, for her unique skill with the alethiometer – and her rumoured destiny. She's a special child, with a hidden, scandalous parentage and a future of cosmic import.
My own fascination with symbols led me to a course on feminist, moon-centred astrology in 1992. Reading the symbols on an astrological wheel similarly requires a capacity to both be free and focus your mind, which came easily to me. I'd never read a better description of this than Pullman's in Northern Lights.
But was it problematic that as a grown-up woman responsible for two young children, the fictional character I most related to was a half-wild, symbol-reading child?
Talking about Lila
It was with a weird sense of relief that ten years later I met Lila Cerullo, the title character in Elena Ferrante's My Brilliant Friend. Here was another ferocious, filthy, quicksilver girl, "too much for anyone" – but who, over the course of four novels set in "real" postwar Naples, actually grows up, finds work, becomes a woman, has lovers, children, a career.
Lila seemed a version of Lyra, but she was much more complex – and much more shareable among friends. I love almost nothing more than talking books. It wasn't just that Lila grows up; it was that Lila and her friend Lena, who narrates My Brilliant Friend, had become global phenomena.
Although Northern Lights and its two sequels (His Dark Materials trilogy) had also been bestselling and critically acclaimed, I didn't know many adults who'd read them. On the other hand, Ferrante's Neapolitan novels became a worldwide bestselling sensation.
By 2017, everyone wanted to talk about them.
That year I'd split up with my children's father and left behind my work in the predominately male world of accounting and sustainability. When a friend pressed Karl Ove Knausgaard's My Struggle onto me, I read 100 pages and threw it down in disgust. I vowed to fill my head with women's voices. The first book I picked up was My Brilliant Friend.
I fell for Lila immediately. She has the same storytelling impulse as Lyra, the same capacity to transform life into fairy tale or horror story. And a similar wayward self-reliance, quick temper, fearlessness and wilful disregard of others – and the same impassioned urge for justice, such as when schoolgirl Lila holds a knife to the throat of a young man twice her size who's grabbed Lena's wrist and broken her bracelet.
She said calmly, in dialect, "Touch her again and I'll show you what happens."
And when they bother, both Lyra and Lila are brilliant, capable of exceptional mental, emotional and physical feats.
---


Read more:
True writing is a convulsive act: inside the mind of Elena Ferrante


---
Dissolving margins and a loosened mind
Lila's destiny hangs heavy over the Neapolitan quartet. It's foretold by her adult son on the opening page. Lena extrapolates:
It's been at least three decades since she told me that she wanted to disappear without leaving a trace … she wanted every one of her cells to disappear.
This desire to disappear relates to a formative moment in Lila's adolescence:
On December 31st of 1958 Lila had her first episode of dissolving margins. The term isn't mine, she always used it.
Lila's perception unmoors, bounded matter breaks down and she glimpses something terrifying at the heart of ordinary life. Her pulse races, she's filled with revulsion. Lila's dissolving matter, like Lyra's loosened mind, felt uncannily familiar to me.
In my own times of dissolution, I return to Lyra. Reading Northern Lights recalibrates my soul. On the other hand, Lila – and Lena – set in motion an entirely new chapter of my life: reading women's voices and learning to write my own.