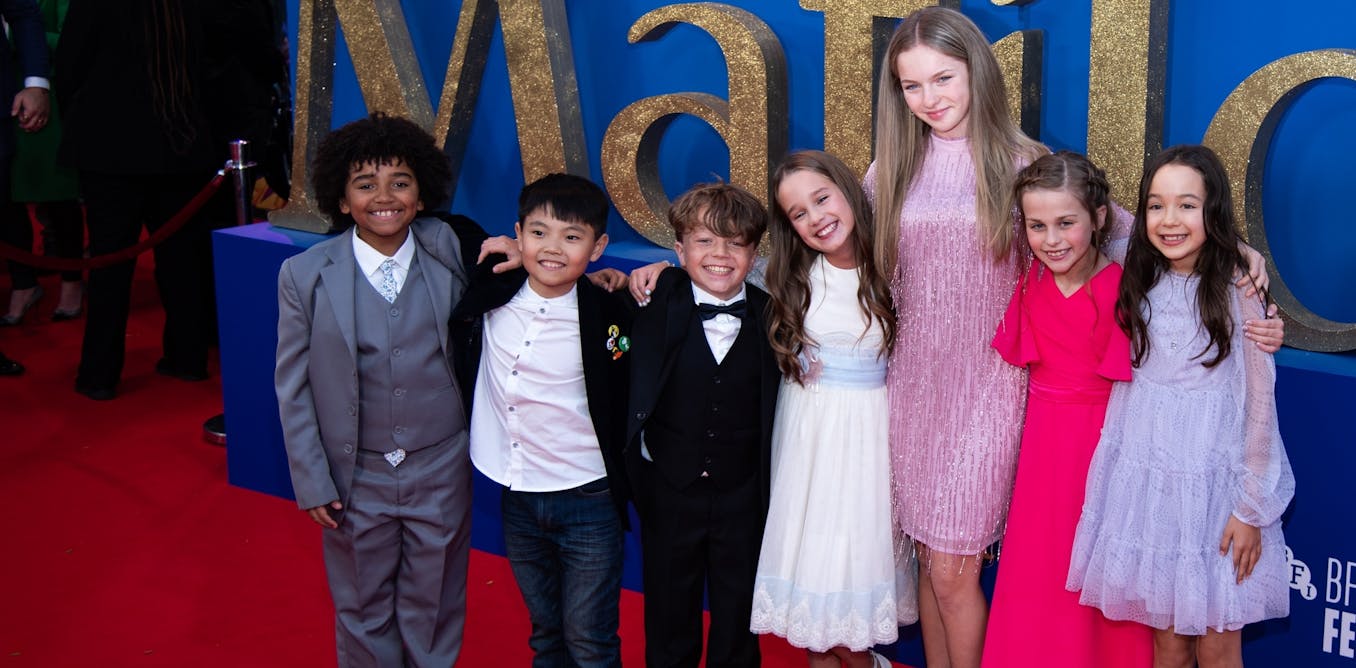 Netflix's Matilda shows how children's gifts can only shine with loving support from adults
Roald Dahl's Matilda the Musical on Netflix reminds us of the importance of love, kindness and respect in education. The film is adapted from the award-winning dramatic musical inspired by Roald Dahl's novel Matilda.
The fictional Matilda is born into an abusive family whose parents forget to enrol her in school.
All humans need love and care; we are born to and for love. Our education systems must prepare children for a technologically advanced world and precarious future, requiring education to support the development of children's uniquely human skills such as creativity and empathy.
Matilda's (Alisha Weir) curiosity drove her to learn. She develops a loving connection with the librarian of a mobile library, Mrs. Phelps (Sindhu Vee). Through this connection, Matilda is encouraged in her love of reading and learning through inquiry and play. She becomes seen for her uniqueness and supported in her development, a bumpy journey that continues at her new school.
Learning through curiosity and play
Children learn through play. It allows them to develop holistically, through exploration, discovery, failure, determination and fun.
Matilda enters school with an expectation of curiosity, discovery, intellectual and physical play and fun. But she is met with rules, barriers and rigidity.
Headmistress Trunchbull (Emma Thompson) punishes children for expressing themselves, stating "we are not here to encourage or nurture," and "to teach the child we must first break the child." Complacency is rewarded through the fear of "The Chokey" — a solitary confinement space.
In the mobile library with Mrs. Phelps, Matilda is supported to play with ideas and use her imagination. She becomes free and confident to explore, learn and follow her curiosity.
Matilda frequently states "it is not right" when she witnesses The Trunchbull's harshness. She inspires those who have lost their spark to raise up and fight for what is right.
Matilda's leadership results in a revolution and the dismantling of the school, the elimination of The Trunchbull and inauguration of a new leader, the loving teacher Miss Honey (Lashana Lynch).
Love in education
The development of Matilda's unique gifts occurs when she is seen and loved for her authentic self in school.
These social connections are essential for humans. The power of love, of being seen, heard and understood has immensely positive effects on children.
Their development of trust allows them to risk failure and vulnerability, core components to living a healthy and meaningful life. Early experiences live under our skin for our whole lives. Loving educational experiences are important for children to grow and develop into loving, caring and kind adults.
---


Read more:
With larger classes, teachers can't attend to children's needs


---
Miss Honey is the loving and caring educator who advocates for Matilda. She provides Matilda with the opportunity to be seen for her unique self.
The figure of Miss Honey demonstrates the extra importance of healthy relationships for children when their homes are not safe. Educators have the opportunity to positively impact children's lives in many ways.
Love, trust and care was new and unique for Matilda. It felt good and allowed her to confidently develop, to allow her brain to grow. Care, compassion, kindness and love are essential and often under-valued components in education.
A present educator
Miss Honey developed trust with Matilda by creating a space of belonging and being safe, secure, present, available and interested. Trust is important for children to learn empathy and compassion, to know it is safe to take risks, to try and fail and try again, to build resilience and perseverance.
Matilda was vulnerable and took the risk of sharing her authentic self with Miss Honey including what she called "fizzing" — her unique gift of telekinesis, the power to move objects with one's mind.
Matilda trusted this educator, so it was safe to ask for help, and support in understanding herself.
We all need a Miss Honey, someone we know will be there no matter what, and to offer unconditional love to catch and hold us in our development throughout our lives.
Valuing love and kindness
Miss Honey states "I just taught them with kindness, patience and respect."
Valuing love and kindness means we must value the members of our society who lead with their hearts, learn through play and model behaviour through lived experiences.
Miss Honey represents all the loving and caring educators who give of themselves for children to learn and grow through their love, compassion, care and empathy — educators who open up the world for children to be, and to express their beautiful sparkle. As the teacher sings: "You were holding my hand … quietly taking a stand…."
Every child deserves a Miss Honey to experience the importance and power of love and human connection to create a vibrant world of play, exploration, love and kindness.
While the educators modelled in Dahl's Matilda and developed in the musical are not meant to be blueprints for contemporary teaching, they suggest the powerful ways educators can have positive effects on children's lives.