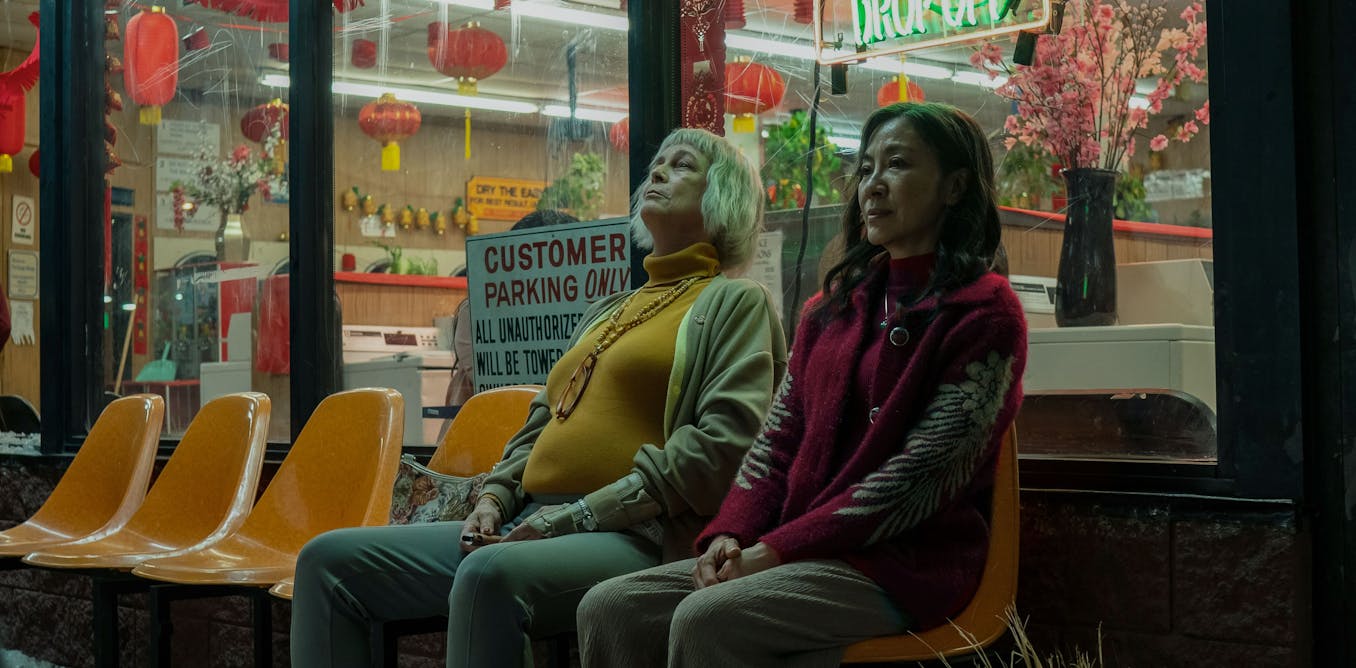 Older women are smashing it this awards season – but ageism is far from over
Older and middle-aged women are having their moment in the sun, it seems. The recent Golden Globes coverage was filled with images of "older" women on the red carpet. There were some notable wins too.
Angela Bassett, Michelle Yeoh and Jennifer Coolidge, all in their 60s, won their respective categories and in their speeches addressed the significance of receiving these awards later in their careers. The recently announced Oscar nominations also featured many older women, with four of the five nominations in the best actress category taken by women over 40 – including Yeoh and Cate Blanchett (53). Other categories also featured women over 60, like Jamie Lee Curtis (64) and Bassett for actress in a supporting role.
This has been heartening for many. In the past female actors have felt like there was an expiry date on their careers and it's nice to now see women over 40 thriving in complex and exciting leading roles.
I remain sceptical about this becoming a long-term trend. Ageism is very deeply embedded in our society and it will not go away with several women in their 60s winning at the Golden Globes or being nominated at the Oscars.
After all, look carefully at the media coverage around this and you'll notice that much of it is rooted in ageism. There was a slew of articles about older women having a "sartorial moment" at the Golden Globes. The underlying message here was that "they looked great despite their age".
No one was talking about "older men" even though there were many in their 40s and older on the red carpet, and many articles about best-dressed men at the Golden Globes. Men do not require this classifier. Their ages were not typically mentioned in these articles. Women, on the other hand, are qualified by their ages and judged accordingly. Age is definitely not just a number for them.
Ageism in our social and cultural fabric
Psychiatrist and gerontologist Dr Robert Butler coined the term "ageism" in 1969.
Ageism or age bias affects men and women differently. As I discussed at length in my book Sway: Unravelling Unconscious Bias, the research in bias has been slow to address issues of age-related bias and discrimination.
In a 2004 report by Age Concern in the UK, one in three people surveyed thought older people are "incompetent and incapable". Explicit discrimination and bias are illegal but also increasingly frowned upon. Yet implicit biases against age persist.
Ageism is usually very subtle but there is evidence across a number of domains to show how it works in subversive ways. Much like racism and sexism, it counts on separating someone out for "difference" and lazy stereotyping.
Yes, the representation of women of all ages on our screens and in books will go some way towards countering this narrative. And there are organisations and filmmakers who are now challenging ageism in films and media.
But it wasn't long ago that Maggie Gyllenhaal, in her late 30s, was told she was too old to play a love interest opposite a 44-year old man, and Jamie Denbo (43) was considered not young enough to play the wife of a 57-year-old actor and mother to an 18-year-old.
Age bias affects women more than men
Gender plays a huge role in how those going through the ageing process are perceived. Women face more barriers as they grow older compared to men, a double whammy of sexism and ageism (also racism for women of colour). This is the "George Clooney effect", or what economists call the "attractiveness penalty".
While older women are called "hags", men are still virile and called "silver foxes" as they grow older. Grey hair gives men like Clooney, Tom Jones and Colin Firth an air of sophistication and distinction. By contrast, a 2021 study found that women with grey hair were considered less competent.
It's not only hair. The internet erupted when 50-year-old ex-model Helena Christensen stepped out in a lacy bustier. Former Vogue editor Alexandra Shulman wrote of the model, "something you wore at 30 will never look the same on you 20 years later. Clothes don't lie" and called her "tacky". There are stereotypes as to how older women should act and behave.
A study from the University of Southern California of the films nominated for best picture between 2014 and 2016 showed that only 11.8% of the actors were 60 or older, but significantly 78% of the films had no older women in leading or supporting roles.
In 2016, an exhaustive study on film dialogue from screenplays of over 2,000 films across genres found that the percentage of dialogue available to women decreased significantly with age compared to men. Men over 40 had more roles and spoken dialogue (55 million words for the 42–65 age group) compared to women in the same age group (11 million words).
Women have more cosmetic treatments targeted at them. We see social media ads for shrink-wrapping our necks and many brands of anti-wrinkle creams lining shop shelves. There's no way to escape this fear and anxiety of being "past it" and not being considered relevant.
We are often complicit in our own marginalisation too as we grow older through the implicit bias we harbour about old age. In fact, language matters too even when we think we are trying to counter some of these biases. When someone says "you are only as old as you feel" or the phrase "young at heart" or that they "don't feel old" they are displaying some of these implicit biases and fears associated with ageing.
Ageism is a reality. And it affects women much more than men, due to the intersection of gender and age.
The only way to address this is through a collective commitment and action and acknowledgement of externalised and internalised forms of ageism. And media has to take a huge responsibility for how it perpetuates and reinforces ageism in our society through words and images. Until then age will not just be a number. Especially for women.