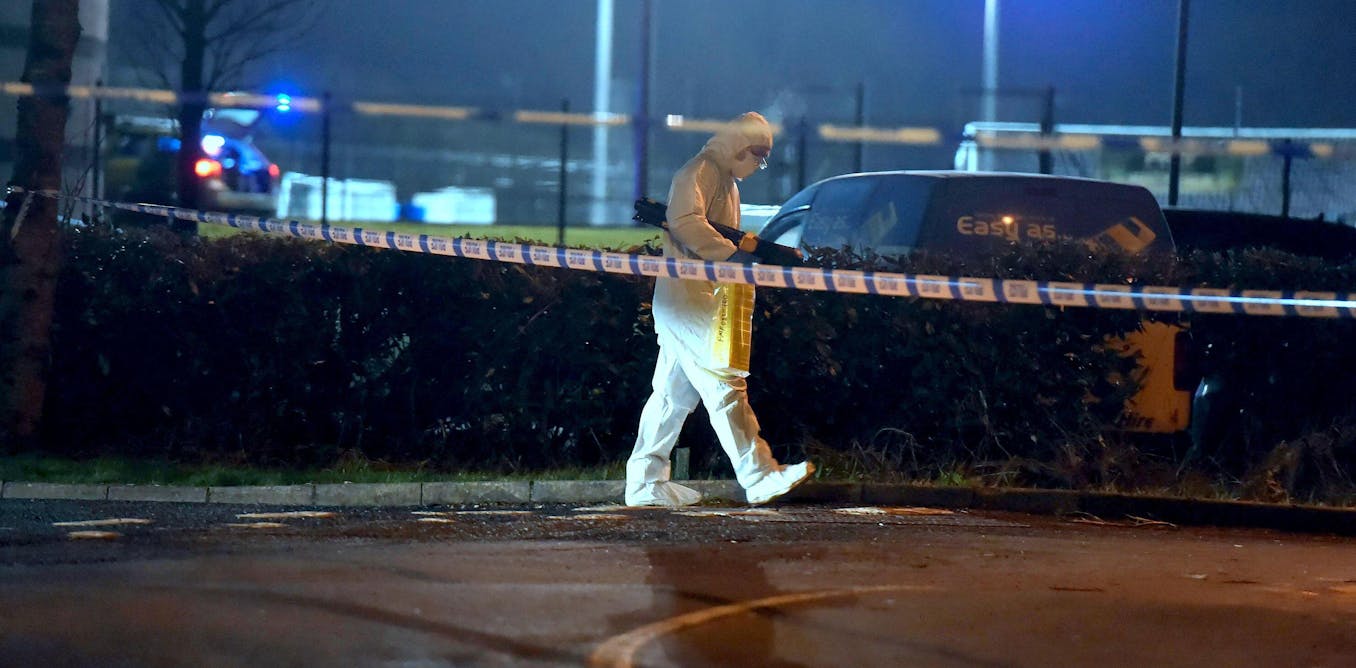 Omagh police shooting: why attack comes at a difficult time in Northern Ireland
The shooting of a police officer in Omagh on Thursday evening is another horrific reminder that Northern Ireland remains a deeply and dangerously divided society. Though it has not been confirmed that the assailants were paramilitaries, the Police Service of Northern Ireland (PSNI) has stated that it is investigating links to dissident republicanism.
Detective Chief Inspector John Caldwell was shot multiple times, and is currently in a stable but critical condition, with what are described as "life-changing injuries". A senior police officer, Caldwell has played a leading role in investigations of non-political criminality, but also high profile cases involving dissidents, including the killing of fellow PSNI officer Ronan Kerr in 2011, and that of journalist Lyra McKee in 2019 – the latter also resulting from an attempted attack on the police.
For those reasons, the PSNI obviously sees dissidents as again being the likely perpetrators of this latest attack.
The timing of the assault also suggests political motivation. Like the killing of McKee, the attack comes at time of particular political uncertainty and instability in the region.
As in 2019, Northern Ireland's power-sharing institutions are again in abeyance. In February 2022, the Democratic Unionist Party (DUP) withdrew from the power-sharing government in protest over the trading arrangements for Northern Ireland that were established under Boris Johnson's Brexit deal.
The political vacuum created by the absence of regional government in Northern Ireland leaves the space for dissidents, who are opposed to the peace process, to create further instability.
It is probably not a coincidence that the attack happened just as the UK government and the EU are edging towards a deal to resolve Brexit issues for Northern Ireland. As well as prompting the DUP's protest, the trade barriers that have been created between the region and Great Britain have caused many practical problems for local traders and in the supply of vital items like medicines.
Dissidents would rather see a continuation of such difficulties, hoping that this encourages support for their radical aims, not simply to revise the Brexit deal but to show that any British role in Northern Ireland is unworkable and that Irish reunification is the answer.
Signs of a UK-EU compromise over Brexit arrangements for Northern Ireland have also triggered rebellion among the Tory right, members of which are warning Rishi Sunak not to give way to Brussels. Like the DUP, such voices oppose any EU influence in regulations for Northern Ireland.
---


Read more:
Northern Ireland protocol: why Tory backbenchers are rebelling over Rishi Sunak's revised Brexit deal


---
There is clearly a concern that Sunak will agree to what is, in reality, a genuine, sensible and workable compromise with the EU in order to resolve the problems that Johnson's deal caused for Northern Ireland. Dissidents fear the same, albeit for different reasons. Making Brexit work means making Northern Ireland work, and their aim is to overthrow the state and unite Ireland.
If dissidents were behind the assault on Caldwell, a more calculated political aim would be to encourage further Tory agitation. This would create a context in which it is harder for Sunak to sell any Brexit compromise with the EU to his party, or for the DUP leader, Jeffery Donaldson, to persuade his supporters. The Tory right and dissident republicans would thus find themselves in an unholy alliance, both working to defeat political progress in Northern Ireland.
An important year
One further factor may explain the timing of the attack on Caldwell. April marks the 25th anniversary of the Good Friday Agreement, which ended the Troubles. Most people feel the occasion would be best marked by a return of the power-sharing government that the accord created.
This might also explain Sunak's eagerness to advance a deal with the EU that would in turn aid a return to power-sharing in Northern Ireland. There are even rumours that US president Joe Biden could visit Northern Ireland in April.
Biden's presence for the anniversary would be a fitting way to recognise the vital role of the US government in helping to broker the 1998 accord. However, the prospect of a UK-EU deal that would help restore power-sharing, the related rumours of a presidential visit to Northern Ireland, and the resulting media attention that all this creates, provides an ideal opportunity for opponents of peace to show their capacity for disruption in the most devastating manner.
The immediate concern must be for Caldwell and his family. But rather than hearing the usual platitudes from politicians of all stripes, the best thing that they can do is redouble their efforts to make politics work for Northern Ireland.
Compromise is essential to such an endeavour. Only this will prove the futility of those who advance absolutist ideals, be they dissidents who reject any British role in Ireland, or Brexiteers who refuse any European influence in the UK. Both are fantasy projects; both will end in failure. Political compromise is the only way forward.