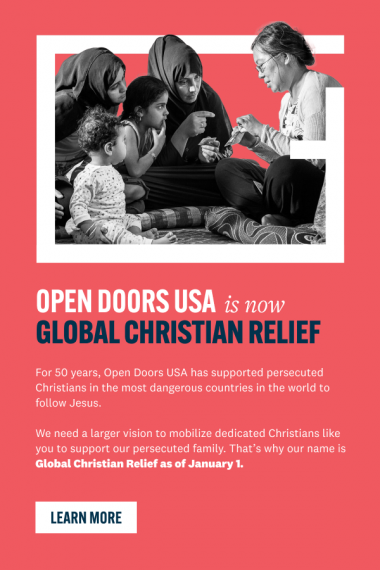 Open Doors US CEO leaves to create Global Christian Relief
The CEO of Open Doors USA, David Curry, has left the organisation to create a new organisation working to end persecution called Global Christian Relief.
Global Christian Relief made the announcement in a New Year's Day tweet claiming that the name of Open Doors US had been changed.
"We're starting 2023 with a new name, Global Christian Relief (GCR)," the tweet read.
"And we're expanding our vision to meet the needs of millions of persecuted believers so they can be a light for the gospel in their communities & advance the Great Commission."
On its website, Global Christian Relief said it aims to build the "world's most extensive, covert network serving persecuted Christians".
"We need a large vision to mobilize dedicated Christians to support our persecuted family in new and life-changing ways that will expand God's Kingdom for the next 50 years," it said.
"That's why, as of Jan. 1, our name is now Global Christian Relief."
Open Doors US has since clarified that the Open Doors international network is not affiliated with the new organisation.
Open Doors was founded in 1955 to serve the persecuted Church and today exists in over 70 countries.
Founder Andrew van der Bijl, known affectionately as Brother Andrew, passed away last September.
Following Curry's departure, Lisa Pearce, former CEO of Open Doors UK and Ireland, has been appointed as interim CEO of Open Doors US. 
In a statement, the organisation said that "Open Doors continues in the US, fully dedicated to the mission and vision of our late founder Brother Andrew to serve persecuted Christians".
"We remain steadfast in doing whatever it takes to support both the visible and the underground church in the countries where it is most dangerous to live as a Christian," said Pearce.
"We have unprecedented opportunities to serve our most persecuted brothers and sisters in the year ahead, thanks to the trust we have built with secret networks in field countries through 65 years of faithful service." 
Open Doors will also continue to produce the annual World Watch List of the top 50 countries where Christians face the most severe persecution.
The 30th anniversary edition of the report will be launched on 18 January.