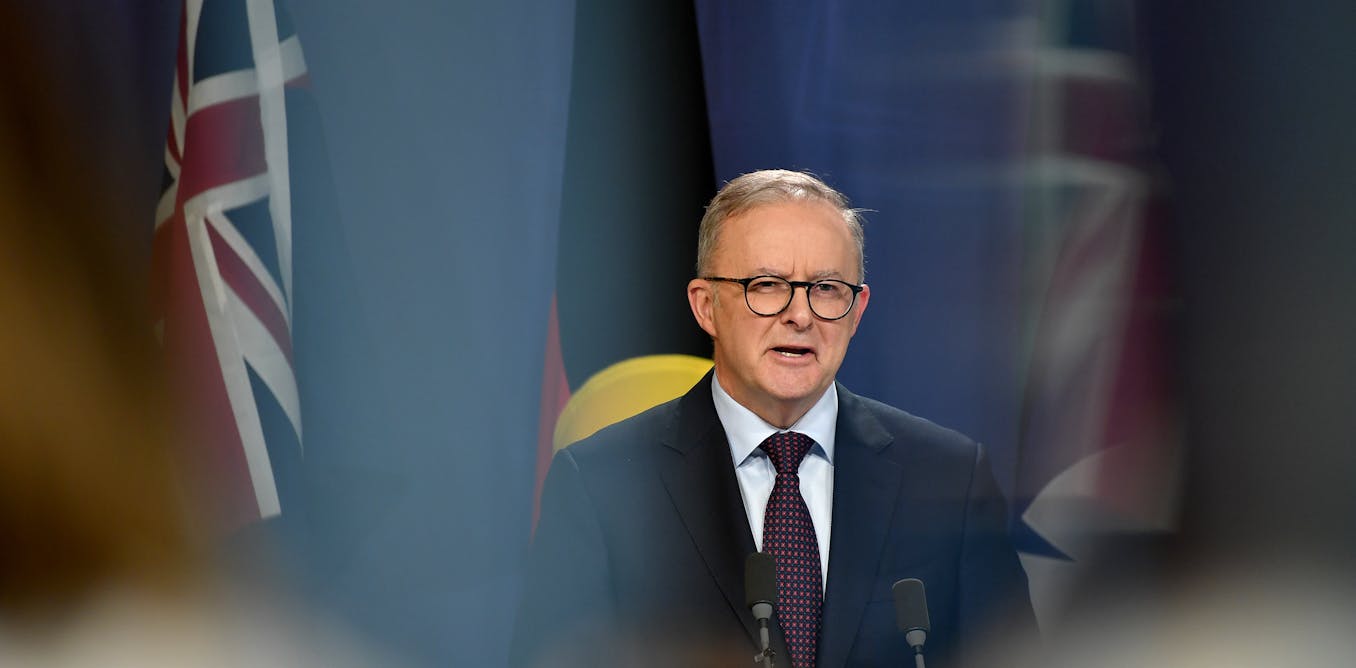 'Opt-out' alcohol bans in prospect for Indigenous communities after PM's Alice Springs visit
New temporary restrictions on takeaway sales and the prospect of reimposed bans on alcohol in Indigenous communities – with "opt-out" provisions – have followed Anthony Albanese's Tuesday visit to crisis-ridden Alice Springs.
After a brief round of talks with local Indigenous, civic and police representatives Albanese fronted the media with Northern Territory Chief Minister Natasha Fyles, federal minister Linda Burney, senators Malarndirri McCarthy and Patrick Dodson and the member for Lingiari, Marion Scrymgour.
Albanese stressed the need for co-operation across levels of government and announced the federal and NT governments had appointed Dorrelle Anderson as Central Australian Regional Controller.
She will lead consultations with communities on an "opt-out" system for banning alcohol in them. A report will be made next week to the two governments on moving to the change.
The lapsing last July of the federal legislation banning alcohol in communities has been followed by a dramatic spike in crime in Alice Springs and problems in other NT Indigenous communities.
Despite widespread calls to do so, the NT government has refused to reimpose the bans, saying that would be race-based discrimination. Communities wanting to stay dry have had to opt to do so.
The outcry about the wave of crime put strong pressure on the federal government to act, and prompted Albanese's visit, which was only announced on Tuesday morning. He had intended to visit Alice Springs late last year but was struck down with COVID.
Albanese told the news conference Anderson would "report back on February 1, to myself and to the Chief Minister, about the implementation of potential changes to alcohol restrictions in Central Australia, including potentially moving to an opt-out situation rather than opt-in that has applied".
Fyles said: "We put in an opt-in system and we have seen communities opt-in. That opt-in finishes next week, and what I commit to is looking at the system, working with the community, including the possibility of placing an [opt-out] system".
In immediate measures, Fyles announced takeaway alcohol won't be sold on Mondays and Tuesdays. The hours in which it can be sold on other days will be reduced and purchases limited to one daily transaction per person. These measures, which the federal government hopes will be a "circuit breaker", will be imposed for three months.
She told the news conference that "not everyone will be happy" with the measures she announced.
Fyles said the NT government had "done more than any other government around alcohol policy and measures to reduce harm in our community. But we need to give the community respite and support and we need to do that immediately."
---


Read more:
Federal Labor MP warns Alice Springs crime crisis is impeding Voice debate


---
The federal government also announced it will spend $48.8 million over two years in Alice Springs "to tackle crime, keep women and children safe and provide support for young people in communities".
Money will go to high visibility law enforcement, improved CCTV, lighting and other safety measures, additional emergency accommodation to give young people a place to go at night, a boost for domestic violence services, and extending funding for safety and community services where the funding is due to end in June.
Meanwhile a Resolve poll in Nine newspapers has found support for the Indigenous Voice to parliament referendum declining from 53% in August-September to 47% in December-January, with 30% against (previously 29%). When people were forced to choose between a yes or no vote, 60% supported and 40% opposed.