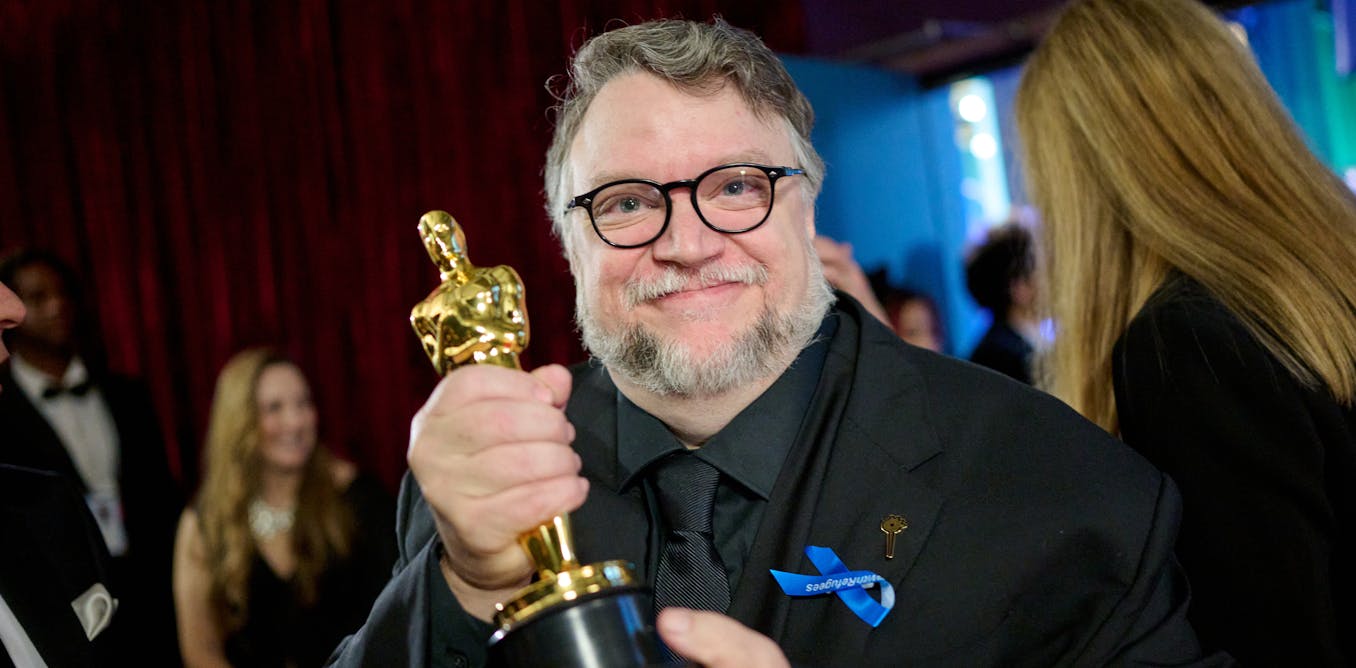 Oscars 2023: Guillermo del Toro's Pinocchio offers a new vision for animated films that explore our humanity
In winning the 2023 Academy Award for best animated feature, director Guillermo del Toro's Pinocchio continues its remarkable run of accolades, from the Golden Globes to the Baftas.
Del Toro has used the platform afforded by his nominations to champion the medium of animation as true cinema, proclaiming in his Bafta award speech:
Animation is not a genre for kids. It's a medium for art, it's a medium for film and I think animation should stay in the conversation.
His rendition of Pinocchio has certainly started a conversation, not least in gaining an impressive audience on Netflix. His film demonstrates that in the right creative environment – and with an innovator at the helm – a well-worn narrative, such as Pinocchio, can evolve.
Such revitalisation of the Pinocchio story was in part possible because – as he says himself – del Toro didn't craft his retelling solely with children in mind.
His Pinocchio stands out because it deals with existential issues such as mortality, morality and what we define as consciousness, coupled with real-world historical catastrophes such as the rise of fascism and the children who have suffered under its jackboot.
There is also a timeliness to this adaptation. Pinocchio – an innocent who is forced to see the harsh realities of war, death and societal collapse, yet retains a sense of optimism – is prescient amid intensifying global conflict and offers hope.
Del Toro is no stranger to awards success. In 2007, his breakout hit Pan's Labyrinth won the Hugo award for best dramatic presentation. He also won the best director and best picture Oscars for The Shape of Water in 2017.
In some ways, Pinocchio's win was predictable. The film has, without doubt, received more press coverage than its rivals through a powerfully sustained campaign.
Pinocchio's fellow nominees – Puss in Boots, The Sea Beast and Turning Red – are typical of the state and quality of animation in 2023. They're colourful, entertaining and wonderfully animated, but rather standard CGI creations, with none of the more complex tones of del Toro's Pinocchio.
The outlier in the category was the astonishing and innovative Marcel the Shell with Shoes On, a blend of live action footage and stop motion animation.
When I interviewed Guillermo del Toro in 2015, he was transparent in his intention to shift between cinematic modes, stating that "animation is in many ways the future". He believed that animated films should be universally held in the high esteem they receive in parts of Europe and Japan, "where they understand that animation is a medium, not a genre."
Pinocchio's achievement of 'randomness'
Del Toro struck me then, and continues to do so, as an artist with an incredible determination to fulfil his vision across a body of work. As he told me: "I think [animation] is my desirable future – the only thing I want to make sure is that I find randomness."
I interpret "randomness" here as the ability to recapture the charm of the perceived imperfections of stop motion animation, brought about by advances in digital animation. This combines with the sophistication of evolving stop motion practice, which now allows for nimble implementations of decisions made on set.
This ability to achieve "randomness" is evident in Pinocchio and may be attributed to a blend of abundant resources and technical and creative innovation. Thanks to the deep pockets of Netflix, Pinocchio's production was vast, involving 40 animators (and nearly 1,000 days of shooting, including, at times 60 sets, 60 cameras and 60 stages), working on complex scenes, some of which took years to perfect.
The characters themselves were constructed from materials generated with a 3D printer, moulded around a metallic skeleton and connected to high tech rigs which gave the animators the ability to react swiftly and precisely to direction while retaining continuity.
Additionally, the film also involved "live action video reference" points where crew members would be filmed experimenting with approaches to scenes, which gave them an opportunity to partly improvise moments that had – in the main – been planned for years.
This hybrid approach of pre-planned authorship and creative spontaneity allowed del Toro to achieve a fresh approach to animation.
Del Toro has proclaimed that Pinocchio's journey through a tumultuous and dangerous world is the thematic third part in a trilogy which also included The Devil's Backbone (2001) and Pan's Labyrinth (2006), which both feature children thrown into perilous situations as a result of fascist regimes.
I would broaden this to situate Pinocchio in del Toro's wider artistic impulses. Much of his work involves outsider figures, considered freaks by the wider world (Cronos, 1993 and Hellboy, 2004, for instance) who find love and acceptance from those able to see them beyond their outward appearance and deviance from the norm.
This in turn resonates with del Toro's desire to ask audiences to see animation beyond a mode for childish tales and instead recognise its potency as a cinematic art.
Del Toro's next project will be The Buried Giant, an animated adaptation of the 2015 Kazio Ishiguro novel. It's set in an alternative post-Arthurian Britain in which people are incapable of retaining long-term memories. An elderly couple set out on a quest to find a long-lost son that they fleetingly recall.
In his Oscars acceptance speech, del Toro said: "Animation is ready to be taken to the next step … We are all ready for it."
In a backstage interview, he stated that his film is:
About disobedience – and disobedience is urgent in the world now. How we can love each other in our failings, in our flaws, in our humanity.
Guillermo del Toro's Pinnochio is a pioneering film in the ongoing efforts to reframe the medium of animation. But it's also symbolic of del Toro's wider work to date – the perfect example of his passion for stories which illuminate our humanity, even in the face of dehumanising oppression.