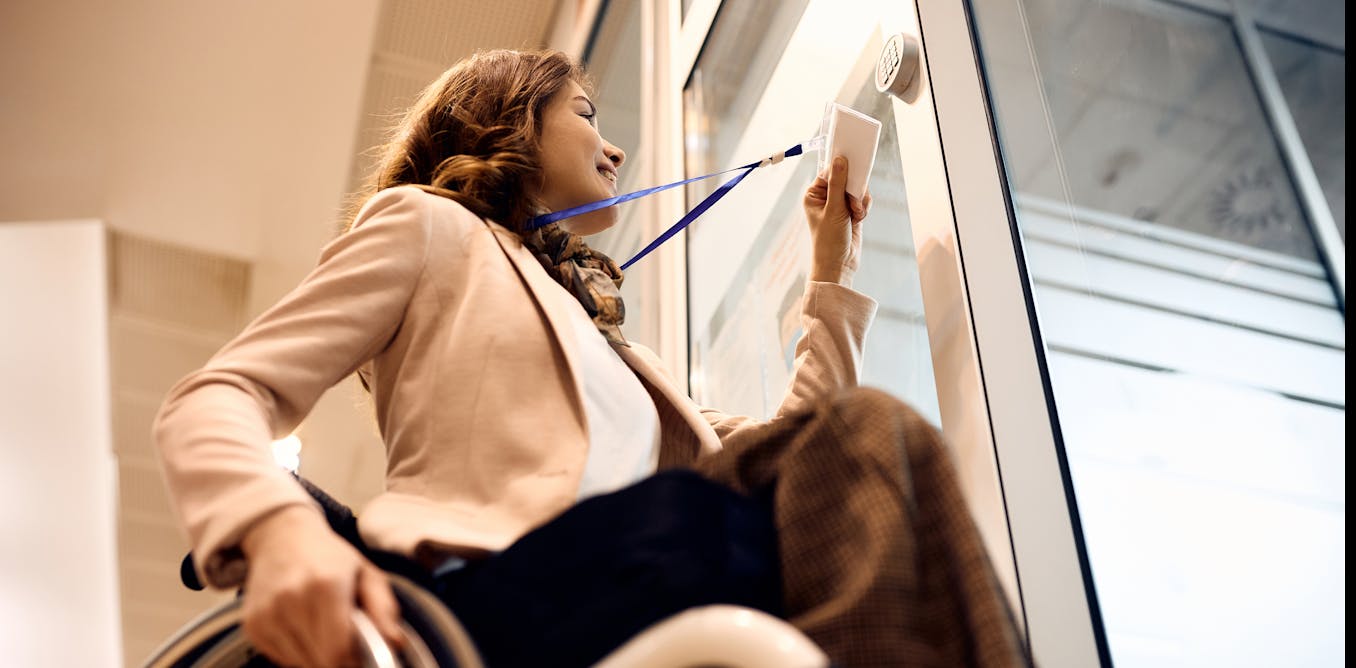 Part-time work is valuable to people with disability – but full time is more likely to attract government support
Work isn't just about getting paid. Employment can provide a number of benefits for people in terms of health, wellbeing, social, economic and financial inclusion. It can also reduce reliance on government income supports. Arguably, work is even more important for people with disability, who are more likely to be in lower socioeconomic groups and socially isolated.
Our new research shows part-time work is valuable to people with disability and supports their wellbeing. It can also lead to reduced costs for health care.
But if more people with disability are to be supported into part-time and full-time work, we need changes to existing programs and services.
---


Read more:
Australia is lagging when it comes to employing people with disability – quotas for disability services could be a start


---
Employment and disability
In Australia, 54% of people with disability are employed, compared with 84% of the wider population. This gap is worsening. In the last ten years, employment of people with disability has decreased by 3%, while the rest of the population is up 23%.
Australia's federal and state governments invest significant resources in employment supports for people with disability. Notable is the A$800 million spent each year on Disability Employment Services. There are also significant investments through the National Disability Insurance Scheme (NDIS) and other programs.
People with disability are twice as likely to work part time as people without disability. Yet, many of the government-funded programs for people with disability focus on getting people into full-time work.
The right fit
For our research, funded by WISE Employment, we spoke to 25 current Disability Employment Services clients. They told us part-time work can have a positive impact on many areas of wellbeing by building confidence, helping people better engage with families and communities, increase social networks and improve financial stability. As one person explained,
before becoming chronically ill I worked full time and had a lot of pride being independent. Being able to re-join the workforce has given me back that sense of self-sufficiency.
For some people with disability, capacity limitations and having to balance family and medical appointments means that they may only be able to work part time.
I'm recovering from cancer […] I'm hoping I'll get my energy and stamina back. It's hard after having time off work and then coming back. I'm just coping with part time, I wouldn't cope with full time.
Returning to work or entering the workforce for the first time can be a difficult transition. Part-time work can be a helpful springboard into full-time employment.
Care also needs to be taken to match people to the right job – one that uses their skills, with appropriate supports in place. When people go into unsupportive jobs that do not make appropriate accommodations for disability – or if the job or environment is not a good fit – it can have a detrimental impact on their mental health and wellbeing.
---


Read more:
'The number one barrier has probably been stigma': the challenges facing disabled workers in the Australian screen industry


---
The numbers
We also looked at client data from several sources (including service provider WISE Employment and Personal Wellbeing Index questionnaires completed by Department of Employment Services participants each year) for links between part-time work and wellbeing, mental health and health-care costs.
We found wellbeing scores are higher for those who are employed compared to those who are unemployed. There was no difference in wellbeing scores if individuals were employed full or part time. But we did find evidence those employed in casual jobs have slightly lower wellbeing.
We also drew on data from the Household, Income and Labour Dynamics in Australia Survey, which collects information annually on a broad range of topics, including demographic, social, economic and health characteristics of individuals. This data shows engagement with employment is associated with large mental health gains compared to being unemployed. And these effects are more pronounced for people with disability compared to those without disability.
As people work more hours, we see greater mental health benefits for people with disability. These effects seem to be greater for women engaged in part-time work, although the impact is the same for men and women with disability in full-time work.
---


Read more:
Inclusion means everyone: 5 disability attitude shifts to end violence, abuse and neglect


---
And it saves health dollars
We also drew on integrated data from sources, including the census, social security payments, tax records, death records and Medicare records. This shows a gradual reduction in costs associated with overall health-care services, mental health services and mental health scripts as the number of hours worked increased.
Finally, we applied the results of our analysis to current Disability Employment Services participants and people with disability on jobactive (now Workforce Australia).
We estimate that if if those who are not working were instead working part time (14–29 hours per week), it would save approximately $62.5 million per year in health-care services (including mental health services) and mental health prescriptions.
---


Read more:
Low staff turnover, high loyalty and productivity gains: the business benefits of hiring people with intellectual disability


---
The need for reform
Our research suggests there is value in part-time work for improving the wellbeing of people with disability. This comes with reduced health-care costs. But if we are to increase the number of people with disability working full and part time we need to change existing programs and services.
There needs to be careful thought given to brokerage processes that engage people in part-time jobs and the kinds of incentives offered to employers.
Rather than the frequently "blunt" mechanisms used by Disability Employment Services and the NDIS that categorise people as "working" versus "not working", there needs to be ways to recognise the potential of part-time work to improve wellbeing.