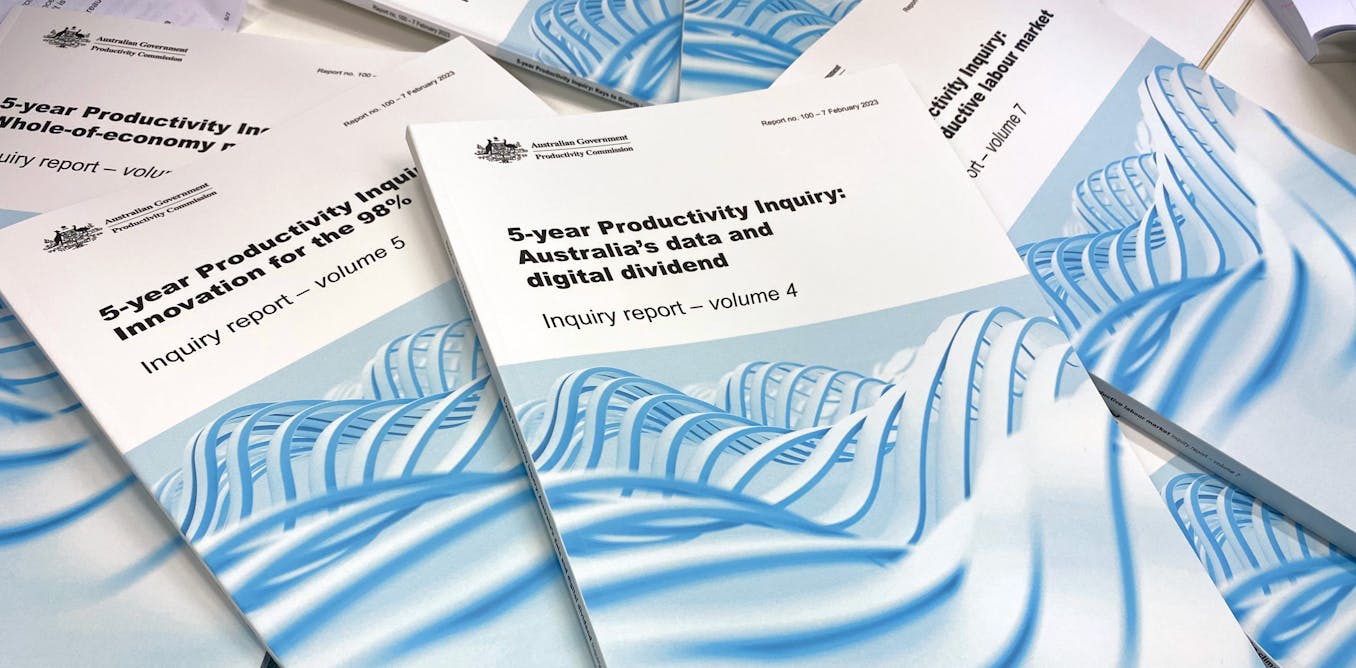 Politics with Michelle Grattan: Michael Brennan on Australia's parlous productivity growth
The Productivity Commission's nine-volume report has a tough central message. It says productivity policy has to focus on the areas that have proven the hardest in the past, rather than those where previously progress has been most readily achieved.
One key take from the report is that Australia is performing poorly in growing its productivity.
The commission makes recommendations across the policy spectrum, from education and health through workplace relations and migration to data and technology.
It points to the difficulty of improving productivity in the public sector, and more generally to the complexities, now that we have become predominantly a services economy.
In this podcast, Michelle Grattan discusses the blueprint for reform with commission chair, Michael Brennan.
Brennan says: "In this project we've attempted to go back to basics a bit. I think economists have a tendency to talk about productivity growth in slightly mechanical terms […] What we've attempted to do is go more to the particulars and say what productivity growth really represents is all of the ways in which living standards improve.
"For example […] we talk a bit about everyday household items like a loaf of bread and ask, how long would it take a worker at the average wage in 1901 to be able to afford a loaf of bread? And the answer is about 20 minutes. Compare that to today, about four minutes.
"Embedded in that is all of the productivity improvements that have happened on the farm, in the manufacturing plant where bread is being made or in the bakery that have translated into that real cost reduction over time."
The shift to a predominantly service economy brings its own unique challenges.
"Productivity is a highly intuitive concept in some of the traditional goods industries, which of course, if we rewind 70 years or so to the middle part of the 20th century, made up at least half of the economy.
"If you think about agriculture, manufacturing, mining, these are sectors where at the firm level, even for the individual worker, the concept of productivity – how much output are we getting for every unit of input, for every individual – makes a lot of intuitive sense.
"It probably makes a little less sense to an aged care worker, and I can understand why aged care workers and others in the modern services sector might be kind of pondering, well, what does this all really mean for us?"
But the shift to services "is a common trend across all developed economies".
"The first thing to point out about the shift to services is that [it] is a common trend across all developed economies, even economies we think of as being very sophisticated manufacturing economies such as Japan or Germany."
Education is a key focus in the report, and it emphasises that in the shift to a service-based economy, nearly nine in ten new jobs require some form of post-school qualification.
"One feature of those sectors like agriculture and manufacturing, was that they provided really high paying jobs to people with limited formal education, people who left school well before year 12 in many cases. The modern services economy is much less forgiving in that respect.
"There are low skilled jobs, but they tend to be low paying jobs. There is a much higher premium on formal qualifications, and in fact, it's now estimated that nine out of the ten new jobs being created in the economy require some form of post-school qualification. So the premium on education is rising."
"As an overall economy, we have in the past gained a productivity dividend from the rise in educational attainment in terms of additional years of schooling, people spending longer in school, but that's largely reached a plateau at very high levels. And so increasingly the dividend is going to have to come from quality".
The commission believes that migration is one of Australia's biggest assets, and it is in a better position on this than other developed countries.
"Migration for Australia is a big asset because we do have the capacity to bring skilled workers into the economy and that's an important area of comparative advantage for Australia that not every developed economy has to the same extent […] Inevitably in the skilled migration program you have to ration on some basis. And at the moment we tend to ration on the basis of lists, priority lists of skilled occupations that are deemed to be in short supply."
"It is very difficult for those government-determined lists to remain up to date […] and there is a tendency for the system to be influenced by lobbying to get particular occupations on the list.
"So we do favour something that's a little more cleaner, I guess a little more market-based, like an income threshold for the skilled migration program, both temporary and permanent".
Despite Jim Chalmers indicating the government won't implement some of this report's recommendations, Brennan is optimistic.
"I'm maybe un-fashionably positive on these issues. I acknowledge that often in the productivity debate or in the economic debate in general, it's easy for a sort of negative trope to creep in and run through it.
"We often hear that, you know, the public sector capability isn't there or the politicians aren't interested or not up to it, or the public won't accept various reforms or various changes and that somehow this is a lot worse than it's been in the past.
"I am much more optimistic than that. I don't really feel that any of those things are true. I think that by any objective standard, Australia is a very well-governed polity and, you know, we produce strong public sector policymakers, good politicians and a public that is quite open, in my view, to cogent argument."