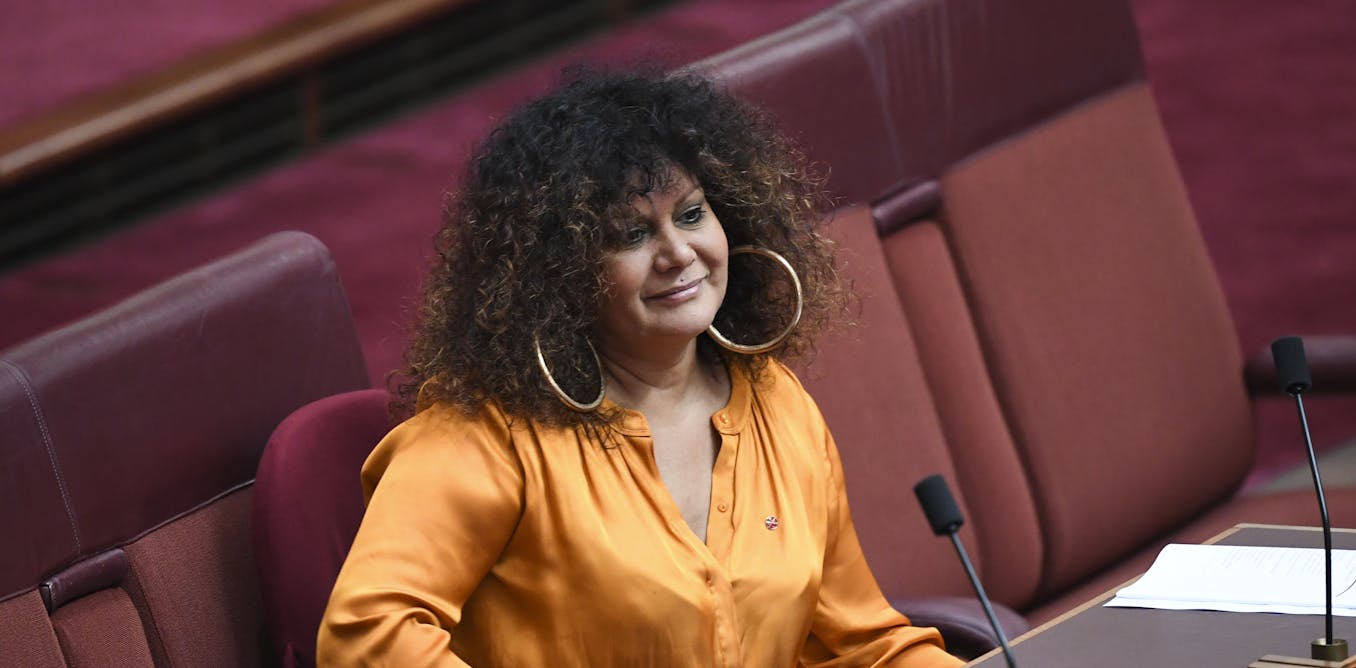 Politics with Michelle Grattan: Senator Malarndirri McCarthy on Alice Springs and the Voice
Alcohol bans are being reimposed on Northern Territory Indigenous communities, as the federal and territory governments grapple with intractable problems in Alice Springs and elsewhere in the NT.
The situation in Alice Springs and the surrounding communities has come into the national news at the same time as debate ramps up about this year's referendum for an Indigenous Voice to Parliament.
In this podcast, Michelle talks with Malarndirri McCarthy, Labor senator for the Northern Territory and Assistant Minister for Indigenous Australians. McCarthy is a former journalist and also served in the territory parliament, including as minister for children and families.
McCarthy argues for the bans, which the NT government previously described as "race-based". "What we've witnessed over the last few weeks in particular are scenes that show us that the urgency that's required does need a circuit breaker […] there is no doubt we do have issues with alcohol across the Northern Territory, but I'm also seeing it on our borders as well with Western Australia and also with Queensland.
"There's a deeper issue here about what is the future for these Australians who require jobs, who require hope for what the future looks like, but also require a safe place for their children and families to grow up in."
Asked her perspective, as a former minister for children, on the dilemma involved in deciding whether and when to remove Indigenous children at risk, McCarthy says: "One of the things I worked very closely on when I had the portfolio in the Northern Territory government as families minister was the absolute importance of the kinship structure. That when a child is in a dire situation with their mother, with their father, that they have other options within their family network […] It's something I do. I look after three children in a very kinship environment. You know, an eight year old and twins who are nine.
"Of course, if a child is at risk, whatever that risk, they must be removed to be safe."
Is this the right time for a referendum and how confident is she about its passing? "This is the right time, 2023, to embark on this journey. I know it's going to be tough. It's already started out that way […] but I do believe that in the goodness of our country. I have this deep abiding optimism that no matter how tough it gets, you know, I do essentially believe Australians are good people at heart and that we will get to the other side of this."
"Treaty" was a theme of the recent Invasion Day protests. How quickly would the government pursue a treaty after it passed the Voice? "We've already begun conversations around a Makarrata Commission and what that may possibly look like, we've been engaging with state and territory ministers or premiers and chief ministers about the work they're doing towards treaty in their respective jurisdictions."
If the referendum succeeds, there has been a suggestion the Voice might not be operating until 2025. Pressed on the timetable McCarthy is blunt. "Well, it's been a long time over the last ten years for this process, and I think people have been very patient and very particular about their research and about the work that they've done. I would think that 2025 would be better than 2035."