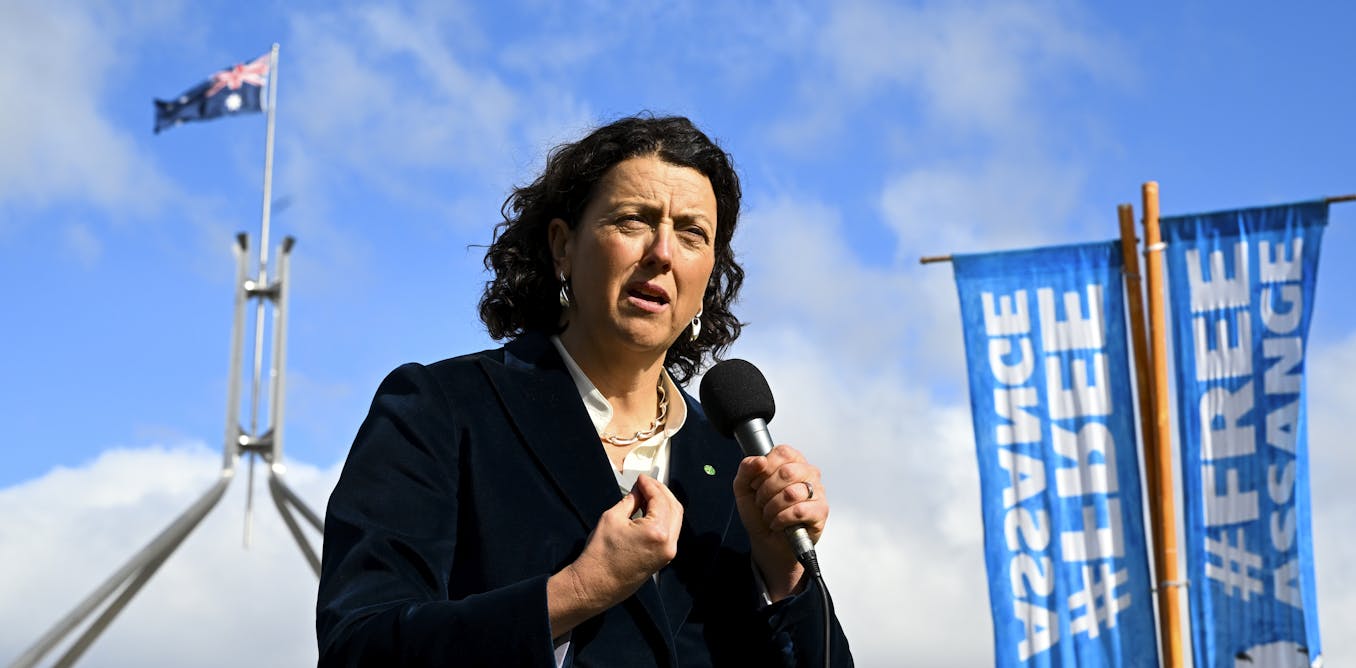 Politics with Michelle Grattan: 'Teal' Monique Ryan on the Victorian election and six months in parliament
The Australian National University Dictionary Centre has just announced its word of the year is "teal".
Senior researcher Mark Gwynn described it as an "easy choice". "The colour came to represent a movement of independent and strong female voices taking on the establishment."
Monique Ryan, the member for the Melbourne seat of Kooyong, is the giant slayer of the movement, having defeated former treasurer Josh Frydenberg.
"It's fascinating that the now the word 'teals' is now a noun that everyone recognises," she says. "That was not the case a year ago.
"I think that many communities across Australia have been really fulfilled and have been empowered by what's happened in Australian politics in the last year.
"I don't believe that the community independent movement will go away any time soon, And I think it's going to be really fascinating to see what happens in the next two or three elections."
Only a handful of teals are contesting Saturday's Victorian election. Two are in seats within Ryan's Kooyong electorate.
"What's happening in Kew is fascinating," Ryan says. "We have [Liberal] Tim Smith who's kind of had to leave parliament under a cloud, and the election there really I think will be fought out between his anointed successor, Jess Wilson [and] Sophie Torney. [Sophie] is an independent who has been a member of that community for a long, long time, has small business experience and is well-known within Kew."
"In Hawthorn, the sitting member is John Kennedy, who's the Labor member. Then we have John Pesutto, former [Liberal] attorney-general, and Melissa Lowe, who's the independent candidate. I think many people have looked to John Pesutto as a potential leader of the Liberal Party in Victoria but he's still under a bit of a cloud. Before the last election there was disenchantment with him in Hawthorn because he supported Matthew Guy on the African gangs issue."
Just-released election funding figures showed Ryan was one of the biggest recipients and spenders in the May election. "I celebrated the fact that I had 3762 independent single donations, individual donations to my campaign. That is extraordinary and doesn't take into account the 11,200 people who donated to Climate 200. I challenge anyone to find more individual donors to a political campaign in Australia and I'm not embarrassed about that."
She wants more transparency in the way that election campaigns are funded. "It's crazy that we have to spend so much money in order to have any sort of degree of parity to try and even things up at all […] I'm fully in favour of electoral reform to cut the amount of money that is spent on elections, but it has to be done in a way that is fair."
Asked about her first six months in parliament, Ryan says she has "loved every minute (almost) […] What stood out is how busy it is. I hadn't probably appreciated before I came here the extent to which you have two full-time roles when you're a parliamentarian, and for me, the electorate side of things is incredibly engaging and it's a very busy job. [The second part is] coming to Canberra and having a presence and an influence at a national level, and I think I and the other independents have been able to do that" although they have not had the balance of power in the House of Representatives.