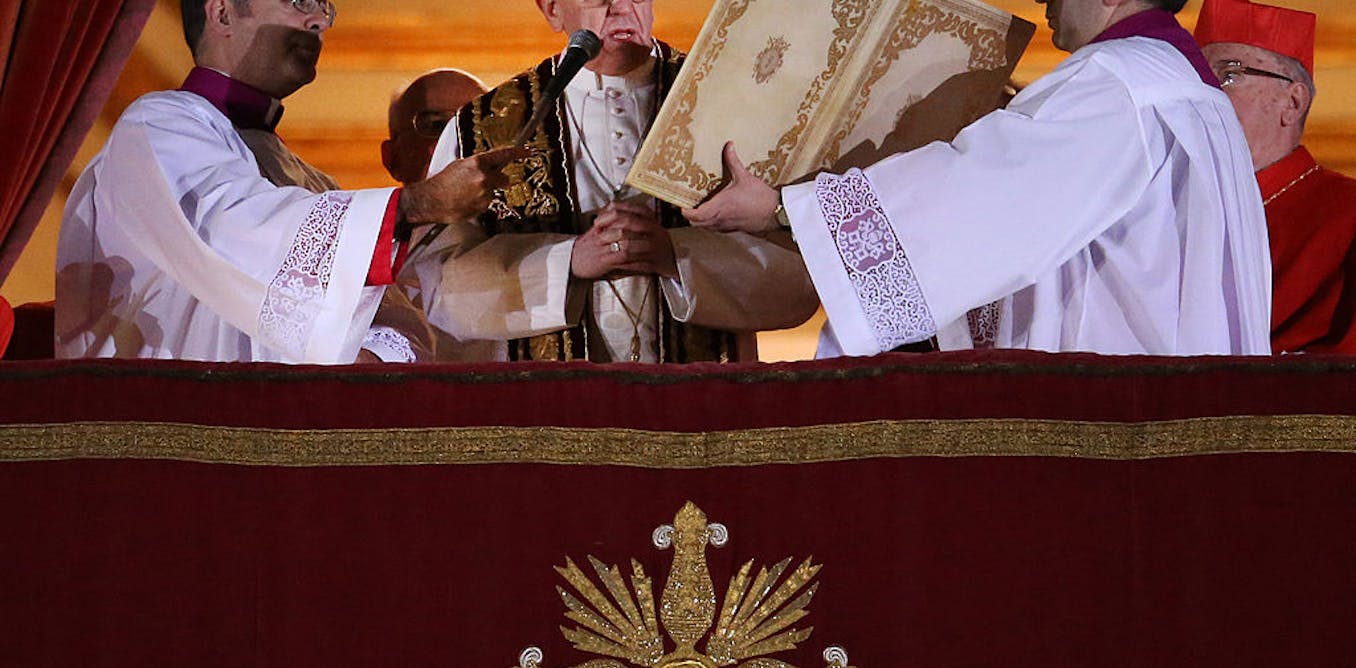 Pope Francis: the first post-colonial papacy to deliver messages that resonate with Africans
When he was presented to a cheering crowd at St Peter's Square, Vatican City, on 13 March 2013, few people outside Latin America knew much about Jorge Bergoglio.
But a decade later, based on my work as a scholar of Catholicism, I would argue that most Catholics know and love Pope Francis. They also see a deep connection between his message and priorities, and their dreams and hopes for a better church and a world that is reconciled.
When Pope Francis was introduced in 2013, I was working as an African expert on global Catholicism for Canada Television. I went blank when the new pope was presented to the world on live TV because I had no biographical information on him. So, I ran off the list of what we African Catholics wanted from the new pope.
This included a decentralised and decolonised Catholicism, with more powers given to local church leaders to address local challenges using their own cultural and spiritual resources. There was also the urgent need to give African Catholics more places at the decision-making table in the world church.
Before Pope Francis, many of these challenges were either ignored, spiritualised or papered over through moral platitudes. Pope Francis has taken them on. He is the first post-colonial pope to challenge the system within the church and society that exploits the poor and vulnerable.
Pope Francis' papacy is anchored on what he calls a "revolution of tenderness". This reflects two central themes: the courage to dream and the culture of encounter.
These two themes have resonated with African Catholics. They awaken a sense of hope that by collectively tapping into Africa's human, material and spiritual resources, it's possible to address the continent's social, economic and political challenges.
The courage to dream
The word "dream" is a constant in Pope Francis' vocabulary. It is the title of one of his recent books, Let us Dream: The Path to a Better Future. In it, he invites people to work together as one human family and break the chains of domination driven by nationalism, economic protectionism and discrimination.
He described his recent trip to Africa as a dream come true. It gave him the opportunity to share a message of hope and peace with the people of the Democratic Republic of Congo and South Sudan.
---


Read more:
Pope Francis' visit to Africa comes at a defining moment for the Catholic church


---
When he stood alone at St Peter's Square in March 2020 at the height of the COVID-19 pandemic, Pope Francis asked humanity "to reawaken and put into practice that solidarity and hope capable of giving strength", and embrace the courage to dream again.
Reflecting on the question Jesus asked his disciples in the Bible, "Why are you afraid?". He encouraged humanity not to lose hope because of the fear and despair surrounding the loss of lives from the virus.
The culture of encounter
In his speech to the UN General Assembly in 2015, Pope Francis invited the world to embrace a culture of encounter.
This, he said, would lead to a "revolution of tenderness" and the globalisation of love and solidarity.
I have argued in my research that the "culture of encounter" is his way of capturing the communal ethics of ubuntu, which encompasses African values of community, participation, inclusion and solidarity.
Under this theme, Pope Francis is challenging people to envision a world freed from violence and war; of a common humanity dwelling in peace in a healthy climate; and of economies that work for all, especially the poor.
---


Read more:
Francis is the first Jesuit pope – here's how that has shaped his 10-year papacy


---
In his letter to bishops, Fratelli Tutti (no.195), Pope Francis says the culture of encounter can shatter socially and historically designed narrow structures, systems and institutional practices. The dream of a better world, he says, can be realised if people learn to love rather than hate.
Pope Francis challenges all global citizens to contribute to mending the interconnections that have been ruptured among peoples, nations, cultures, churches and religions. These ruptures, he says, are the result of long years of exclusionary practices, unjust economic and global systems and false ideologies of identity.
Realising the dream
In his apostolic exhortation Querida Amazonia, Pope Francis writes about four dreams he has for all people.
First is a social dream, where everyone can live an abundant life in dignity and in a healthy environment. This can be realised, he proposes, through "an arduous effort on behalf of the poor".
The second is a cultural dream where people's cultures are affirmed. Their talents are valued, and they can apply their human potential and material resources as free agents. For an African continent that continues to suffer the effects of colonialism in both church and state, Pope Francis proposes a strong resistance to the destructive forces of neocolonialism.
The third dream is the hope for humanity that flourishes through responsible stewardship of Earth's resources. This invites all peoples to care for, protect and defend the environment.
The fourth dream is Pope Francis' hope that the Catholic church will become a community of communities, where people seek common ground. This requires the rejection of any forms of exclusionary practices in the church. It advocates the liberation of the poor, and the protection of the rights of the vulnerable and those who have suffered neglect, oppression and abuse.
---


Read more:
It shouldn't seem so surprising when the pope says being gay 'isn't a crime' – a Catholic theologian explains


---
Realising this dream, in Africa particularly, requires dismantling the structures of neocolonialism, the global structures of injustice, and the dependency cycle that continues to characterise the relationship between the continent and the rest of the world.
It will also require a new crop of transformational leaders who are on the side of the people. Leaders who place the interest of their countries and the continent above selfish, ethnic or partisan interests.
New identity
Pope Francis' revolution of tenderness can help bring about a new cohesive identity in Africa built on a historical consciousness of who we are, how far we have come, and how we can reach the future of our dream.
The courage to dream and the culture of encounter are capable of ushering in new ethics of co-operation, collaboration and inclusion so that the common good is promoted and preserved for the benefit of all.