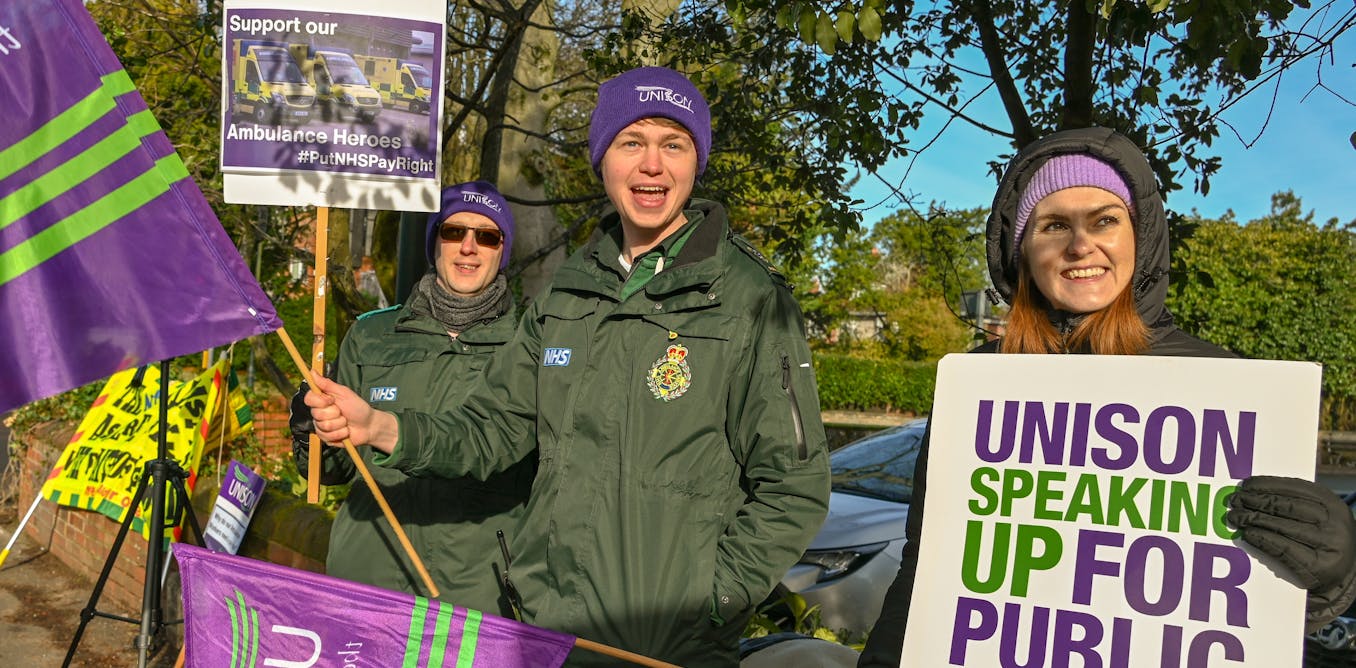 Recent pay rises suggest that collective bargaining may be on the way back
London bus drivers working for transport company Abellio recently negotiated an 18% pay rise following industrial action organised by the trade union Unite. Such success shows the impact that collective bargaining can have on the pay negotiation process. Other unions that have recently paused industrial action to return to the negotiating table will be hoping for similar levels of success
Collective bargaining involves a group of employees – typically represented by a union – negotiating with an employer about wages and conditions. But the government's use of pay review bodies (PRBs) since the 1970s to advise on public sector pay levels has created a wedge between employees and their employers – and ultimately the government – when it comes to discussing wages and conditions.
The current resurgence of industrial action and questions about the credibility of PRBs could lead to a return to more traditional wage negotiations, however, in which unions engage in collective bargaining directly with employers.
Research shows that stronger unions and wider collective bargaining coverage not only improve fairness, they also help to rebalance the economy away from debt-led growth to a stable and healthier model of economic growth. But in recent decades collective bargaining has been in decline.
In 1996 36% of employees' pay and conditions were directly affected by an agreement between their employer and a trade union. By 2021 the figure was 26%. The proportion of employees covered by these agreements in the public sector fell from 74% to 58% during this time and from 23% to 14% in the private sector.
This contraction in collective bargaining has led to a fall in how much of the national income is paid in wages and a rise in that paid to shareholders and companies in the form of profit, leading to greater income inequality. In the UK, this wage share fell from 70.6% of national income in 1975 to 66.6% in 2018. This was accompanied by a 47 percentage point fall in collective bargaining coverage and at the same time union density (the number of trade union members as a percentage of the total number of UK employees) decreased by 21.1 percentage points.
Union benefits
Research shows that high levels of bargaining coverage help make trade unions more effective. They enable unions to ensure equality in terms of income distribution and to hold successful wage negotiations, the results of which are shared by the wider workforce. Unions are likely to be more successful if they coordinate across both firms and entire industries.
But despite the overall fall in coverage, collective bargaining still sets pay for certain employees in some of the UK's largest companies including Rolls Royce, BT Group and Tesco. It's also used in rail, chemicals, oil refining and parts of the banking sector. The UK's largest local labour market is Heathrow, with 76,000 workers, many of whom are unionised and collectively bargain to negotiate pay and conditions.
And there is lots of evidence that organisational collective bargaining has firm benefits for workers in terms of pay, job quality, working hours and work-life balance. My research includes details of cases where collective bargaining has been restored by the firms themselves, suggesting that employers also recognise the benefits. Agreeing pay with unions helps reduce costs because terms and conditions of employment are standardised across the company.
The role of pay review bodies
Recent news of public sector worker strikes has been peppered with references to Pay Review Bodies (PRBs). Established in the UK in the 1970s – often in response to industrial action – there are eight independent panels that provide the government with evidence, advice and recommendations on public sector pay and conditions. Separate PRBs cover industries including the armed forces, doctors dentists, nurses, teachers, and the senior salaries group in the civil service.
While technically defined in government statistics as collective bargaining, nearly half (45%) of public sector workers have their pay and conditions determined by these bodies.
Yet, since the 2008 financial crisis, PRBs have presided over a real terms fall in public sector earnings, with some nurses' pay declining by 20% over the past decade. This dramatic drop, alongside spiralling inflation in 2022, provides the context for the current wave of industrial action.
---


Read more:
Strikes: why refusing public sector pay rises won't help reduce inflation


---
This situation was driven by government policies dictating a two-year public sector pay freeze in 2010, followed by a 1% average pay cap on public sector pay awards, which was removed in 2017. Between 2018 and 2020 average pay awards were above 2%, but a further pay freeze (excluding NHS staff and workers earning below £24,000) was introduced in 2021. Such restrictions undermine PRB claims of independence.
Plus, the government sets guidelines for the PRBs on affordability, departmental spending plans and even inflation targets. These issues around PRB recommendations have been compounded by a failure to address the public sector staff shortages and retention issues that are also contributing to industrial action.
The government has been accused by some commentators of hiding behind the PRBs in the current disputes. Alastair Hatchett, a visiting research fellow at the University of Greenwich and former head of pay research at Incomes Data Services (a private company that publishes information on pay bargaining and pay data), believes the independence of the PRB system has been undermined by a reliance on Treasury forecasts that have turned out to be incorrect. He said in December 2022 that the government should be "forced to reopen pay bargaining" for the public sector's 2022 pay awards.
Some public sector unions have already started to question PRBs and are considering withdrawing their participation from the process. This could herald a return to more traditional pay setting in the public sector with unions engaging in collective bargaining directly with employers.
Previous research has found that when unions are more active, more people join. Indeed, reports suggest the National Education Union has added 40,000 members since it balloted for its current strike action. So it's not hard to believe that successful industrial action could boost union membership and confidence further. This could build pressure for stronger collective bargaining over pay and conditions, which in turn could help to tackle UK income inequality.