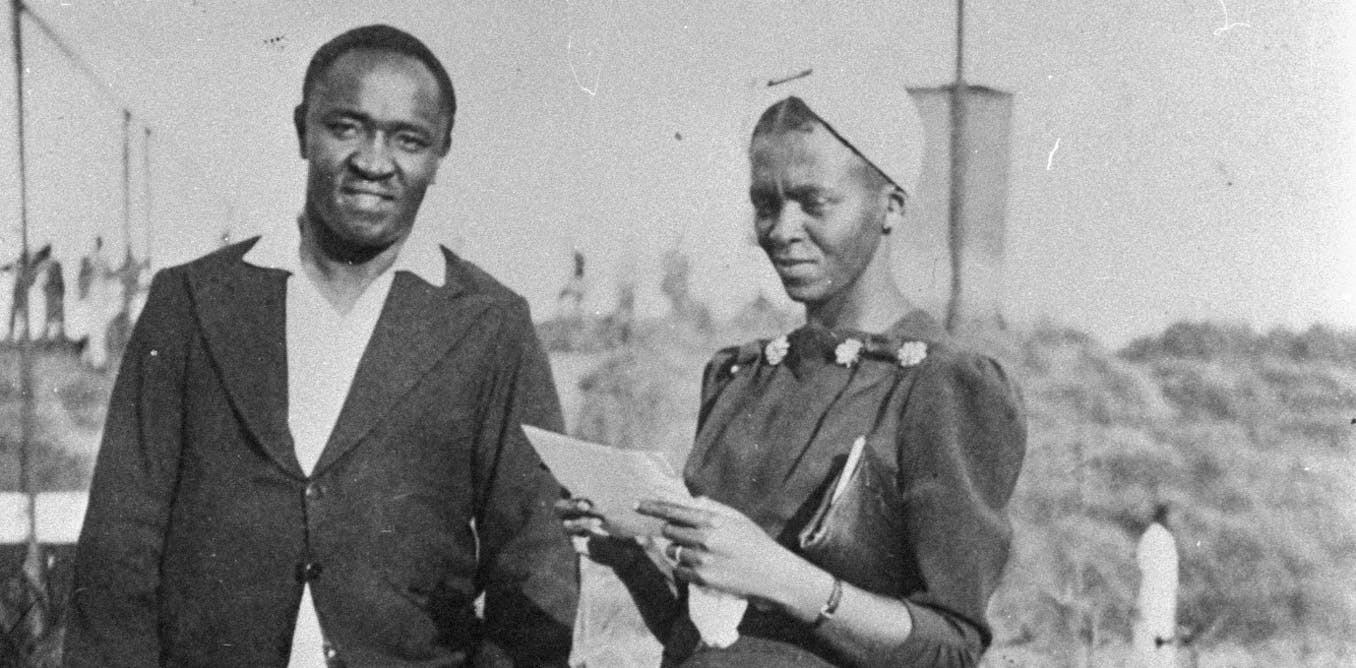 Regina Twala was a towering intellectual and activist in Eswatini – but she was erased from history
Born in South Africa and exiled to neighbouring Eswatini, Regina Twala was one of southern Africa's most important intellectuals: a pioneering writer, academic, political activist and feminist. Why, then, has she been all but forgotten? That's the question a new book sets out to answer. In the process Written Out: The Silencing of Regina Gelana Twala restores Twala to her rightful place in history. We spoke with the book's author, historian Joel Cabrita.
Who is Regina Twala and why is she important?
Regina Gelana Twala was a writer, anthropologist, social worker and political activist who lived in both South Africa and Eswatini (then Swaziland). She died in 1968 at the age of 60.
Twala broke the mould of what black women were meant to represent. She was just the second black woman to graduate from Johannesburg's University of the Witwatersrand (in 1948) and the first to graduate in social science in South Africa. In a period dominated by male intellectuals, she was a formidable writer and thinker. One of few female contributors to southern African newspapers, she wrote hundreds of articles.
Her prolific output includes as many as five book manuscripts, almost all lost as Twala struggled to be published due to the racist gatekeeping mechanisms of apartheid-era South Africa.
Twala stood at the forefront of politics in both South Africa and Eswatini. She spoke out loudly, braving the censure of men who preferred women to be quiet and in the home.
Her personal life was as noteworthy as her public persona. Twice married, she bucked the shaming conventions of the day that stigmatised divorced women. She rejected her unfaithful first husband and sought a love union with sporting figure Dan Twala. Disillusioned after 20 years of marriage, she chose to live separately as an independent woman until her death from cancer.
Twala, moreover, left a uniquely intimate record of her life. She exchanged hundreds of love letters with Dan over 30 years, one of the most remarkable collections of letters in African history. They are filled not only with personal details but also political commentary. She was close to figures like former South African president Nelson Mandela, who represented her in her divorce.
Can you tell us about her time in South Africa?
Twala was born in 1908. The Natives Land Act was passed in 1913, dispossessing black South Africans of their land and forcing an exodus to towns and cities. She herself followed a similar pattern, moving from rural Natal to Johannesburg in her 30s to work as a teacher.
She moved in the highest circles of Johannesburg's intelligentsia, mingling with politicians, academics, philanthropists and social workers. She was part of the pioneering class of the Jan Hofmeyr School of Social Work (political leader Winnie Madikizela-Mandela would graduate from there too). She established her reputation as one of Johannesburg's most popular columnists. Among her topics were racial disparities and the misogyny of her society.
Twala's life exemplifies the fortunes of an elite black class in South Africa whose aspirations were squashed as the century wore on.
For a brief period, unable to find employment, she worked as a domestic servant in a white household. When the racist apartheid government was voted into power in 1948, Twala became involved in anti-apartheid politics. She joined the African National Congress and was arrested in 1952 for her part in the Defiance Campaign, a non-violent resistance movement. Two years later she exiled herself to neighbouring Eswatini (her husband, Dan Twala, was from there).
What impact did she have in Eswatini?
Twala moved to Eswatini at a key moment in the country's life. She had received a prestigious Nuffield Fellowship that allowed her to pursue anthropological research into how women were responding to the country's massive cultural shifts. The monarch Sobhuza II was increasing pressure on Britain for independence.
Swaziland's middle class (in whose company Twala found herself) allied with Sobhuza. The country's first political party, the Swaziland Progressive Party, was formed by them in 1960. Twala was a founding member and its first women's secretary. She attended pan-African gatherings in Ghana with then-president Kwame Nkrumah. Her career reminds us that women were also key players in early anti-colonial politics.
Beyond formal politics, she advocated for women's education and self-help, starting a crafts organisation and founding the first library for black readers in her home town. Eswatini has one of the largest gender disparities in the world and Twala's vision remains as sadly relevant today as in the 1950s.
As an anthropologist, she was critical of those who weaponised African culture to keep women in their place. Her relationship with Sobhuza soured in the 1960s as she became disillusioned with his suppression of the democratic process. She used her pen for scathing critiques of the powerful and wealthy in Eswatini, mobilising the press to advocate for ordinary people – most of all women.
Why has history forgotten her?
Twala's radical politics undoubtedly contributed to her erasure. Her criticism of the Swati monarchy meant she was steadily sidelined from politics. On her deathbed, she pushed hard to have her final work – a study of Swati women – published to coincide with Eswatini's 1968 independence. Figures close to the king blocked it. Eswatini became – if anything – even more repressive and outspoken anti-royalist women weren't going to be celebrated as pioneering anti-colonial figures.
She's also been forgotten due to the gatekeeping exercises of territorial white academics. Prominent anthropologists and historians taught and mentored her but were less supportive once she outgrew their patronage.
A case in point is renowned anthropologist Hilda Kuper. Their close relationship soured as Twala became increasingly critical of white liberal academics and their pretensions to "own" their research sites and subjects. After Twala's death, Kuper effectively squashed the publication of Twala's final manuscript, declaring it of little intellectual value. It gathered dust in Kuper's archives in the US until I discovered it 60 years later.
Swedish historian Bengt Sundkler paid Twala to research African religion. Her work on indigenous Zionist churches was diligently sent. Two decades later, Sundkler would publish these notes as his own in an act of plagiarism. He is remembered as a leading scholar; her contribution was erased.
Why is it important that we remember her?
Twala reminds us that we should not take the seeming absence of women from the historical record at face value. Silences have their own story to tell. The story as to why women are not numbered among the luminaries of their times is complex and deserves careful unpacking.
---


Read more:
Juby Mayet, legendary South African writer and journalist, remembered through new book


---
Finally, Twala was the author of her own life. My hope is that my biography paves the way for her work to finally find a publisher. The next step is for Twala to speak for herself, to the world.