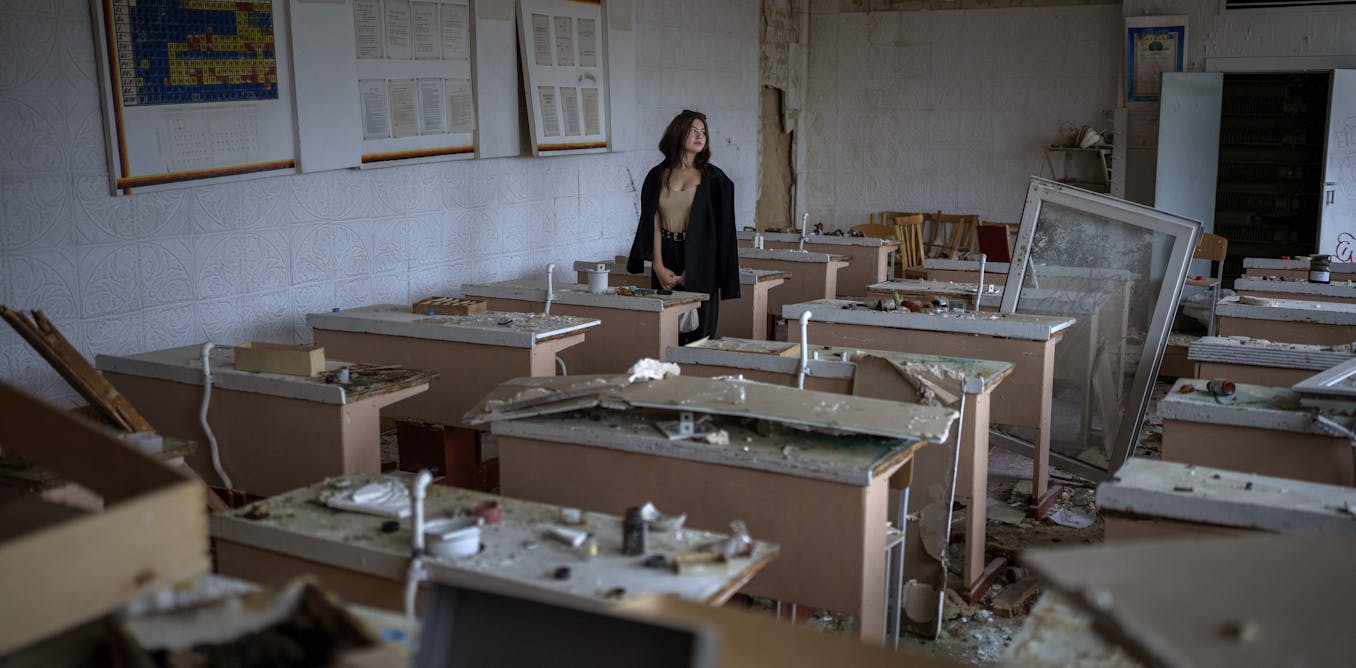 Russia's war in Ukraine threatens students daily and forces teachers to improvise
Svitlana Popova's students didn't realize she was leading their online math class while outside the charred remains of her home in Ukraine until they saw a news video about it on social media.
Her students were in their own difficult circumstances, too – seeking refuge away from their homes, some in other countries.
Popova is a mathematics teacher in the town of Borodyanka, in the Kyiv region of Ukraine. Her school was seized as a headquarters by Russian military forces and heavily damaged before their retreat. After her classroom transitioned to online instruction, Russian tanks fired on her house and burned it down. Yet this dedicated teacher continued to lead virtual lessons from a small umbrella-covered table in the yard.
Ordinary Ukrainians have been hailed for their heroism since Russia's full-scale invasion. "There are no small matters in a great war," Ukrainian president Volodymyr Zelenskyy affirmed in an emotional New Year's address. "Each of us is a fighter," Zelenskyy stated. "Each of us is the basis of defense."
Listing the tools of war – ship's helms, steering wheels, weapons, scalpels – Zelenskyy ended with an unexpected inclusion: the teacher's pointer. This passing remark highlights an often hidden front in Ukraine's defensive struggle – the fight by countless teachers and parents to keep more than 8 million children educated, even as their worlds have been thrown into upheaval.
Educational efforts
Like Ukraine's stunning resistance itself, local educators are rising to the occasion despite enormous challenges. Viral videos show teachers continuing to instruct their small pupils in bomb shelters during active bombardments, or conducting lessons inside a post office after schools lose electricity. Gas stations and grocery stores, powered by generators long after homes and schools lose power, are being transformed into hubs for filming virtual lessons.
One Kyiv teacher spent hours crouching on a snowy sidewalk outside a store, determined to finish sharing the day's homework assignment despite rolling blackouts. Other teachers now bring their pets for online lessons, lifting spirits and providing psychological support. Many teachers, like Popova, comfort their students despite their own traumatic losses.
Long-term displacement
As an anthropologist working in Ukraine since 2015, I have long observed the effects of armed conflict on Ukrainian children. After Russia first invaded in 2014, regular bomb threats to schools have been attributed by Ukrainians to Russian governmental efforts to sow fear.
Between that first invasion and the second in February 2022, armed conflict with Russia internally displaced 1.5 million Ukrainians and damaged 740 schools. I have analyzed the impact of this warfare on children for trauma healing since Russia's invasion began nine years ago. Still, these earlier challenges pale in comparison with what the Ukrainian educational system faces today.
Russia's nationwide offensive against Ukraine in early 2022 led to the largest refugee flows in Europe since World War II. In the weeks following the invasion, nearly 16 million Ukrainians were driven from their homes to seek refuge abroad and elsewhere in Ukraine. Many of these were women and children, exacting a heavy toll on Ukraine's female-majority teaching corps, as well as their students.
With large numbers of Ukraine's young people at least temporarily resettled in primarily European countries, some teachers reported a surge in their students' motivation linked to the structure of returning to their online Ukrainian schooling. "The children missed it (school) … because most of them were on the road for a long time. It was very emotionally draining, and when they returned to school, it was something they were used to," one teacher told a Ukrainian reporter.
Teaching online, again
Teachers around the world developed remote-teaching skills during the COVID-19 pandemic. Now that war had driven their classes apart again, Ukrainian teachers adapted those skills to teach students across Europe and the world.
Some private online schools like Optima made their materials available free of charge. This step allowed Ukrainian students to study at home if they could not otherwise access schooling because of the war. It also provided a way for Ukrainian refugee children to retain access to school materials in their native language. Still, new obstacles emerged.
Many countries that took in Ukrainian refugees required the children to attend local schools, even if they didn't speak the local language. Some children thrived, like the young Ukrainians who stunned their Welsh hosts by learning the local language in less than 12 weeks. Yet for many children, these host country efforts at integration created new problems. In my ongoing ethnographic research, Ukrainian parents described how these attendance requirements left their children frustrated. "The children just sit there not understanding anything all day," one parent told me.
Parents told me that after their children finished these long days in a foreign school, many would begin their day's real learning late at night. Parents said Ukrainian language materials gave children the chance to stay on schedule with their grade level back home. Failure to do so might further derail their future state exams and graduation dates.
By nightfall, however, children had lost their most productive educational hours. Harmful spirals soon followed. Even formerly top students experienced exhaustion-driven pressures to copy virtual assignments. Losing their joy of learning added to the strain of the war's intense trauma in these young lives.
A focus on education
Ukraine's literacy rate is 99.8%, one of the highest in the world, and education is a national point of pride. In wartime, Ukraine's government is working to adapt its educational system to new realities.
Home schooling is permitted, so long as students can pass standardized tests. Still, many supervising parents are overburdened with the tasks of daily survival in the face of the Russian military's relentless attacks on the civilian population. One mother revealed to a reporter that she soothes her children to sleep in bomb shelters before arranging shovels around them in case they become trapped in the rubble of a missile attack. Another mother told me she sends her young child to school with an emergency backpack filled with food, water and clothes in case he becomes trapped with his teachers.
The Russian military has also damaged or destroyed over 2,400 schools, adding to construction burdens. When the school year began in September, government data indicated that less than 25% of Ukrainian schools nationwide were able to offer full-time, in-person instruction. Even those that were intact are now required to have a bomb shelter before they can hold in-person lessons. Major campaigns have rushed to build bomb shelters for schools, but, even so, many are simple, dirt-floor basements.
In addition, Russia's intentional targeting of Ukraine's electrical grid and civilian infrastructure poses new dangers to children's health and schooling. Power outages have affected an estimated 10 million people, over one-quarter of the Ukrainian population. Over half of Ukraine's pupils are enrolled online and need electricity to attend classes and do schoolwork. Continued electrical outages would be a foreboding new hurdle.
Under occupation
The status of children's education in Russian-controlled territories is even more alarming. Russia's occupation has ushered in new forms of ideological coercion in the classroom. Teachers in the liberated Kharkiv region have spoken of arbitrary arrests and torture by the Russian military when they refused to teach their students that Ukraine was a territory of Russia.
Ukrainian teachers have also tried to protect their students from Russia's forcible deportations of minors, a crime of genocide under international law.
Courage has become synonymous with global descriptions of Ukrainian citizens enduring war, and teachers exemplify this everyday heroism. Still, Russia's targeting of Ukraine's youngest citizens unfortunately goes much deeper than the physical devastation of their schools, kindergartens and nurseries. In a survey of existing educational challenges, one brave parent admitted, "I am really scared for the future of our children."