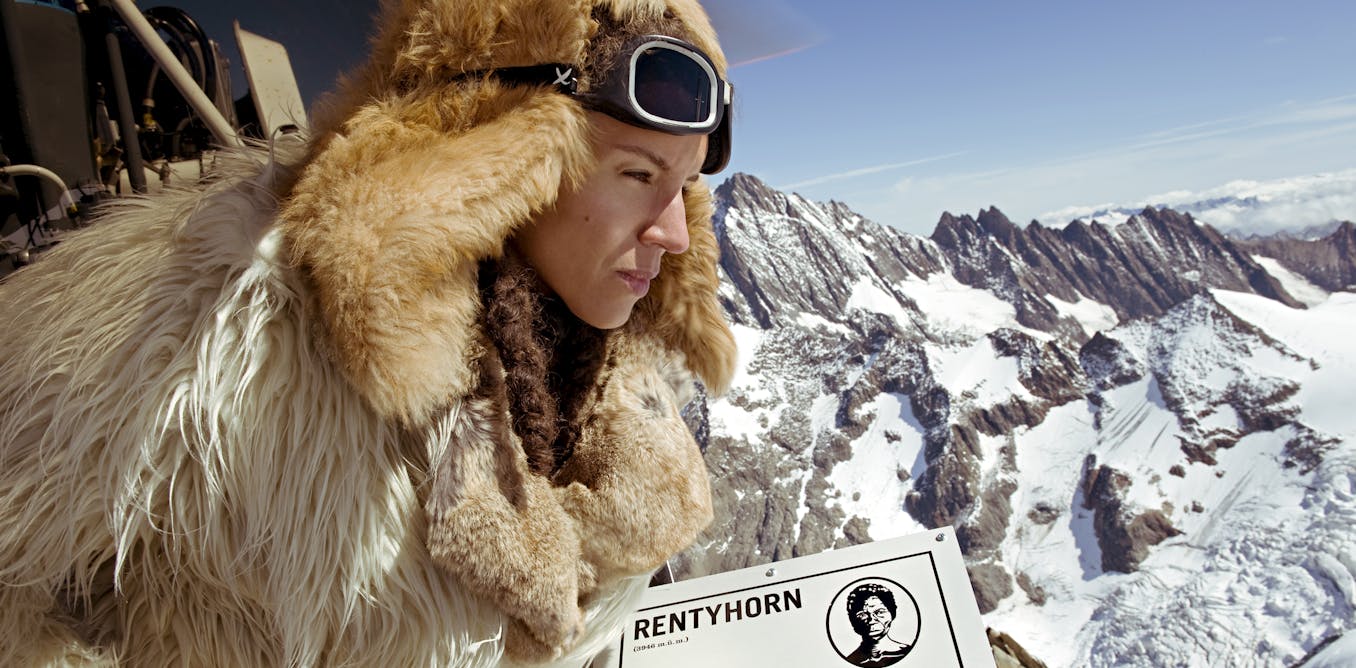 Sasha Huber's You Name It: Swiss-Haitian artist renegotiates colonial history in activist exhibition
In 2008 Sasha Huber, a Swiss-Haitian multimedia visual artist based in Finland, began a project to challenge the problematic legacy of Swiss-American glaciologist and natural scientist Louis Agassiz (1807-1873).
Agassiz was a devout creationist who lectured on his belief in racial segregation, defended slavery and propagated the unfounded idea that races were different species. These racist ideas have been dignified and normalised through the commemorative naming of seven species and more than 80 places. Astonishingly, these include one on the surface of the moon, another on Mars and his audacious self-naming of a mountain in Switzerland – "Agassizhorn".
A solo exhibition titled You Name It – which brings together a selection of Huber's art works that act as challenges to historical, systematic, scientific racism – has been at the Autograph gallery in London since November 2022.
The exhibition has been curated around the question: Who and what do we memorialise and how? Conceived as a touring show, its first manifestation was in Rotterdam in 2021, where it was simply billed as Sasha Huber: a Solo Exhibition. It then moved to The Power Plant in Toronto in 2022, where it acquired its current title.
Since November 2022, the show has been based at Autograph, whose director, Mark Sealy, has long been concerned with western photographic practice being "used as a tool for creating Eurocentric and violent regimes". This abiding concern is evident in this exhibition.
In 1850, Agassiz commissioned the studio portraitist Joseph T. Zealy to make a set of daguerreotypes of enslaved people on the Edgehill plantation in South Carolina. This included a Congolese man, Renty Taylor, and his daughter Delia, as well as five others.
Agassiz used the images to support his theory of the inferiority of certain ethnic groups. The subjects were required to pose naked for three full length views: front, rear and side. These are thought to be the first photographs of enslaved people.
Huber's engagement with Agassiz began when she was invited by historian and activist Hans Fässler to join the "Demounting Louis Agassiz" campaign. In 2008, Huber undertook a symbolic renaming of Agassizhorn. Accessing the mountain top by helicopter, she marked the summit with a plaque bearing a new place name, Rentyhorn, honouring the enslaved man pictured by Zealy. A film of this renaming anchors the exhibition.
Many other "reparative interventions" – Huber's term – have followed. They take different forms, including places marked by colonial history far away from Switzerland. In each case Huber takes care to ensure that the project is devised with sensitivity to the given location or issue being addressed, drawing on indigenous knowledge and customs.
For example Huber describes how in Aotearoa (the Maori name for New Zealand) she worked with "Maori people in the area" on an intervention to "symbolically un-name and cleanse" the so-called Agassiz Glacier for a film titled: Karakia The Resetting Ceremony (2015).
Creating "pain-things"
Huber has also created numerous pieces using her signature "shooting back" technique, in which "metal staples [are] 'shot' onto wooden boards" using a semiautomatic staple gun. This produces images and textured surfaces to represent key perpetrators and artefacts associated with colonial atrocities.
In one example, Tailoring Freedom – Renty and Delia (2021), Huber has combined "shooting back" with new photographs based on the original daguerreotypes taken by J.T Zealy.
These are some of the most poignant photographic portraits I have ever seen. The figures seem to look back at us from across the far distance of time and place. Now "dressed" in carefully researched attire, Huber has afforded both father and daughter the dignity lost when the original photographs were made.
At first Huber used this as a "weapon" of resistance, however more recently the technique has taken a more restorative turn:
My shooting of staples has sought to enact a stitching of colonial wounds. It was a way for me to make visible and tend to those wounds. I started to call my works 'pain-things'.
You Name It includes two new pieces of work commissioned through Autograph's "Stranger in the Village" project. The African American novelist James Baldwin's essay of the same name explores his distressing experiences in an all-white village in Switzerland in the early 1950s.
Baldwin encountered such a high level of curiosity in himself as a person of African dissent – not least in his skin colour – that it left him feeling isolated and alienated. The essay, which investigated the racialised body, marked a turning point in his writing.
These new pieces by Huber, continue her exploration of memorialisation. The Firsts by Tilo Frey was made in tribute to the Cameroonian-Swiss politician Tilo Frey (1923-2008), who campaigned for women's rights and suffrage in Switzerland.
The other honours Khadija Saye's You Are Missed, an "artist, activist and carer", who died with her mother as victims of the Grenfell Tower fire, London, in 2017. They will join Autograph's collection with its "unique focus on black experiences and politics of representation".
Huber's art is startling for many reasons. Grounded in thorough research and motivated by a commitment to "reparative intervention", she succeeds in forcibly addressing the legacies of western colonialism. At the same time her art – which can be understood as a form of activism – constitutes a positive renegotiation of this history.
As Huber's partner Petri Saarikko has said of her work: "You're lifting rocks from the past to build a bridge for the future."
You Name It is showing at Autograph London until 25 March 2023 before moving to Turku Art Museum in Finland from June-September 2023.