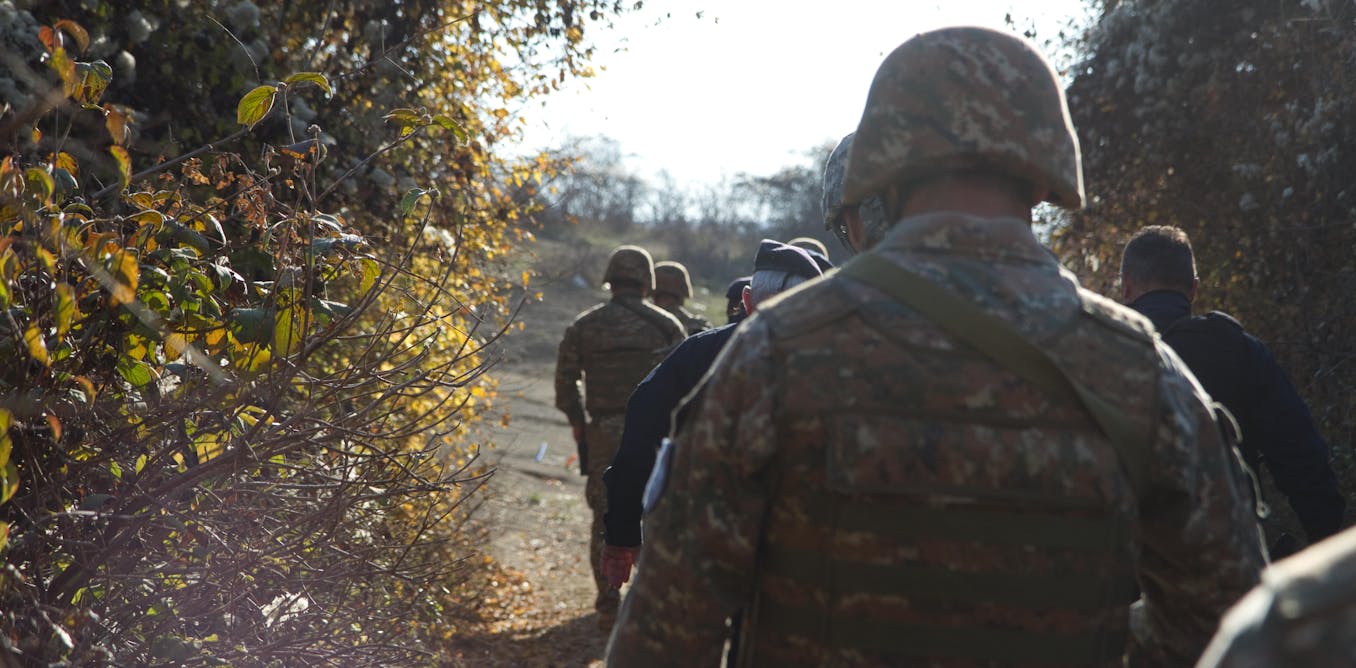 Serbia and Kosovo: why the EU is intent on resolving border tension stoked by the Ukraine war
The Russian invasion of Ukraine serves as a sombre reminder that Europe's unresolved issues can reignite. Given the rising tension in the Balkans, Germany and France have made settling the unresolved problems between Serbia and Kosovo a top priority for 2023.
This is particularly important after a confrontation in December 2022 over licence plates in northern Kosovo stoked fears of a renewed conflict in the Balkans. Some ethnic Serbs do not acknowledge Kosovo's independence, and therefore thousands of residents in northern Kosovo refuse to use Kosovan licence plates. Kosovo declared its independence in 2008, but Serbia continues to claim the territory.
The necessity of finding a lasting settlement in 2023 that may result in mutual recognition between the two states has, however, generated significant concerns due to the worries of another bloody war in Europe. Russian president Vladimir Putin has attempted to escalate tensions between Serbia and Kosovo to draw attention away from his war in Ukraine, and to solidify his relationship with Serbia.
In December 2022, for example, Serbian president (and Putin's proxy in the Balkans) Aleksandar Vučić openly endorsed roadblocks near the main border crossing between Kosovo and Serbia, which was ironically blocked by trucks gifted by the EU.
At the end of 2022, France and Germany appointed their own special envoys to engage with Serbia and Kosovo and they are leading the EU-facilitated dialogue to resolve the dispute between the two countries. The Franco-German proposed agreement has nine articles and is based on a document known as the basic agreement from 1972. This was influenced by the German experience in resolving sensitive border issues following the second world war.
German chancellor Olaf Scholz and French president Emmanuel Macron believe that the French and German experiences in resolving highly sensitive issues after WWII can help Serbia and Kosovo normalise relations. They have proposed that Serbia and Kosovo set up permanent missions, which are like embassies but operate at a lower level, as a starting point.
The most important part of the Franco-German proposal is that "Kosovo and Serbia must foster good neighbourly ties with each other based on equal rights". This puts all sides on an equal footing. The Franco-German proposal offers financial rewards with a deadline of spring 2023 and guarantees that France and Germany will strive for both Serbia and Kosovo's entrance to the EU.
Kosovo has so far been more receptive to the Franco-German approach since it removes a roadblock to membership of the Council of Europe, the UN and the EU by allowing Kosovo to be recognised by five EU countries. Although the Franco-German proposal provides major EU investment in Serbia and the possibility of a quick entrance to the EU, Serbia has been less receptive.
---


Read more:
Ukraine war: Serbia is shifting closer to Russia – here's why


---
President Vučić of Serbia opposed the Franco-German proposal as it implies that Serbia will eventually have to recognise Kosovo's independence. It contradicts the foundation of his political career, when he stated opposition to Kosovo's independence. A recent poll found that a majority of Serbs are against joining the EU.
The French and Germans are betting on showering Serbia with money in exchange for President Vučić not threatening another border conflict or war in Europe.
The conflict's history
Since Serbia's brutal war in Kosovo in 1998-1999 and Kosovo's 2008 proclamation of independence from Serbia, which had the support of the US and EU, the relations between the two countries have remained strained. Since 2011, when the EU tried to start a dialogue between Serbia and Kosovo, little concrete progress has been made between the two countries. In exchange for mutual recognition, the EU has suggested that both countries become members of the union.
One stumbling block is that most EU nations are opposed to further EU enlargement in the Balkans, and five EU members do not recognise Kosovo: Spain, Greece, Cyprus, Romania, and Slovakia. The EU's ability to act as a credible mediator between Serbia and Kosovo has been weakened because there is no detailed timeline for the two countries to join.
The EU has lost its some of its credibility in the Balkans, due to its broken promises to North Macedonia. The EU originally said it would begin accession negotiations in 2018 but did not do so until 2022, and then only as a result of Russia's invasion of Ukraine.
The Ukraine war has refocused EU attention on the Balkans generally, but in reaching for more stability in the region it must not abandon agreements on the rule of law, human rights, and democracy. This would only serve to empower autocrats in the Balkans like Serbia's leader.