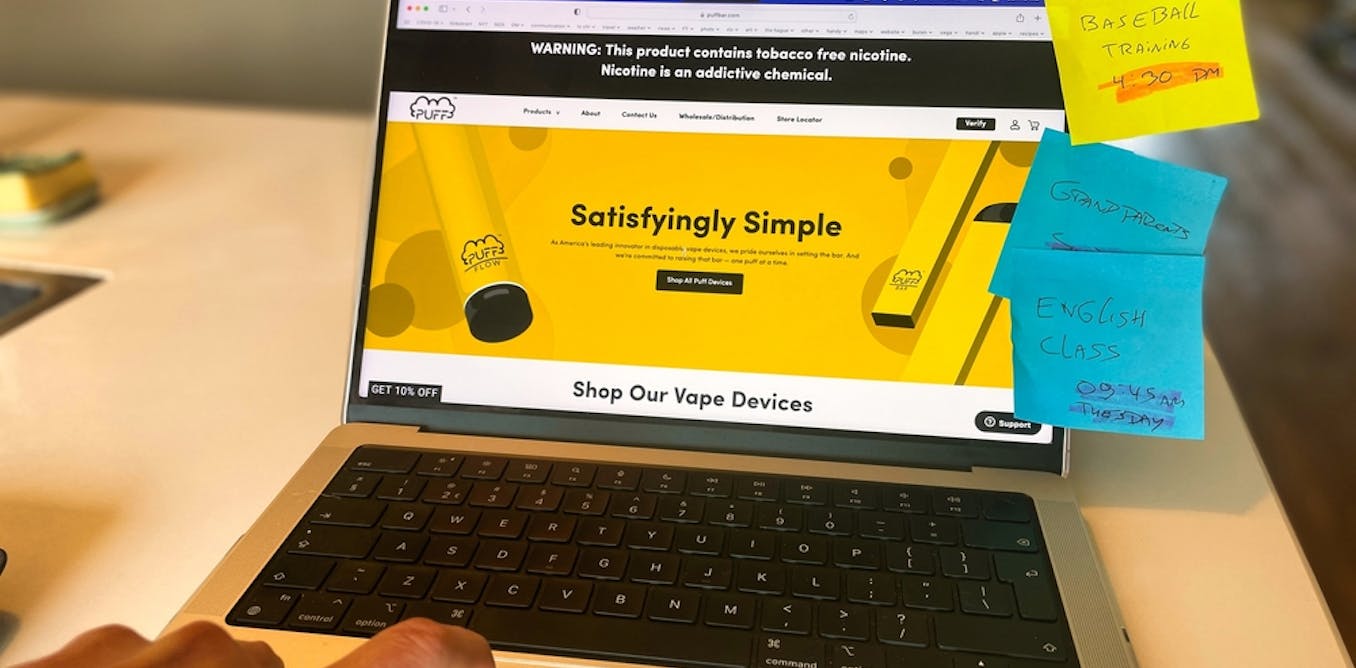 Sex and lies are used to sell vapes online. Even we were surprised at the marketing tactics we found
It's easy to buy vapes or e-cigarettes online. When we looked at websites selling them to buyers in Australia and New Zealand, we found a variety of slick, false or misleading marketing claims.
In our new research we outlined how these included health claims – how vapes contain "zero" carcinogens, are an effective aid for quitting smoking, and lead to improved breathing "in a matter of days".
Vapes were also marketed as sexy, sleek and environmentally friendly.
We saw a range of products on sale – including several bundled together as "starter kits". Most vaping liquid contained nicotine. There were price discounts, loyalty schemes and free delivery.
Here's why this is all such a concern and what we can do about it.
---


Read more:
Vaping-related lung disease now has a name – and a likely cause. 5 things you need to know about EVALI


---
What we did and what we found
We investigated 20 Australian and New Zealand online retailers of vapes and vaping products.
We looked at their product range, how they verified buyers' ages, as well as their marketing strategies and claims.
Most websites only needed buyers to click on a box to confirm they were 18 years old or over. When buyers clicked through, they could find a range of nicotine and no-nicotine vapes and vaping liquids. Some didn't ask buyers' ages at all. Only one site needed buyers to verify their age with formal identification.
Outlandish marketing claims
Unsubstantiated or blatantly false health claims were the most common claims we found. These included:
vaping has been proven to be up to 95% less harmful than smoking cigarettes.
This statement stems from a study criticised for its lack of hard evidence, yet it remains a common claim.
Other health claims included:
you will feel your breathing improve in a matter of days.
and:
if you are vaping high quality tested liquids, then you can be puffing on ZERO carcinogens.
When it came to quitting smoking, websites claimed:
e-cigarettes are a more effective tool for helping smokers quit than nicotine replacement therapies, including patches and gum.
These claims are unfounded as the jury remains out as to whether these products help people quit smoking. A major review of the literature found there was insufficient evidence to promote vapes for this.
Websites also called vaping "sleek", "stylish" and futuristic.
One website claimed:
Some people vape because it's sexy.
Another site claimed:
Creative design, advanced technology, [product name] will bring you infinite pleasure.
There were environmental claims too, such as:
don't buy a disposable [e-cigarette] that isn't fully recyclable – our device is friendly to the planet.
Marketing vaping products as something creative, innovative, sleek, sexy and environmentally friendly would be particularly appealing to younger buyers.
We found multiple payment methods, price discounts and opportunities to earn loyalty discounts. Delivery options including postal and courier services. Sometimes, delivery was free.
Why is this an issue?
Vapes are not harmless products. They contain hundreds of chemicals, originating from the e-liquids, from the device and formed by the heating element, many of which are toxic. Risks include addiction, poisoning, seizures, burns and injuries, lung injury, and environmental pollution (from plastics and lithium batteries).
Vaping use almost tripled among Australian adults between 2013 and 2019 and young adults are taking up vaping in droves.
Buying vapes online is popular. An Australian study reported adolescents mainly get vapes from "friends". However, adults (25+ years) tend to buy them online. It's likely "friends" who provide vapes to adolescents could be buying at least some of these online.
An international study also reported Australians mostly (65.2%) bought their vape products online. In fact, the study found Australians were many times more likely to buy them online compared with people in Canada, the United States and England.
---


Read more:
We asked over 700 teens where they bought their vapes. Here's what they said


---
What needs to happen next?
Nicotine-containing vapes are only legally available to adults in Australia with a doctor's prescription to help people stop smoking.
In New Zealand, nicotine-containing vapes can be legally purchased as a regulated product. However, in both countries, it is illegal for manufacturers or retailers to sell them to those under 18.
Despite these restrictions, it's clear both nicotine and no-nicotine vapes are being sold to under 18s, and to people without prescriptions.
Australia's Health Minister Mark Butler has recently met with state and territory health ministers to discuss vaping regulation. The Therapeutic Goods Administration earlier this year finished taking public submissions about proposed vaping reforms.
It's time we stop the promotion of, and easy access to, vaping products through online retailers. We also need to ban the use of unsubstantiated marketing claims.
This will require improved surveillance, monitoring, and regulations that curb the online sale and importation of vapes, along with improved border controls.
---


Read more:
How can we reverse the vaping crisis among young Australians? Enforce the rules


---