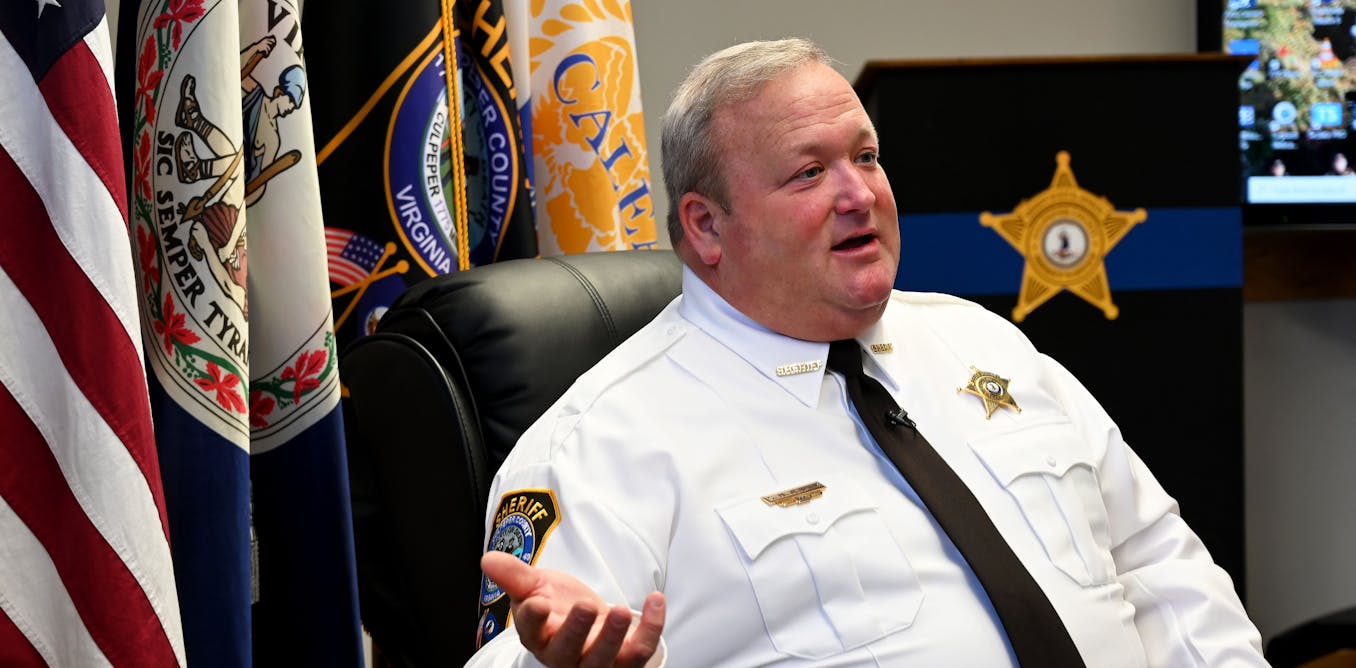 Sheriffs who see themselves as ultimate defenders of the Constitution are especially worried about gun rights
A gun control law signed by Gov. J.B. Pritzker of Illinois in January 2023 immediately faced opposition from a group key to the law's enforcement: sheriffs. They are county-level, locally elected public officials who run jails, provide courthouse security, and, in many counties, are the primary providers of law enforcement services.
In Illinois, and around the nation, some sheriffs also view themselves as the ultimate defenders of the U.S. Constitution and its rights – even though there's no law and no history giving them that position.
In Illinois, approximately 80 of the state's 102 sheriffs oppose the Protect Illinois Communities Act, a law that banned the sale and distribution of assault weapons, high-capacity magazines and switches that convert firearms to assault weapons. Anyone who owned those items before the law passed in January 2023 must register them with the state. Most of the sheriffs who opposed it issued statements saying they believe the law violates the Second Amendment to the U.S. Constitution, and therefore they will not be enforcing it.
Sheriff Justin Oliver of Brown County, for example, posted a public statement on the office's Facebook page, on letterhead. The statement says he swore to protect the rights provided in the Constitution and he believes that the act violates the Second Amendment, so "as chief law enforcement officer for Brown County … neither myself nor my officers will be checking to ensure that lawful gun owners register their weapons with the State, nor will we be arresting or housing law abiding individuals."
In our research surveying sheriffs, in 2012 and again in 2021, we have found that sheriffs are far more likely to support looser gun laws than the public at large. And we have also found that that perspective is linked to some sheriffs' views that they are the highest level of defenders of the U.S. Constitution and Americans' constitutional rights.
A last line of defense?
We traced sheriffs' views of themselves as ultimate protectors of the Constitution to the Constitutional Sheriffs and Peace Officers Association, a political organization founded in 2009 by Richard Mack, a former sheriff of Graham County, Arizona.
Mack first gained notoriety in right-wing circles as a plaintiff in Printz v. United States, decided by the U.S. Supreme Court in 1996. In its ruling, the court declared a portion of the 1993 Brady Handgun Violence Prevention Act unconstitutional. The ruling said the law's requirement for state and local officials to perform background checks on prospective gun buyers violated the 10th Amendment, which limits how much influence the federal government can have on state and local governments.
The association, which Mack founded after former President Barack Obama's election, calls itself a network of (self-described) "constitutional sheriffs" that encourages sheriffs to refuse to enforce laws they believe to be unconstitutional and to resist overreach by the federal government.
Its key idea dates back further, though, to Posse Comitatus. That was a white supremacist, antisemitic right-wing movement in the 1970s that believed as part of its conspiratorial ideology that the county sheriff held the ultimate government authority in the United States. This view is not historically accurate, nor is it found in the U.S. Constitution.
Nevertheless, Mack and his organization have spent more than a decade actively recruiting and training sheriffs to believe that their office is more powerful than the president, and that they can reject laws they believe to be unconstitutional. Mack told NPR in 2019 that sheriffs "have the responsibility to interpose – it's the 'doctrine of interposition' – whenever anybody is trying to diminish or violate the individual rights of our counties."
Their own views
This movement of so-called "constitutional sheriffs" has been particularly successful at recruiting more sheriffs into its ideology around issues of guns, immigration and COVID-related policies.
The resistance in Illinois is not the first effort of sheriffs to resist gun control. When Obama pushed for national gun control legislation after the 2012 Sandy Hook Elementary School shooting in Newtown, Connecticut, Mack's group recruited more than 450 sheriffs and 19 state sheriff associations to oppose federal gun control efforts.
Similarly, when the state of Washington passed a gun safety measure in 2018, sheriffs statewide opposed the measure and threatened not to enforce it because they said it violated people's constitutional rights.
And in Illinois, its followers continue to stand in the way of the law, even though they lack any legal justification for doing so. State and federal officials have called on Illinois sheriffs to enforce the law, as their oaths of office require. But many sheriffs continue to say they get to determine which laws to enforce, even if their constituents disagree.