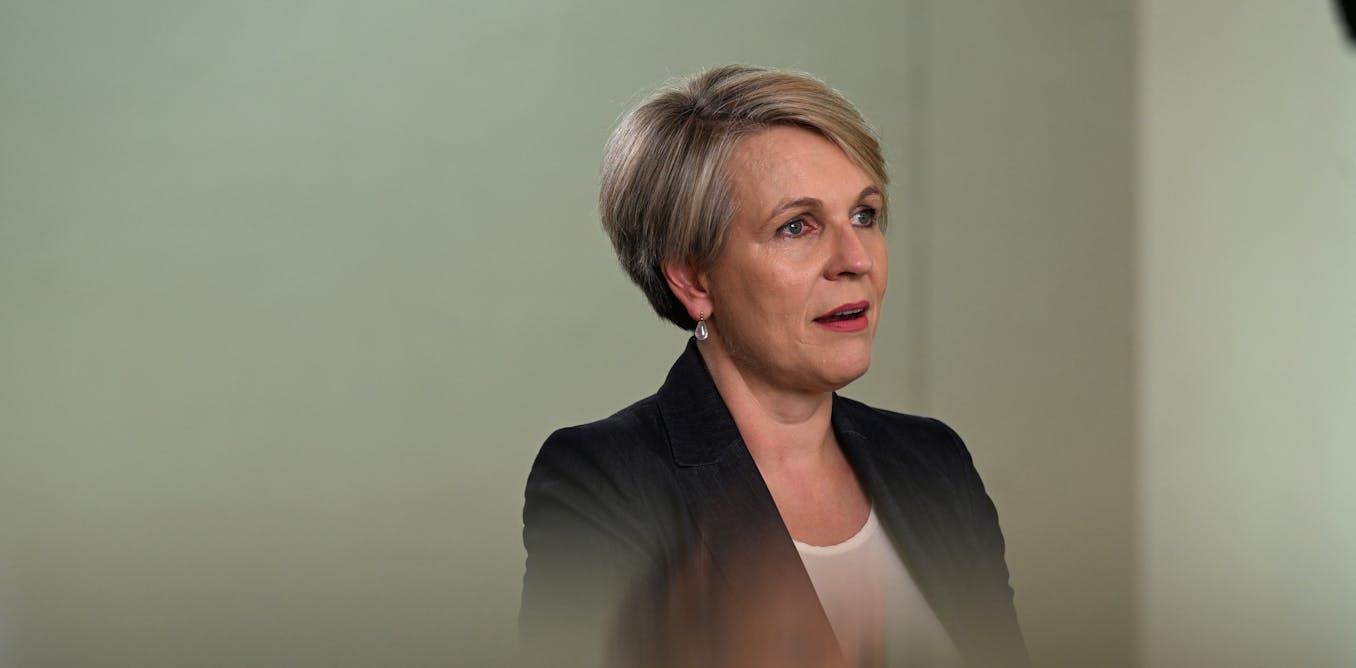 Tanya Plibersek killed off Clive Palmer's coal mine. It's an Australian first – but it may never happen again
Federal Environment Minister Tanya Plibersek has formally rejected mining magnate Clive Palmer's proposed Central Queensland Coal Project. Her decision was based on the risk of damage to the Great Barrier Reef, freshwater creeks and groundwater.
The 20-year open-cut mine project would have extracted up to 10 million tonnes of metallurgical coal – used to make steel – each year.
Plibersek's decision is significant. It's the first time a coal mine has been refused in the two decades our federal environment law has been in place. But those hoping the decision sets a precedent for other mine proposals are likely to be disappointed.
Palmer's mine was not refused on climate change grounds. Objectors to coal mines will still need to persuade the federal government of the link between future coal mine developments and global warming.
A rare decision indeed
Australia's federal environment law is known as the Environment Protection and Biodiversity Conservation (EPBC) Act. It came into force in 2000 to provide federal oversight of large projects.
Under the law, proponents must refer a proposal to federal environment authorities if it's likely to significantly impact so-called "matters of national environmental significance". These matters include the Great Barrier Reef.
But it's extremely rare that any development is refused under the EPBC Act. As of July last year, more than 7,000 projects had been referred to the federal government under the law, for assessment of the proposal's impacts. Just 13 were ultimately refused.
So why did Palmer's proposed mine cross this exceptional hurdle for refusal? Largely because of its location. The proposed site was just ten kilometres from the Great Barrier Reef world heritage area.
Explaining the decision on Wednesday, Plibersek said:
[…] risks to the Great Barrier Reef, freshwater creeks and groundwater are too great. Freshwater creeks run into the Great Barrier Reef and onto seagrass meadows that feed dugongs and provide breeding grounds for fish.
The thin end of the wedge?
Plibersek's decision has triggered calls for the federal government to reject other fossil fuel projects.
For example, Greens environment spokeswoman Sarah Hanson-Young on Wednesday described Plibersek's decision as "the thin edge of the wedge". She went on:
There [were] 118 new coal and gas projects in the pipeline. One down, 117 to go.

From Narrabri's double-whammy new coal and gas projects, Woodside's North West Shelf offshore gas extension, billionaire miner Gina Rinehart's proposed CSG expansion in the Surat Basin, or the Mount Pleasant coal project extension in the Hunter, the Minister has many projects left to rule out.

Approving more coal and gas in the midst of a climate crisis is reckless and dangerous.
However, persuading the federal minister to reject these mines will not be easy.
That's because the law contains no explicit requirement for the minister to consider the climate change impacts of a proposal.
This certainly hasn't stopped litigants from challenging projects on climate grounds. But to date, none have succeeded.
Other legal objections – such as one brought by the Australian Conservation Foundation against the Adani mine – have taken a different tack. They've sought to show the carbon emissions resulting from burning coal from a mine would harm a matter of national environmental significance.
The ACF argued the Adani mine was inconsistent with Australia's international obligations to protect the Great Barrier Reef. But the challenge was unsuccessful.
Such arguments are difficult to run. That's partly because they string together a number of causal links. In other words, they rest on the assumption that one action is definitively responsible for another, and so on down the chain.
Such links may be possible to show in cases such as the Palmer mine, when a development is close to the coast and its direct operation might pollute waterways. But it's harder to show that coal from a single mine, burnt by a third party, will damage the Great Barrier Reef.
---


Read more:
'This case has made legal history': young Australians just won a human rights case against an enormous coal mine


---
Room for hope
Plibersek's decision is unlikely to set a precedent for federal mine approvals.
The EPBC Act could, in theory, be strengthened to give the minister more power to reject a proposal on climate grounds. But unfortunately, the Albanese government's promised reforms of the law fail to do so.
First, the reforms failed to include a "climate trigger" – a mechanism by which development proposals are not approved unless their climate impact has been considered.
Second, the reforms fail to make so-called "scope 3 emissions" a mandatory consideration in environmental approvals. These types of emissions are produced indirectly – such as when a company's coal is burned for energy.
There is room for hope, however. The federal government's Climate Change Act enshrines in law Australia's goal of reaching net-zero emissions by 2050. Under this policy position, the approval of large coal mines will become increasingly difficult to reconcile.
And in recent years, some state courts have been convinced by causal arguments linking mines to climate change. So future federal decisions are unlikely to be immune from further challenge.
---


Read more:
Labor has introduced its controversial climate bill to parliament. Here's how to give it real teeth


---
What's next for Clive Palmer?
Plibersek's decision comes during a bad few months for Palmer. In November last year, Queensland's Land Court recommended Palmer's proposed Waratah coal project in Queensland also be rejected due to its likely contribution to climate change, and subsequent erosion of human rights.
Palmer can seek a judicial review of the latest decision. But success would rest on whether it could be shown Plibersek's decision involved a legal error. These types of challenges are notoriously difficult – so there's a good chance this proposed mine has reached the end of the road.
---


Read more:
Today's disappointing federal court decision undoes 20 years of climate litigation progress in Australia


---