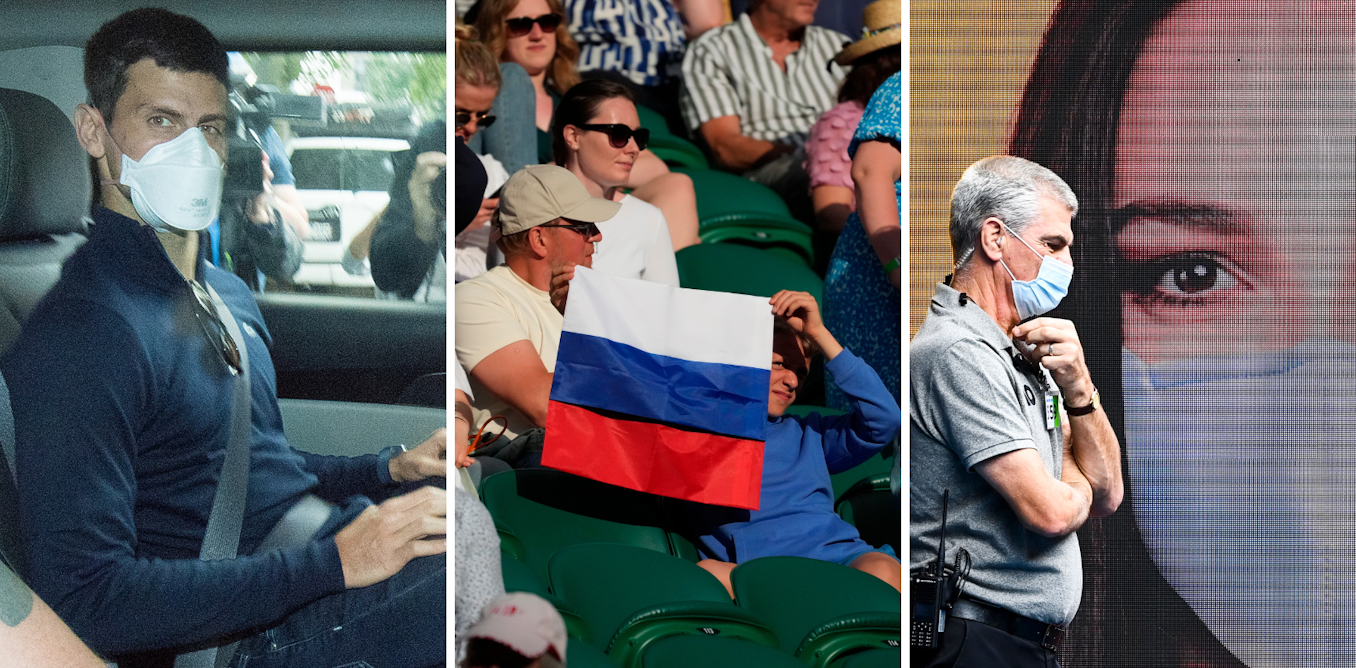 The 2023 Australian Open pauses a year of profound political tensions in tennis
Over the past 12 months, significant challenges by way of policy and politics have impacted professional tennis.
Chief among them have been participation constraints around the COVID-19 pandemic, followed by considerations about the eligibility or otherwise of Russian and Belarussian competitors following the invasion of Ukraine.
With the Australian Open beginning today, where are we currently at with these quandaries?
The COVID conundrum
Public health measures during the pandemic inevitably impacted the staging of tennis tournaments, with organisers obliged to follow local protocols.
At many events this meant players needed to be vaccinated or receive a medical exemption. For the most part this wasn't an issue. For example, in January 2022 the Association of Tennis Professionals (ATP) reported 97 of the top 100 men's players were vaccinated.
This suggested most tennis professionals – much like workers in many other occupations – accepted the public health objectives underpinning vaccination. Doubtless, though, some tennis players had been vaccine hesitant, most notably Novak Djokovic, who famously declared he'd rather miss grand slams than be vaccinated against COVID.
---


Read more:
Djokovic admits doing photoshoot knowing he was COVID positive


---
Just a year ago, Djokovic attempted to take part in the Australian Open on the basis of a "medical exemption", which prompted raised eyebrows among sceptics.
Eventually, the Serb was required to leave Australia after his visa was cancelled, a decision that caused a furore in his home country.
Djokovic says he cannot forget the experience of being deported, but hopes he will be received respectfully by fans at this year's tournament.
As with wider society, tennis authorities have adjusted their COVID protocols over time, particularly in the wake of the "opening up" of society following widespread vaccination.
At the 2022 Australian Open, players needed to be vaccinated or medically exempt, but in 2023 there's no such requirement. Indeed, this year there's no COVID testing at all, and players can even take part should they contract the virus during the tournament.
The contrast over 12 months is stark, with some players finding it hard to reconcile what was required back then to now.
The Ukraine imbroglio
Russia's February 2022 invasion of Ukraine, endorsed by its ally Belarus, shows no sign of resolution.
In response to the incursion, the North Atlantic Treaty Organization (NATO) and its allies provided Ukraine with military supplies and logistical support, while implementing economic sanctions against Russia.
Tennis, like many other sports, has also been immersed in the question of sanctions; specifically, how to address the participation or otherwise of Russian and Belarussian players.
For team-based competition, the response was decisive, and pro-Western. The International Tennis Federation ruled that Russian and Belarussian teams be banned from the Davis Cup and Billie Jean King Cup. This was especially bad news for Russian tennis players, who were expecting to defend victories in both events from back in 2021.
However, in the case of tournaments focused on individuals, where athletes officially compete for themselves (and unofficially on behalf of their country), the position of tennis authorities varied.
At the first grand slam following the invasion, Wimbledon organisers, with the support of the British government, declined to accept Russian and Belarussian players.
However, this position was repudiated by both the Association of Tennis Professionals (ATP) and the Women's Tennis Association (WTA), which fined the All England Club.
In an effort to counter what they described as "discrimination" against sanctioned players, these international tennis bodies determined that ranking points would not be awarded at Wimbledon, which disappointed many players.
At the French Open, however, organisers deemed that players from Russia and Belarus were eligible to participate, though with the proviso they compete as "neutral" athletes – bereft of regalia, symbols, or status indicating a connection with their homeland.
This would also require, at the very least, neutrality in respect of their public position on the invasion of Ukraine. As the tournament director emphasised, if any players were to show support for Putin, sanctions would follow.
Subsequently, the US Open also allowed Russian and Belarusian participants, again under an expectation of neutrality. The tournament organisers expressed their "concern about holding the individual athletes accountable for the actions and decisions of their governments".
Meanwhile, though, ordinary Russians are not treated as "neutrals" by NATO and its allies: they have been collectively penalised by Western sanctions, thus being made accountable for Putin's war.
---


Read more:
Boycotts in sport may not advance human rights. But they do harm individual athletes


---
In 2023, the Australian Open – like the US and French Open – announced that "neutral" tennis players from Russia and Belarus are welcome. This incensed the Ukrainian ambassador in Canberra, who labelled Tennis Australia's position as "unprincipled".
However, Daniil Medvedev, the leading Russian men's player, expressed relief at being able to play, asserting a personal commitment to "peace".
On the other hand, Belarusian tennis star Aryna Sabalenka complained that playing under a neutral flag at the Australian Open makes her feel she is "from nowhere".
Cheers and jeers
So, how might these political issues impact this year's Australian Open?
Novak Djokovic is back in town, chasing an incredible tenth singles title. After a year's absence he remains a polarising figure. How will tennis fans respond?
And what of the Russian and Belarusian players? No player from either country competed at Wimbledon in 2022, and none featured as finalists at last year's French and US Open. There's an opportunity in Melbourne for that trend to change.
With these background tensions in mind, Australian Open boss Craig Tiley has instructed security to be on a tight leash in the event of booing, declaring: "If [fans] disrupt the enjoyment of anyone else – boom, they are out. We don't want them on site. They can stay away or we will kick them out".