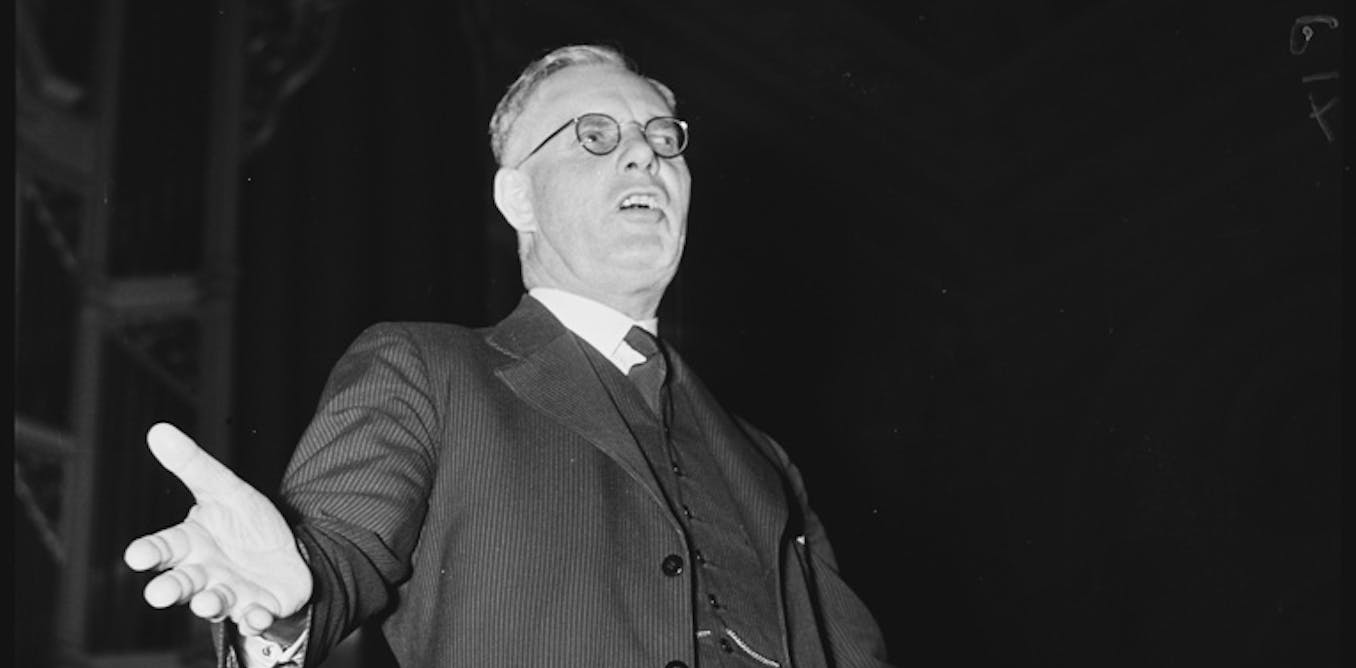 The future of work: how John Curtin was calling for a new cooperative work ethic 80 years ago
A boom in 2023 predictions is spurring more tips about thriving in fast-changing workspaces.
But the talk about an Australian workplace revolution is not new – and a prime minister once offered a media model for renewing the national morale.
John Curtin retains a top place in prominent surveys of Australia's greatest prime ministers. He faced the challenge of stirring a massive public effort in the second world war.
As he assured radio listeners in 1941:
The road of service is ahead. Let us all tread it firmly, victoriously.
It was a dramatic turnaround, asking Australians to abandon their individualistic values. The main priorities became national cooperation, inclusion and unity.
This was a total war that reached more deeply into national society than any other crisis had before. It involved the most sudden reorganisation of Australian life to date. Australians faced bans on holidays, pleasure motoring and leisurely basking on beaches.
The nation worked around the clock to send supplies to Allied forces. As a journalism researcher, I have analysed three essential steps in Curtin using the media to generate public enthusiasm for a cooperative work ethic during the second world war.
---


Read more:
5 ways to create a compassionate workplace culture and help workers recover from burnout


---
Prioritising journalists
Firstly, Curtin treated reporters as equals. They talked candidly in twice-daily news conferences.
Curtin had recognised a need for positive press relations prior to becoming prime minister. Previously, he had been a labour-oriented newspaper editor and an Australian Journalists' Association district president.
He was also a firm believer in the style of leading by example.
Known for a "log cabin" background, he would talk about his meagre upbringing. He would recall that his family could only afford "tea without milk and bread without butter".
Journalists presented him as "Plain John Curtin" and "Honest John." The media image masked his dedicated studying to become the nation's leader in 1941.
Reporters shared stories about Curtin's preference for talking with workers. They would describe his careful broadcast rehearsals. Correspondents circulated his media announcement in London's prestigious Guildhall that he had once been a "printers' devil", or a newspaper apprentice.
Boosting morale
Secondly, journalists accentuated Curtin's plain talks about a community ethos of hard work.
He extensively used the broadcast media.
His personalised tone benefited from the intimate style of United States wartime president Franklin Delano Roosevelt's fireside chats. As the prime minister, he often timed his evening radio chats to reach Australians working late.
He bluntly affirmed to listeners:
I have no rousing story to tell you […] We cannot win by waving flags and generating false emotional thrills.
Similarly, he announced Australians:
are far from being helpless, inefficient moaners in the face of the enemy. We have paid the price for our seal to nationhood.
This talk was not only aired in Australia. More than 700 radio stations broadcast this talk across the US and Europe. This was the largest potential audience hooked up for an Australian broadcaster at the time.
Involving public audiences
Thirdly, journalists became compassionate eyewitnesses to reveal the need for a more inclusive wartime economy. They portrayed a growing campaign for more recognition of women workers.
News stories showed women's efforts to improve their workplace conditions. Wartime filmmakers idealised the roles of female workers, who appeared as patriotic people's heroines.
The media blitz elicited active public support for the national values of work, service and community.
Curtin's media model helped to transform pre-war images of freedom-loving Australians who had independently fought their way back to prosperity after the depression.
He expanded Australia's public sphere as a place of civic engagement in a national team enterprise pulling together for a victory.
Readers enthusiastically wrote letters to the editor about how to promote a cooperative work ethic. As a newspaper reader suggested:
This spirit of cheerfulness should be encouraged and cultivated.
News surveys indicated many workers were optimistic about their future by the war's end in 1945.
Invoking a hopeful destiny
Since then, many political leaders have used the latest popular media available to champion a hopeful Australian work ethic.
Victorious election campaigns include Robert Menzies' radio series, Gough Whitlam's televised events and Kevin Rudd's YouTube videos.
These campaigns have emphasised a fresh vision of empowering Australian workers.
Now, the value of an inclusive culture appears in trending lists on how to shape post-pandemic work.
Prime Minister Anthony Albanese has touted Curtin's "quest for a true victory" that helped to transform post-war Australian society. At the National Press Club this year, he declared a need for a new "culture of cooperation" of working together.
Curtin's media model suggests there are advantages in sharing frequent updates with journalists when leaders are aiming to transform a work culture. Curtin's news talks show the possibilities of renewing morale during rapid workplace changes.
---


Read more:
Working one day a week in person might be the key to happier, more productive employees


---