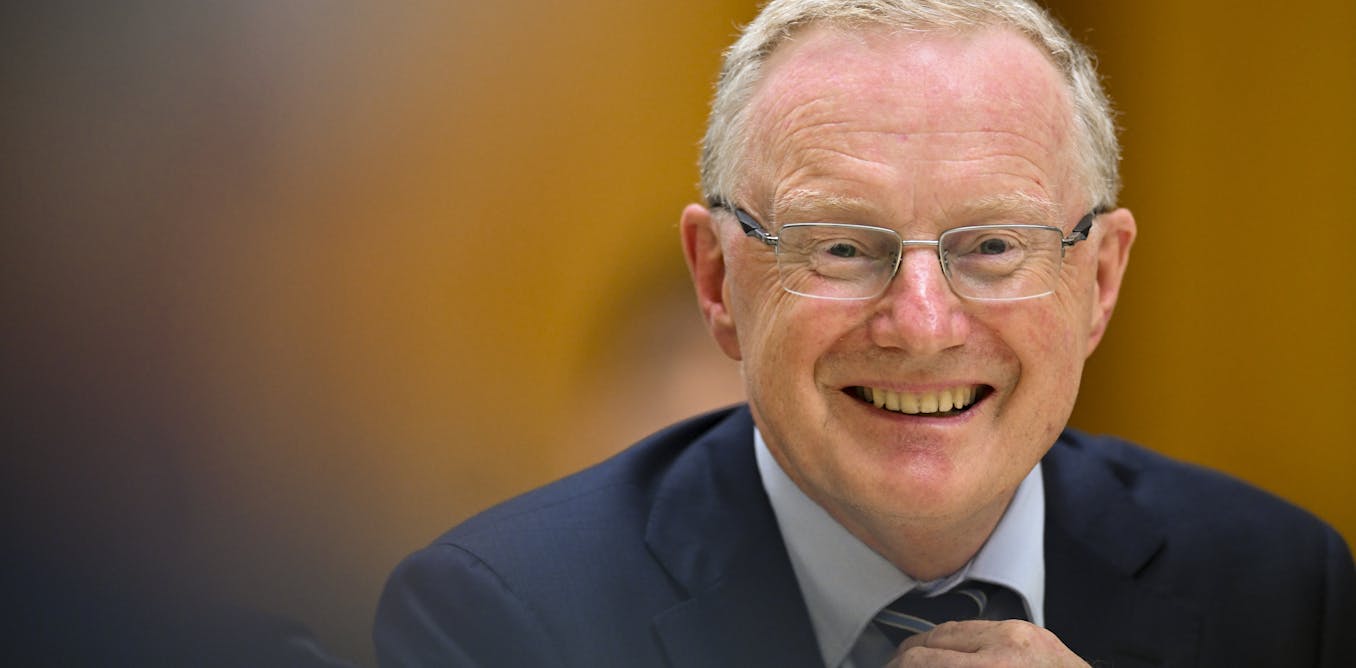 The Lowe road – the RBA is treading a 'narrow path' between inflation and recession
It's a tough time for central bankers the world over, but especially for Reserve Bank of Australia governor Philip Lowe.
Having forecast during the COVID recession that Australia's central bank wouldn't raise interest rates before 2024, he's taking a lot of stick for nine consecutive rate rises since May 2022. This has taken the cash rate from an historic low 0.1% up to 3.35%, and more increases are flagged before the end of 2023.
Lowe apologised for this bum steer in November. But he was still expected to face a grilling from politicians during his appearance this week before two parliamentary committees: the Senate Economics Legislation Committee on Wednesday and the House of Representatives Standing Committee on Economics on Friday.
They turned out to be light grillings. Apart from questions from Greens senator Nick McKim about whether he would resign, both sessions were relatively civil, and Lowe was unrepentant about the prospect of further interest rate increases. He even said the bank may not be going hard enough.
While acknowledging interest rates were a "blunt instrument" to control inflation, he said people had forgotten how corrosive high inflation could be.
Return of the inflation stick
It is about 30 years since the Reserve Bank "snapped the inflation stick" by adopting a policy intended to keep inflation, on average, within a 2-3% target range. Since then, inflation has indeed averaged 2.5%.
But inflation is now 7.8%, its highest level since 1990. Lowe said this was "way too high" and that the bank was determined to get the rate back below 3%.
---
---
For populist politicians, this is an easy issue to whip. A household with a $500,000 30-year variable-rate loan is now paying about $900 more a month in interest payments than a year ago. About half of the borrowers with fixed-rate loans will face increases in repayments over the next year. (Generally, interest rates are fixed only for two to three years, then move to the prevailing variable rate.)
Lowe acknowledged the risks of increasing interest rates too much. This could lead to companies and consumers cutting back on borrowing and spending so much that the economy is pushed into recession.
But he warned not doing enough was just as risky. Allowing inflation to persist would particularly hurt the poor. The rich own houses and shares whose value generally keeps pace with inflation. Those with only modest savings have their purchasing power eroded by inflation.
---


Read more:
Higher interest rates, falling home prices and real wages, but no recession: top economists' forecasts for 2023


---
There are no easy options for the RBA. The central bank is trying to find a narrow path between curbing inflation and stalling economic activity. Like Goldilocks, Lowe is seeking a state that's neither too hot nor too cold.
---


Read more:
RBA's latest forecasts are grim. Here are 5 reasons why


---
The economics committees
The House and Senate economics committees are where much of the detailed examination of proposed legislation and issues occurs. (The Senate has two economics committees – one for "legislation" and one for "references".)
Understanding economics is not a prerequisite to be a member of these committees, but they currently have an unusually large number of people who do.
The Senate Economics Legislation Committee is chaired by Victorian Labor senator Jess Walsh, who has a PhD and has worked for progressive economic think tanks in the United States. Her deputy, and chair of the Senate Economics References Committee, is NSW Liberal senator Andrew Bragg, a qualified accountant who has worked as an executive director of the Business Council of Australia.
The House committee is chaired by Victorian Labor MP Daniel Mulino, who has a PhD in economics from Yale. Committee members Andrew Charlton, Tania Lawrence, Alicia Payne, Allegra Spender and Keith Wolahan also have economics qualifications.
Despite this, I think Lowe has faced greater grilling in the past. He performed well in both sessions this week. For example, when pressed on why he had talked about the impact of high interest rates on households with mortgages, but not on renters, Lowe responded simply by noting that rents were being driven by demand outstripping supply, not higher interest rates.
Will Lowe go?
Lowe's seven-year term ends in September. The government is noncommittal about his future, stating cabinet will decide in the middle of the year if it will extend his term.
That may depend on the outcome of the independent review of the RBA that
federal treasurer Jim Chalmers established in June 2022. The review is examining the RBA's approach to monetary policy and the governance, culture and communication strategies. Chalmers is due to receive that report at the end of March.
---


Read more:
The RBA has got a lot right, but there's still a case for an inquiry


---
Lowe acknowledged the RBA's decisions are unpopular with many. But he also made the the point the bank's decisions are taken by a board with nine members, advised by a large staff, not just by him.
Time will tell if the federal government agrees.