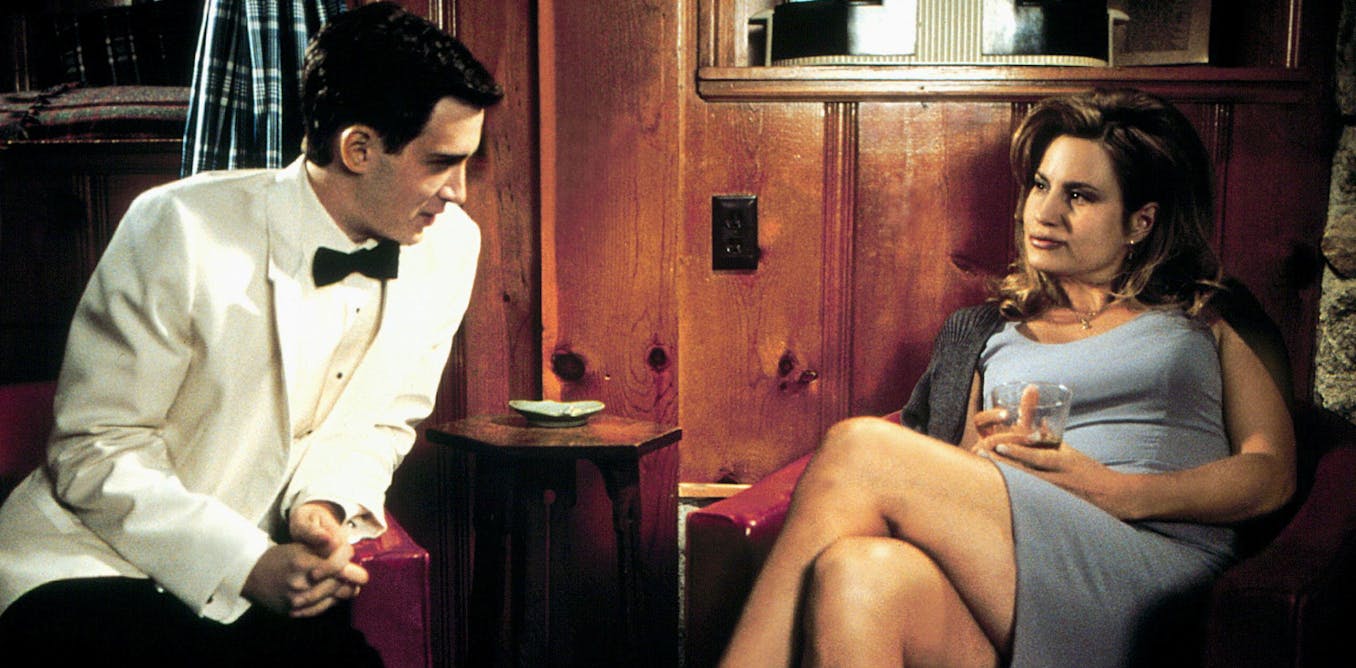 The 'milf': a brief cultural history, from Mrs Robinson to Stifler's mom
The release of reality television series Milf Manor in January 2023 has added to the pantheon of milfs ("Mothers I'd Like to Fuck") on screen. But from Stacy's mum to Stifler's mum: why is our cultural fascination with and fetishisation of the milf so enduring?
The milf is an older mother who is considered sexually attractive. Not to be confused with the "cougar", a middle-aged woman who seeks relationships with significantly younger men.
Before the milf, there was Mrs Robinson. Anne Bancroft's character in The Graduate (1967) has been described as one of popular culture's original "hot moms". Back to the Future (1985), too, featured an entertaining – if uncomfortably close to incestuous – story line where a time-travelling Marty McFly becomes the object of his young mother's affection.
Years later, the term "milf" was coined by teenage comedy American Pie (1999), when one of the core characters has sex with their friend Stifler's mother (played by Jennifer Coolidge). This moniker becomes her character's defining feature.
In 2003, American rock band Fountains of Wayne released Stacy's Mom, a comedic coming-of-age song which centres on the narrator's attraction to his classmate's mother.
Singer Fergie released Milf $ in 2016, which redefined the term in its music video as "Moms I'd Like to Follow". The video featured celebrity mums in provocative scenes, including Kim Kardashian showering in milk and Devon Aoki bending over to put her child in a baby seat.
This attempt to reclaim the term was complicated by the video's very specific imagery. These celebrity mums can afford the best healthcare as well as beauty treatments to slow the visible ageing process. These depictions reinforce the message that older women can only be deemed milfs (and by extension, sexually desirable) if their bodies conform to ideals of thinness and youth.
Unpacking the milf
In Beyond Milf – an analysis of the role of the milf in pornography and popular culture – author May Friedman claims the term "denies sexual agency, positioning mothers as the recipients of sexual attention and as sexual objects, rather than as active participants".
What "milfs" have in common, she says, is that they are: "almost always white, usually middle to upper class and are universally presented in heterosexual contexts".
This can be said of Stacy's mum and Stifler's mum. These milfs are positioned explicitly in relation to adolescent boys or young men – denied a name and defined by their status as "mothers".
It is the awkwardness of teen perspectives that make these pop culture products humorous. And yet, Stacy's Mom and American Pie were not created by prepubescent boys, but by adult men. For some modern audiences the infantile comedy prevalent in the late 1990s and early 2000s is antiquated and offensive.
Enter: Milf Manor, a reality TV series that has caused outrage for what some viewers deem sexist and vaguely incestuous content.
The series follows eight "hot moms" aged 40 to 60, trying to find love with younger men in a lavish mansion. As with most reality shows, a twist is revealed in the first 15 minutes – they will be dating each other's sons.
This series differs from previous portrayals of the milf, but still sits uncomfortably with the television industry's recent concerns with equality, inclusion and female agency.
Unlike the milfs portrayed by Stacy's mom, Stifler's mom and Mrs Robinson, several Milf Manor cast members are women of colour. This diversity showcases a shift in the aforementioned perception that milfs are "almost always white".
The most significant change comes from the rise of "popular feminism", in which the mere presence of women is deemed sufficient enough to call a show "feminist". The creators of Milf Manor use language of "empowerment" to justify the show. Executive producer Daniela Neumann asserts:
Older men have been dating younger women for generations and no one bats an eye. Now it's women's turn to feel empowered.
The evolution of the milf
The world's largest experiment about human desire, conducted in 2011, suggested that the milfs' appeal lies in their sexual confidence, agency and knowledge. These qualities are particularly attractive to young men stuck between childhood independence and adult autonomy.
In The Graduate, for instance, Benjamin Braddock (Dustin Hoffman) returns home from university with no aim in life and experiencing profound alienation. It is Mrs Robinson who fills the void brought about by his disconnection from his parents.
When the term milf began gaining currency in the 1990s, the US was experiencing a rise in young single mothers and the postponement of marriage and parenthood. Research also found that young adults were staying in the parental home for longer than ever before.
This affected images of the family and suburbia on screen. Both Stifler's and Stacy's mothers are single parents.
Concerns about the "arrested development" of young men have increased post-recession and the COVID pandemic has exacerbated the declining mental health of teens forced to stay at home. Milf Manor draws on the familial proximity brought about by the pandemic, uncomfortably exploring the tensions of this dynamic.
Depictions of the milf respond to cultural shifts and anxieties around growing up. In the 1990s and early 2000s, she was the white, middle-class image of suburbia. Since the late 2000s, she has become more diverse – but shows such as Milf Manor make it clear that uncertain social and economic conditions are still affecting the ways familial relationships are depicted on screen.