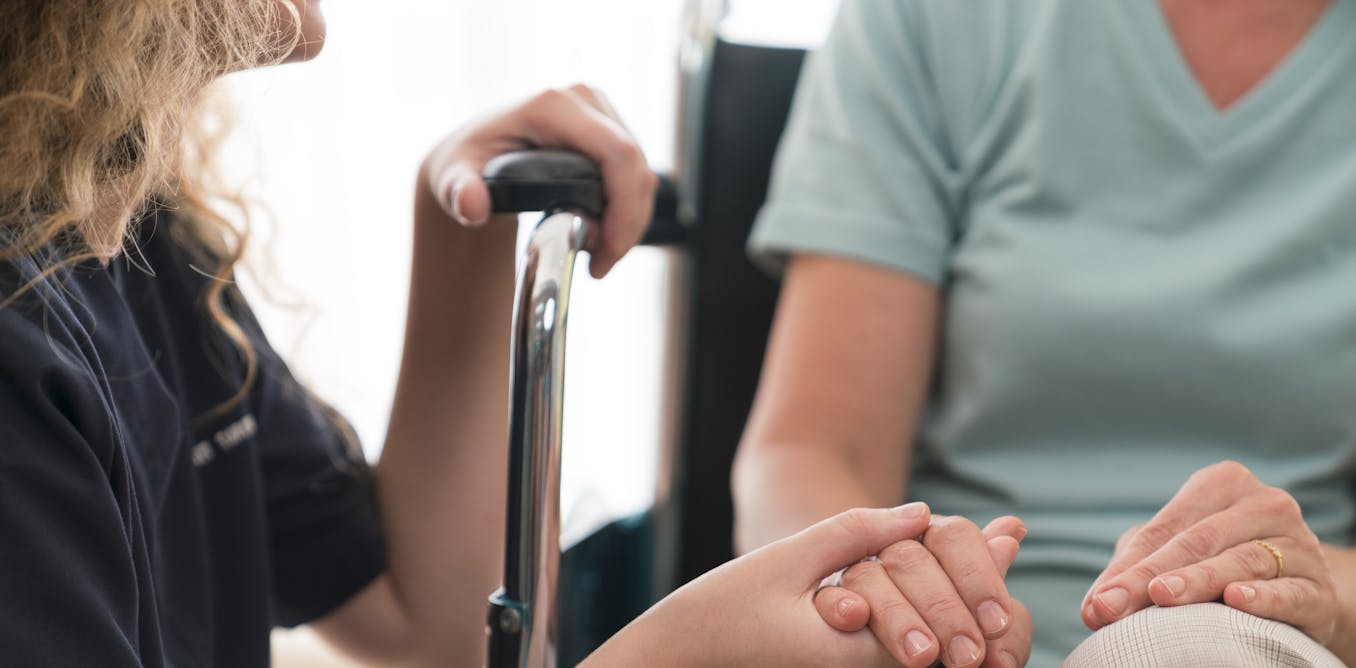 The NDIS promises lifelong support – but what about end-of-life support for people with disability?
Official estimates predict that by 2032, more than one million Australians will be supported by the National Disability Insurance Scheme (NDIS).
Much of the focus on the NDIS has been with how much it will cost, how people can get on it and how they can best spend the funds allocated in their plans. But no attention has so far been placed on the end-of-life needs of this highly marginalised population. People with psychosocial disabilities (such as schizophrenia, bipolar disorder, borderline personality disorder or major depressive disorders) and life-limiting diagnoses are particularly vulnerable.
The official Responsibilities of the NDIS and other service systems, agreed to by state and federal governments in 2015, make it clear the NDIS does not fund palliative care.
Although there is a commitment to maintain supports alongside palliative care, the National Disability Insurance Agency (which administers the NDIS) says it will typically stop funding supports once a person enters hospital. So, once a palliative NDIS participant enters hospital, hospice or residential aged care they can lose contact with the support workers they've come to trust and rely on.
Gaps between systems
The NDIS Act states:
People with disability and their families and carers should have certainty that people with disability will receive the care and support they need over their lifetime.
NDIS Workers can often be an integral part of a participant's life where trusting and therapeutic relationships are developed and maintained. Indeed, in some circumstances NDIS workers are the only other people that a participant with psychosocial disabilities is connected to. But the gaps between systems mean NDIS participants don't have the support of their regular NDIS workers at the end of their lives.
This week, I presented our review of published research, government websites and publications concerning NDIS participants with psychosocial disability and life-limiting diagnoses (including cancer, kidney disease, severe heart failure and severe lung diseases).
Unfortunately, we could not find published frameworks or pathways to help NDIS participants, families, carers, workers and clinicians understand where the NDIS and other service systems intersect. The gaps between services run counter to the NDIS Act, which says:
The interactions of people with disability with the NDIS and other service systems should be as seamless as possible, where integrated planning and coordinated supports, referrals and transitions are promoted, supported by a no wrong door approach.
A "no-wrong-door approach" means NDIS participants should be able to ask any professional supporting them for help. Regardless of the system that professional sits in – be it health, NDIS or mental health – they should refer and assist participants in getting the right support from the right system. Put simply, a participant should not need to ask for help more than once.
---


Read more:
How to improve the NDIS for people who have an intellectual disability as well as a mental illness


---
The difference between palliative and end-of-life care
There is often confusion about the NDIS and disabling health conditions as well as the difference between palliative and end-of-life care.
Palliative care can be provided at any stage of a person's life-limiting illness, sometimes for years, whereas end-of-life care is provided in the final weeks of life.
Some life-limiting conditions, such as motor neurone disease, receive excellent support from the NDIS. Other conditions are listed as likely to meet the disability requirements to enter the scheme.
Our review found people with severe and persistent mental illnesses die up to 20 years sooner than average. Due to past negative experiences they are often disconnected from mainstream service support.
This can result in extremely late presentations to hospital, when pain or symptoms are overwhelming, and there are missed opportunities to provide palliative care.
Our review also found people with mental illnesses report that often hospital staff do not know how to support them and they experience significant discrimination and stigma in hospital and end-of-life settings. This can lead to bleak and inequitable death and dying experiences.
---


Read more:
Labor vows to tackle the NDIS crisis – what's needed is more autonomy for people with disability


---
Workers need guidance too
There is work underway to define the essential elements of high quality end-of-life care. These elements include teamwork, identifying triggers for end-of-life care, training, support and responding to concerns. But there is no clear guidance about delivering this essential support to NDIS participants.
The next step to ensuring all Australians with disability can be well supported once they develop a life-limiting illness, will be for governments to agree on a comprehensive NDIS palliative care framework and provide training for anyone working with NDIS participants with psychosocial or life-limiting disability to support it.
---


Read more:
'It's shown me how independent I can be' – housing designed for people with disabilities reduces the help needed


---