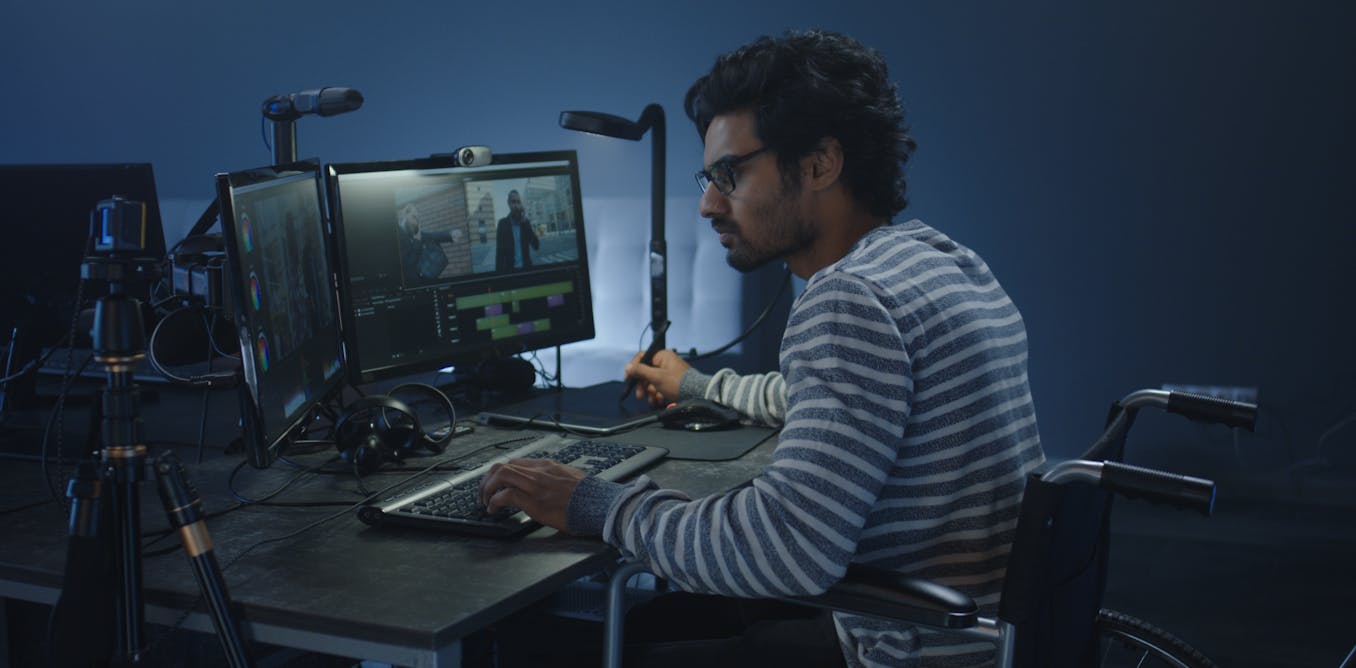 'The number one barrier has probably been stigma': the challenges facing disabled workers in the Australian screen industry
The stories of people with disability rarely make it onto Australian screens. This isn't surprising when we look at the ways disabled people are treated in the Australian screen industry.
Workers with disability in the screen industry commonly face stigma, stereotyping, exclusion, bullying and harassment.
As one producer with disability told us:
For me the number one barrier has probably been stigma – people assuming that it's going to be more difficult to have you working on the production.
However, experience of disability can have positive impacts on work. Disabled filmmakers make valuable contributors to Australian screen production and culture.
As another producer told us:
We solve problems better than anyone; we do it every minute every day, living in a world not made for us. Can you imagine the asset this is on your creative team?
For our new report, Disability and Screen Work in Australia, we surveyed more than 500 screen workers with and without disability.
Our report is the first in-depth research into the experiences of and attitudes towards people with disability in the Australian screen industry.
---


Read more:
Disability and dignity – 4 things to think about if you want to 'help'


---
An inaccessible and prejudiced industry
Nearly one in five Australians lives with disability and the Australian screen industry employs more than 200,000 people.
Workers with disability contribute to all parts of the industry, in production, distribution and exhibition. Disabled people work as writers, producers, directors, performers and crew.
Despite the diversity of their experiences, roles and talents, screen workers with disability commonly encounter similar discrimination in the workplace.
Disabled people working in the Australian screen industry are paid much less. Among our survey respondents, most screen workers with disability (58%) are paid less than $800 per week, while most workers without disability (57%) are paid more than $1,250 per week.
Compared to screen workers without disability, workers with disability are more likely to be on short-term and casual contracts, to be working without pay, and to be unemployed.
Many screen workers with disability report a widespread lack of understanding about accessibility in the industry.
We spoke to one producer who uses a wheelchair. He found the physical barriers he faced were not noticed by his employer and he was expected to "overcome" these barriers. "It hampers your ability to work effectively," he said.
Many respondents reported difficulties talking about access requirements at work. Employers are frequently inflexible when presented with options such as working from home or using different technologies.
---


Read more:
Australia is lagging when it comes to employing people with disability – quotas for disability services could be a start


---
Positive impacts of disability
Despite these barriers, many respondents said the screen industry benefits from the skills they have because of their experience of disability.
Nearly half of respondents with disability (47%) say their disability status impacts their screen work positively.
One screenwriter without disability said:
employers often see just the costs/difficulties, and not the benefits of having disabled writers in rooms or involved in projects.
Screen workers with disability told us they bring unique skills and perspectives that stem from navigating inaccessible environments. They demonstrate creative thinking, problem-solving, teamwork and empathy.
Ade Djajamihardja is a disability activist and founder of A2K Media, a production company that prioritises disability pride in their purpose, identity and activity. He works as a producer with "unapologetic acceptance" of his own disability status and that of his collaborators.
This means respecting the skills and talents workers with disability bring, and providing access requirements without resistance and judgement. This allows employers to fulfil their legal responsibilities and allows workers with disability to do their jobs effectively.
Screen workers with disability are crucial to telling authentic stories about disability, helping represent the diversity of our community. The disabled respondents to our survey noted they often see characters with disability on screen created and performed by people without disability, which stand out because they are inaccurate and stereotyped.
One screenwriter told us:
I think the more #ownstories that we can have in screen media the better. Things like insisting on [disability] representation in writing teams is a really good step in the right direction.
The screen industry's future
Far from building an industry full of the most skilled people, the Australian screen industry excludes and marginalises people with disability.
One producer sees potential in the screen industry becoming more welcoming to disabled people:
I work in the creative industries. We need to be better at creatively working through these sorts of issues.
The people we surveyed suggested many ways to improve inclusion in Australia's screen industry. They highlight easier access to reasonable adjustments, clear lines of communication and responsibility in workplaces, and targeted funding for creatives with disability.
Most importantly, survey respondents repeatedly call for greater understanding of disability issues. People with disability would like it to be normal to talk about accessibility in the workplace.
With employment discrimination a key focus of the current disability royal commission, the proposed Centre for Arts and Entertainment Workplaces should provide leadership in prioritising accessibility and inclusion.
Disability inclusion also requires the urgent attention of everyone working in the screen industry. As one actor said:
We deserve empowerment and to sit at the table too. Even if we need a ramp to get to the table or subtitles to understand.
---


Read more:
Pay, safety and welfare: how the new Centre for Arts and Entertainment Workplaces can strengthen the arts sector


---