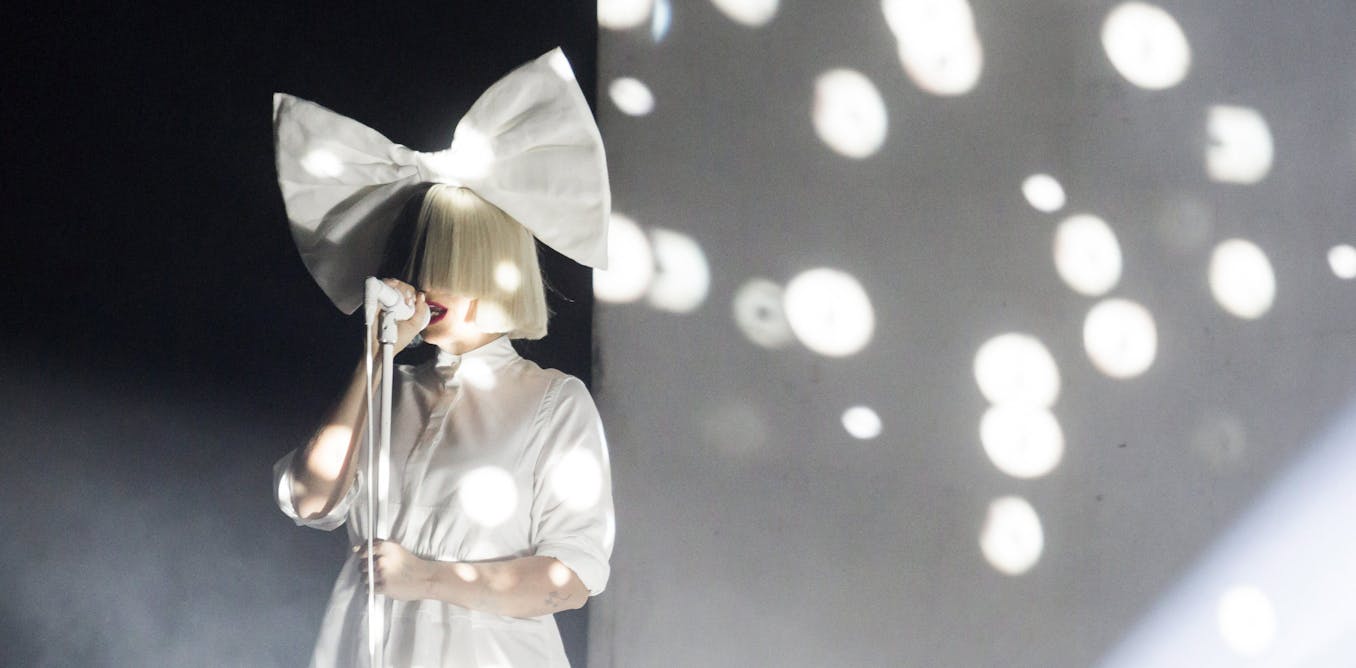 The spectacle of anonymity: how the mask became a way for celebrities to control their image
Celebrity has always existed in one form or another. Across history, the likeness of kings, queens and nobility, deities, popes, and saints have been the subject of countless works of art.
Painted portraits, carvings in walls, verses in songs and stanzas in poems stand as testament to our enduring fascination with the human face. Some faces, such as that belonging to Helen of Troy, were so famous they are claimed, as English poet and playwright Christopher Marlowe wrote, to have "launched a thousand ships".
Modern history has delivered new faces, and face fashions, for us to admire or despise. Movie stars, politicians, musicians and athletes, artists and writers all serve as role models upon which we stare and compare.
With our insatiable public appetite for celebrity images, it is little wonder some celebrities welcome the face mask as a way to avoid the public eye.
Social media and the news are awash with celebrity faces and remain a significant source of desire and fandom. The increased accessibility to celebrity images through social media platforms both shape and contribute to current beauty standards.
When we look at celebrity faces via their image, we can linger and study them at our leisure. Everything from their gestures, features, skin, and ageing process for example become the subject of intense scrutiny or media headlines.
Instagram Face – characterised by "ideal" yet generic features created through the use of filters – and the ever-expanding cosmetic surgery and beauty industries, could be seen as results of the feverish consumption of celebrity images.
The face has become a form of currency for celebrities: you only need to consider the likes of the Kardashian-Jenner family to reflect on this ongoing phenomenon. Leveraging their popularity, some of the Kardashian clan have their own beauty product lines, while other family members have carried out multiple product endorsements.
Exploiting celebrity status for material or economic gain is not, however, unique to the Kardashian-Jenners. The relationship between celebrity and product success has been examined, including in the New York Times as a perceived personal exchange through consumption of endorsed products. We feel closer to celebrities while lining their pockets.
For the 21st century celebrity, the face is an index of value.
---


Read more:
Friday essay: vizards, face gloves and window hoods – a history of masks in western fashion


---
High visibility and celebrity
One criterion for celebrityhood, according to Stanford law professor Lawrence M. Friedman, is "high visibility". Visibility can bring power and privilege, and celebrities understand this equation well.
Consider the example of beleaguered celebrity Kanye (Ye) West, who has worn masks during his performances since 2012. It is, however, his habit of masking in public that is most curious. West has been photographed many times wearing masks in an effort to achieve anonymity. Though, in the case of West, he remains entirely recognisable (notwithstanding the hordes of paparazzi trailing his every move).
When celebrities mask, they perform the spectacle of anonymity, rather than achieving anonymity itself.
---


Read more:
Kim Kardashian's Met Gala Marilyn moment shows how good she is at her job: being famous


---
The mask places further distance between us and them – it allows a one way scrutiny and the ability to see but not be seen. Disguising themselves in this way only serves to heighten the aura of celebrity. This has the effect of preserving their relative status as an image, as opposed to a knowable entity.
It is easy to forget, then, that this object of desire (or ridicule) is a person. One might suggest this failed form of disguise is strategic or intentional, driving the frenzied economy of celebrity image production. If celebrities can reclaim access to their image – their moneymaker – it is little wonder they adopt the mask in the public sphere. West's masked face then becomes unsettling because it appears like a void in which the media's gaze is deflected, and their fantasies are sunk.
Australian singer Sia is also well known for masking. Her desire to remain unseen has meant that she regularly performs in wigs that obscure her face. Here, the mask becomes a tool through which she can perform or embody an other character.
Icelandic singer-songwriter Björk also wears fantastical masks to perform on stage. She once said of the mask:
It's a way to hide, and to reveal a different side of yourself […] Wearing a mask, I feel protected, like I can be more myself.
Self-presentation and branding
For the celebrity, the mask has become a way of self-presentation and branding. It offers a safe, psychological space promoting free expression.
Our appetite for, and consumption of, celebrity faces shows no sign of waning, proving as philosopher Thomas Macho has argued, that we live in a "facial society".
The internet and social media platforms have created a culture of extreme visibility. In a saturated image culture, perhaps masking is the last radical act a celebrity can do to achieve anonymity, or, paradoxically, to stand out from the ever growing crowd of celebrity faces.