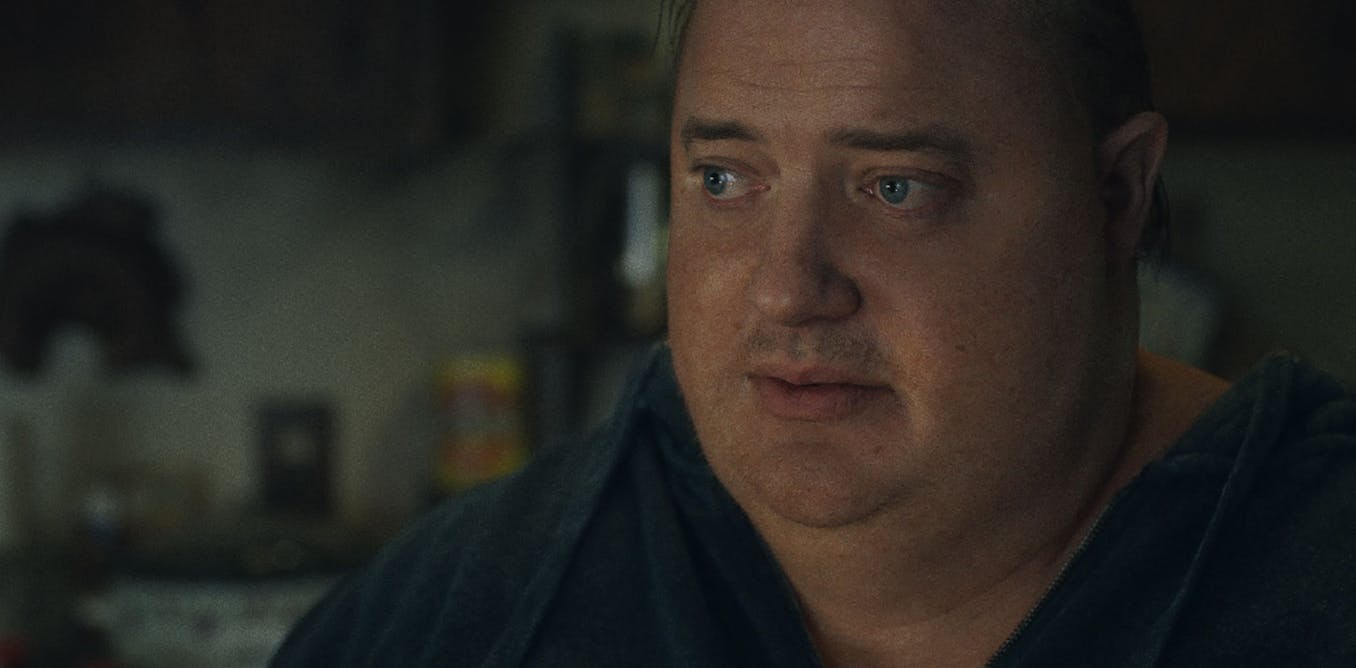 The Whale: Brendan Fraser's comeback offers rare representation of the fat queer male body on screen
The Whale debuted at the 2022 Venice Film Festival to a six-minute standing ovation for its Academy Award-nominated lead, Brendan Fraser, who has returned to the big screen after a considerable hiatus.
Fraser's fame was amplified in the 2000s by his starring role in The Mummy saga. He was consistently cast as the six-packed hunk, in such films as George of the Jungle (1997) and Gods and Monsters (1998).
A lot has changed since then. In 2018, Fraser spoke up about an alleged sexual assault, saying he was inspired to do so by the Me Too movement.
Fraser claimed that speaking up about the alleged incident saw him blacklisted in Hollywood, put him off acting and nearly ended his career. In doing so, he joined a growing list of actors who have made similar allegations.
These are not unimportant details in the controversy surrounding The Whale, which stems from Fraser's embodiment of 600lb, partly closeted English teacher, Charlie, and the prosthetics he wore to do so. In the film Charlie leaves his wife and daughter after falling in love with one of his male students.
As an expert in men and masculinity on film, I find the contrast between Charlie's fat body and the memory of Fraser's old muscular self interesting in what it reveals about ageing, body size and the objectification of male bodies on the screen more generally.
Shame, size and sexuality
The Whale introduces the issue of shame from the opening sequence. Filmed from behind in almost complete darkness, and partly obscured behind several half empty bottles of soda, Charlie is shown vigorously masturbating to gay pornography.
He nearly has a heart attack as he climaxes but is interrupted by a handsome young missionary (Ty Simpkins) who claims to be part of the Christian group New Life. He happens to knock on the door just in time to save Charlie's life – and perhaps his soul.
The complex mix of health, religion and sexuality in the first sequence of the film prepares viewers for its controversy-inciting ideological tensions.
Critics and audiences alike have objected to the use of makeup and prosthetics to add 300 pounds to 54-year-old Fraser's now heavier frame, described in some reviews as a "fat suit". Many see the prosthetic as problematic, especially as the film does not shy away from presenting Charlie's semi-nude body as a spectacle.
Blinds, black screens and binging
Reviews have largely focused on the now unavoidable issue of authentic casting. Can a straight man – who has a heavy frame, but is still half Charlie's weight – play a queer fat person?
The controversy has led Fraser to try to justify his casting with reference to his own traumatic experiences with injuries and surgeries and being the father of an autistic son who has a difficult relationship with food.
Speaking to the Los Angeles Times podcast, The Envelope, director Darren Aronofsky explained that the original play drew from the real experiences of playwright Samuel D. Hunter. In a separate interview for The New Yorker, Hunter explained that the story had been inspired by his struggle with sexuality and religion, leading to eating disorders during his university years.
The Whale is unambiguous in condemning the role of organised religion at the centre of Charlie's trauma, a critique explicitly voiced by Liz (Hong Chau), nurse and sister of Charlie's tragically deceased partner.
This is one of the film's redeeming aspects, alongside Charlie's genuine love for his estranged family and much-missed lover and his short-lived flirtation with his pizza delivery man – another stranger who shows genuine concern for his customer, who is always hiding behind closed doors and blinds.
The black screen in Charlie's zoom call with students (he pretends that his laptop camera is broken) further The Whale's exploration of shame. This is emphasised in other scenes where Charlie binges, stuffing his face with greasy slices of pizza or chocolate bars.
For me, the ominous soundtrack to these scenes reflects his sense of guilt and abandonment, as opposed to the judgement of fat people lacking self control that some reviewers have inferred.
The predominance of closeup shots that in part objectify Charlie's body also augment the sense of claustrophobia that dominates his secluded life, confined to his apartment. Charlie's enclosure and hiding contrasts sharply with the all-access voyeuristic gaze that the film allows us, the spectators.
Fat men in film
In his pioneering book on fat masculinity, Fat Boys, historian Sander L. Gilman claims that the cultural association of fatness and women has eclipsed the rich history of fatness and masculinity from ancient Greece.
His examples reveal different attitudes to large male bodies, but also a recent tendency to foreground damning clinical discourses and representations that associate obesity with effeminacy or a sense of failed masculinity.
Film scholar Niall Richardson's fascinating book Transgressive Bodies – which focuses on film and popular culture – and cultural historian Christopher Forth's study of fat men in film noir observe similar patterns.
While it would be difficult to argue that The Whale diverges much from this negative perception of fat male bodies, the film dares to confront its viewers with an invasive camera that over-invests on a type of male body rarely seen on the screen and that appears in almost every scene.
The memory of Fraser's past typecasting as a hunk – and the personal and professional struggles that followed – add considerable complexity and richness to The Whale and to the representation of fat queer masculinity on the screen.