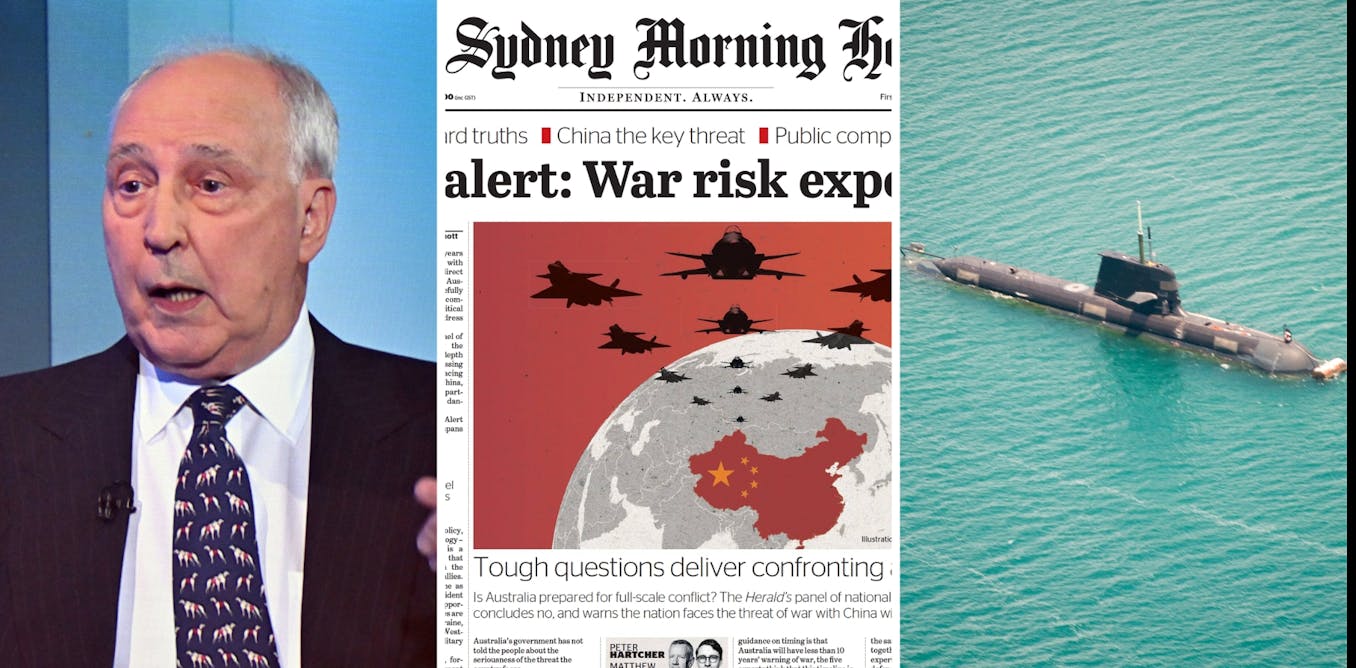 Time to grow up: Australia's national security dilemma demands a mature debate
There's been a lot of recent shouting about Australia's national security policy.
It began with the Nine newspapers' "Red Alert" extravaganza, spread over multiple articles. Featuring a graphic of warplanes approaching ominously from Red China, it predicted Australia could be at war in three years, and speculated about Chinese missiles and cyberattacks pummelling Australian infrastructure. It then cheerily recommended some hackneyed solutions for Australia's security woes – including bringing back conscription, and hosting US nuclear weapons.
Not to be outdone, former prime minister Paul Keating returned fire, branding the recent decision to acquire nuclear-propelled submarines under the AUKUS agreement as "the worst deal in all history", that marked Australia's "return to our former colonial master".
Few were spared Keating's rhetorical cudgel. The list included Foreign Minister Penny Wong, whom he described as "running around the Pacific with a lei around your neck"; Deputy Prime Minister and Defence Minister Richard Marles ("seriously unwise"); and Prime Minister Anthony Albanese, whom Keating ridiculed for spending "less than 24 hours" deciding whether to support the AUKUS pact.
Keating saved his most stinging critique for Peter Hartcher, the lead journalist on the Red Alert series, whom he branded a "psychopath".
All this could be treated as superficially entertaining, or ignored as unimportant tantrums.
But in reality, it's damaging. For external observers – including hostile ones – it suggests Australian commentators cannot escape knee-jerk reactions when confronted with serious choices. This, in turn, implies we can be prodded and provoked into hypermasculine chest-thumping or panicked pacifism.
That should be worrying. So, too, should the fact that Australians remain ambivalent about it all. In a recent poll, 67% of respondents saw China as a complex relationship to manage, rather than a threat to be confronted (20%) or a positive opportunity (13%).
On the question of Australian nuclear-powered submarines, only 26% of respondents saw them as necessary and value-for-money. In contrast, some 27% of respondents thought they were necessary but not worth the $368 billion price tag, while 28% of respondents thought they weren't necessary at all.
---


Read more:
AUKUS submarine plan will be the biggest defence scheme in Australian history. So how will it work?


---
A failure to communicate
How has this come about? A major problem has been that successive governments have shied away from serious discussions about national security. Instead, they've preferred to employ vague motherhood statements about values, or word salad about deterrence.
These are no longer sufficient. Not explaining why governments make the choices they do implies they don't trust the people who elected them to make informed decisions.
Above all, any national security policy entails risk, and each choice is a calculated bet. And while the much-anticipated Defence Strategic Review may address some of these issues, it's worth considering the basic contours of our security landscape.
Australia's strategic geography is both a blessing and a vulnerability. Being a maritime trading state means our economic prosperity depends on unhindered access to a region where a huge proportion of global sea-borne trade transits.
Australia is physically too big (and demographically too small) to win a war against a large and determined adversary, or an attempt to deny us access to the sea.
So, if Australia wants security, it needs to be underpinned by a stronger ally (or a network of them) with abiding interests in upholding its sovereignty.
As a result, Australian strategic policy has revolved around being a security provider – sometimes in conflicts where we have had few obvious interests – in case we need to be a security consumer.
Australia can develop its military capabilities and security resilience so challenging its interests isn't worth the bother (otherwise known as "deterrence by denial"). There are no two ways about this: it will be costly and time-consuming.
Australia's strategic environment is becoming the locus for competition between our main trading partner and our main security ally. One is an authoritarian state that seeks to supplant the existing order we benefit from. The other is a democracy that seeks to preserve it.
In national security there are no guarantees:
we cannot guarantee competition between the US and China will remain peaceful

nor can we guarantee that future shifts in the US political climate or its power will not lead to a reduction in America's willingness to uphold order in our region

and we cannot guarantee China won't seek to establish a trading system based on tribute instead of open markets.
During contests between big powers, smaller countries have the option of picking a side, or hiding. If you pick a side, you might end up on the losing one. If you hide, you're unlikely to reap any rewards from victor, and equally run the risk of being punished by them.
Where does AUKUS fit?
How does the AUKUS agreement (of which nuclear-powered submarines are just one component) fit into our strategic calculus? As Australian defence expert Peter Layton has noted, we need to recognise there are good arguments across the spectrum of views in the debate.
Above all, there needs to be a clearer explanation about why the decision was taken.
Certainly, Australia's acquisition of nuclear-powered submarines will result in an enhanced deterrent capacity. They will be best-in-class, able to stay on station for long periods of time, and highly survivable. Full disclosure: I'm cautiously supportive.
But a number of questions still await detailed answers. Here are a few of the more pressing ones:
Type of deterrent effect sought
Is the purpose of Australian nuclear submarines to have the ability to attack mainland targets in China, and/or Chinese naval assets close to its territory, together with US forces?
In other words, does our acquisition of nuclear submarines lock us into a deterrence-by-punishment approach? If so, what is the rationale for doing so?
Political risk
What's the likelihood of AUKUS parties reneging on the deal, on the grounds of technology transfer rules and the need to retain sovereign capabilities (the US); shipbuilding capacity (the UK); or cost (Australia)?
---


Read more:
$18 million a job? The AUKUS subs plan will cost Australia way more than that


---
Crewing
Nuclear submarines require a highly educated and skilled workforce. Will Australia be able to crew and perform basic maintenance on them by the time the first US Virginia class vessel is delivered in the early 2030s?
Timelines
Australia is (optimistically) slated to receive its first AUKUS-class submarine in 2042. By this time, the main questions about strategic competition in the region may already have been resolved. Shouldn't we be looking to build our capabilities sooner than that?
Treaty compliance and waste disposal
How does Australia navigate its commitments to the Non-Proliferation Treaty if it is to be operating highly enriched weapons-grade uranium in submarine reactors? And how does it propose to deal with the waste once the Virginia class submarines reach end-of-life?
---


Read more:
Australia hasn't figured out low-level nuclear waste storage yet – let alone high-level waste from submarines


---
Economies of scale
By 2042, Australia will be operating small numbers of three different types of submarines: the ageing Collins class; between three and five ex-US Virginia class nuclear-powered submarines; and the new AUKUS class nuclear-powered submarine. Is the cost of doing so sensible?
Time to grow up
An informed debate on national security isn't only healthy, it's overdue. At such an important time, Australians deserve better than dubious scare campaigns. More than that, they deserve a mature national security discussion that treats opposing views with respect rather than ridicule. Achieving that is fundamental to democracy, which draws its greatest strength from the open contest of ideas.
Holding that debate might finally mark Australia's coming-of-age on questions of national security. In the past, Australia's rich tradition of commentary on how we view ourselves in the world has typically played on tensions between our geography and our identity, producing depictions that mark us as either lucky or lonely, immature or adolescent.
It's high time we grew up and left that behind.