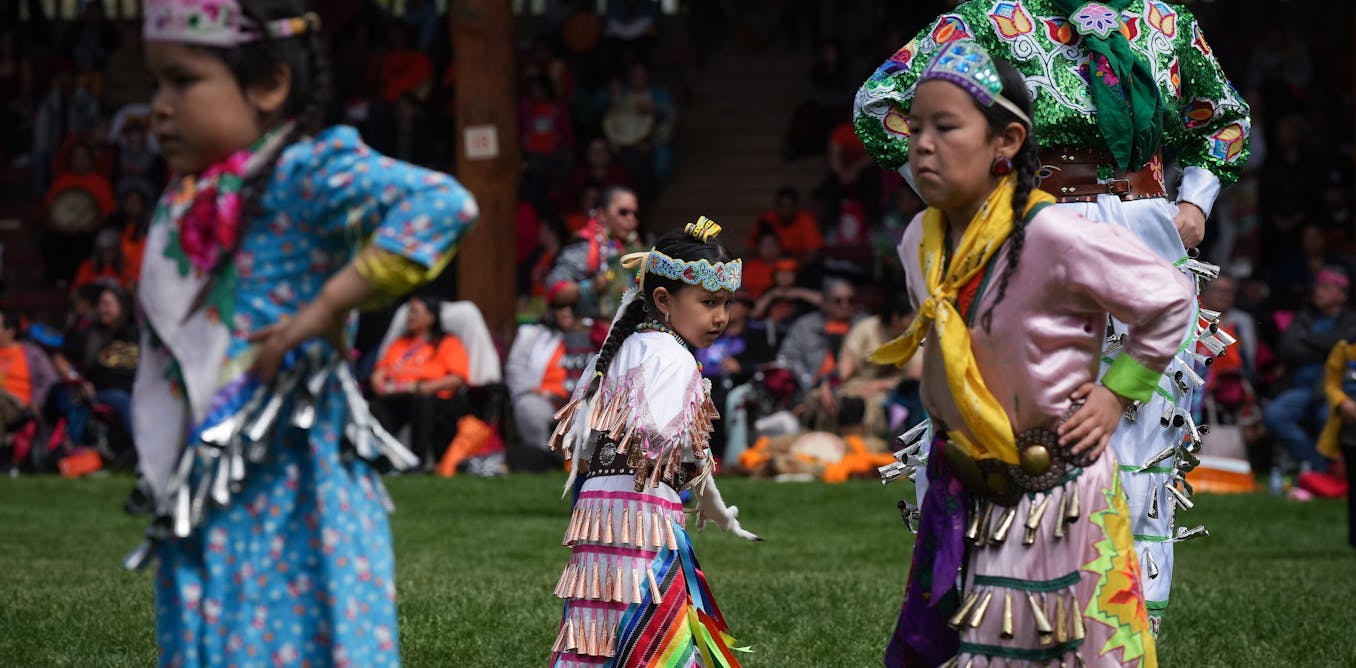 To revitalize Indigenous communities, the Residential School settlement must prioritize language education
After a decade, the federal government has reached an agreement to settle a class action lawsuit that included 325 First Nations across Canada. The class action was initiated by the Tk'emlúps te Secwépemc and shíshálh Nation in 2012. It was concerned with, among other issues, the loss of language and culture through Residential Schools. The settlement, worth $2.8 billion, includes support for cultural revitalization with focus on heritage, wellness and languages.
Efforts toward cultural revitalization will be funded by the $50 million Day Scholars Revitalization Fund. An important aspect of the fund will be the central role Indigenous Peoples will have in managing and guiding the process of supporting the cultural revitalization.
---


Read more:
Canada's $2.8 billion settlement with Indigenous Day Scholars is a long-time coming


---
This settlement, just as the Indian Day School Settlement and the Indian Residential School Settlement before it, focuses on the justice necessary to address physical and emotional harms, and the long term impacts that they had for Indigenous communities and their national, cultural and traditional identities.
These traumatic impacts were deliberately put upon Indigenous Peoples through focus on the most vulnerable members of a community — their children. Over generations, many Indigenous children and youth who were attending these schools lost their language, culture and thousands lost their lives. The trauma of those experiences may be too horrific to recount. The intergenerational trauma experienced by the communities affected by these schools were also traumatic and constitute genocide.
Revitalizing Indigenous languages
A recurrent theme in the narratives of survivors is how Indigenous identities have been adversely affected, and principal among those aspects are Indigenous languages. Frequently regarded as one of the central components of Indigenous cultural identity, language revitalization has become of paramount importance.
The Truth and Reconciliation Commission of Canada's (TRC) Calls to Action contain a number of imperatives related to languages. Call to Action 14 identifies Indigenous languages as "a fundamental and valued element of Canadian culture and society." The reasons behind this are not difficult to understand: language allows humans to communicate ideas and is one of the pillars that support a people's culture, traditions and history.
The importance of Indigenous languages is not just reflected in the special cultural and national features that they represent for Indigenous Peoples. They also are the optimum way to represent Indigenous knowledge, heritage and consciousness — such manifestations are undermined by the use of non-Indigenous languages.
Restoring agency
The Day Scholars Revitalization Fund represents an important opportunity for those involved in the class action. First and foremost is the issue of agency. Responsibility for developing and employing a plan of action to utilize the funds rests with Indigenous Peoples.
The issue of agency is essential given the history of unjust government control over matters that affect Indigenous communities. Indigenous people must have an adequate voice, influence and control in regard to issues, initiatives and policy that affect them, their communities and their territories. As is frequently proclaimed by Indigenous Peoples: Nothing about us without us!
Community initiatives
There are a number of ways that Indigenous communities can support the revitalization of their languages. The fundamental starting point is best summed up by the words of then chief commissioner of the TRC, Murray Sinclair: "Education got us into this mess and education will get us out."
Canada has a rich and diverse history of Indigenous languages. However, most Indigenous children and youth, whether in public or on-reserve schools, are still educated in English and French.
There are however some encouraging developments in some Indigenous communities. In the far north, efforts have been made to ensure that Inuktut is the principal language of instruction in some Inuit schools. In Manitoba, some school divisions have created opportunities for First Nations languages such as Anishinaabemowin to be featured in classroom programming.
Partnerships between Indigenous communities and their respective schools need to be established to support the sorts of institutional transformations necessary to support curricular development, classroom resources and recruitment of qualified teachers.
These transformations require the voice, influence and control of Indigenous Peoples, and efforts should be marshalled to support such participation. Indigenous communities have worked hard to establish such partnerships. In the community of Kahnawa:ke, schools such as Karonhianónhnha Tsi Ionterihwaienstáhkhwa employ an immersion programme to sustain the Kanien'keha language.
Educational programming is crucial to revitalizing Indigenous languages, but it's not the only piece of this puzzle. Community conditions outside of the school in which children and youth have opportunities to speak the language are also essential.
Communities need to develop strategies that provide improved opportunities for young people to learn and retain their language. Children and youth should be encouraged to use Indigenous languages outside of school as well through community laws, commerce and media. Such initiatives require the commitment of community members and the support of the Day Scholars Revitalization Fund may be well suited for this purpose.