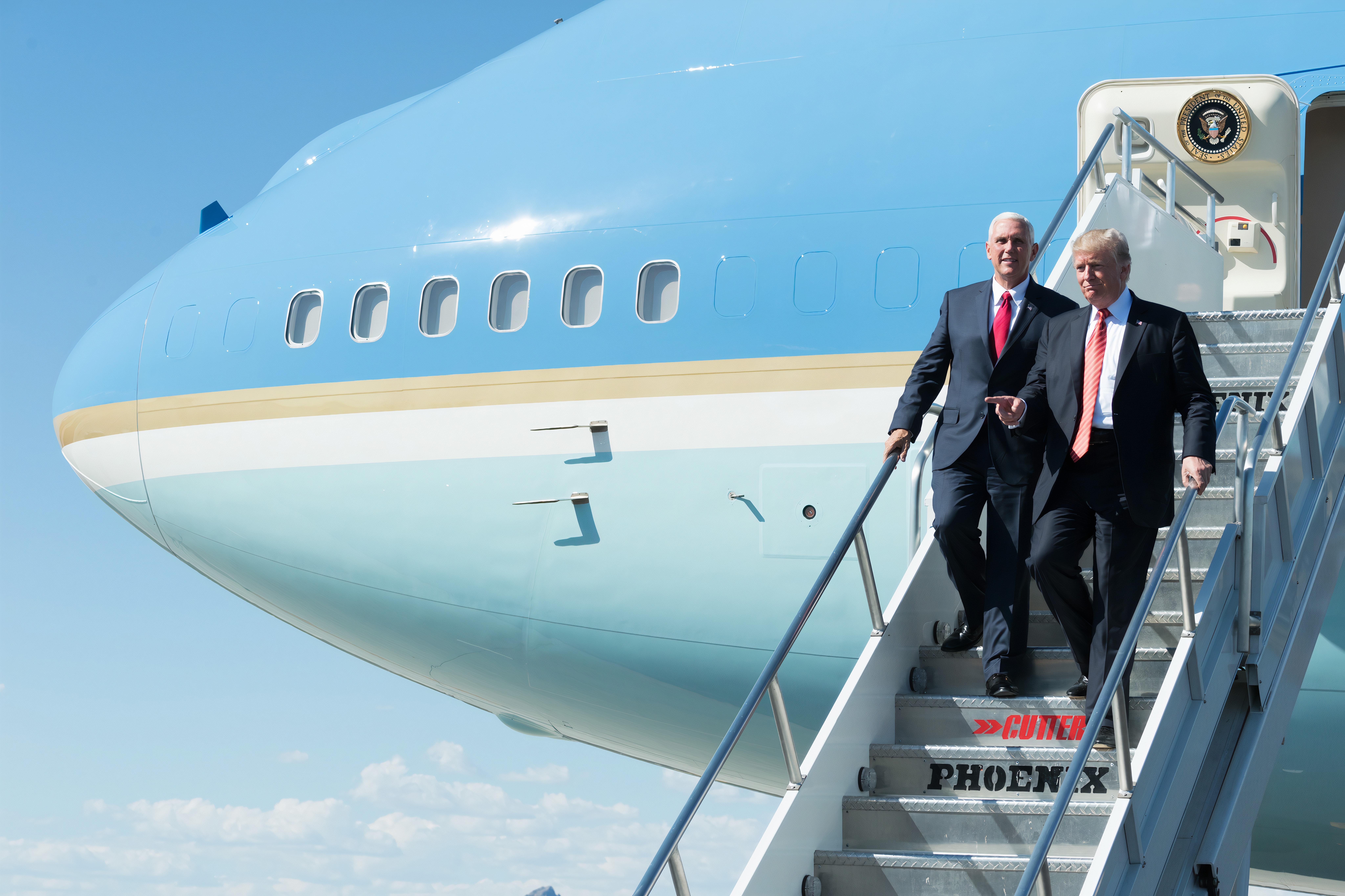 Trump condemns 'disloyalty' of Evangelical leaders who haven't endorsed his 2024 run
Former President Donald Trump is condemning what he characterizes as "disloyalty" from Evangelical activists who have not endorsed his 2024 presidential bid.
Trump, who announced he is seeking a second term in office in the 2024 presidential election following his unsuccessful re-election bid in 2020, appeared on the Real America's Voice program "The Water Cooler with David Brody" Monday.
Host David Brody noted that "when you announced your candidacy, at least as it stands now, some of these prominent Evangelical leaders who backed you last time, they're not yet willing to commit, like Robert Jeffress is not, some others."
"It looks like many of them are waiting to see how the field takes shape before backing anyone," he added. Brody asked Trump if he had a "message to them."
Trump responded by declaring, "I don't really care," adding, "That's a sign of disloyalty." 
"Nobody has ever done more for right-to-life than Donald Trump. I put three Supreme Court justices who all voted, and they got something that they've been fighting for … many, many years."
The former president mentioned how Evangelicals and the pro-life movement "finally won" last June when the U.S. Supreme Court issued the Dobbs v. Jackson Women's Health Organizationruling determining that the U.S. Constitution doesn't contain a right to abortion, overruling the Roe v. Wade decision establishing a national right to abortion.
The Dobbs decision followed Trump's appointment of three justices to the bench, including the replacement of the late liberal justice Ruth Bader Ginsburg with Amy Coney Barrett.
Trump suggested that Evangelicals and pro-life activists did not do enough on behalf of pro-life candidates in last year's midterm elections.
"I'm a little disappointed because I thought they could have fought much harder during the election, during the '22 election, because … they won, and a lot of them didn't fight or weren't really around to fight."
Trump's comments build on remarks he made following the 2022 midterm elections when Republicans failed to make large gains as expected. While Republicans secured a narrow majority in the U.S. House of Representatives, they saw a net loss of one seat in the U.S. Senate even as President Joe Biden suffered from low approval ratings. 
In a Jan. 1 statement on his social media platform Truth Social, the former president insisted that "It was the 'abortion issue,' poorly handled by many Republicans, especially those that firmly insisted on No Exceptions, even in the case of Rape, Incest, or Life of the Mother, that lost large numbers of Voters."
He also suggested that "the people that pushed so hard, for decades, against abortion, got their wish from the U.S. Supreme Court, & just plain disappeared, not to be seen again."
The line of questioning comes after Jeffress, the pastor of the First Baptist Church in Dallas, Texas, asserted in a statement that "the Republican Party is headed towards a civil war that I have no desire to be a part of."
Jeffress was one of the most outspoken supporters of Trump during his insurgent presidential bid in 2016, continuing to stand behind him during his presidency and ahead of his 2020 re-election campaign.
Both of Trump's previous runs for the presidency have seen the candidate achieve sizable support from white Evangelicals, an important voting bloc in both the Republican primary and general electorate.
Exit polling from the 2020 presidential election shows Trump capturing 76% of the Evangelical vote, while exit polling from the previous presidential election measured his level of evangelical support at 81%. 
With less than two years to go until the 2024 presidential election, no other major candidates have announced bids for the Republican nomination to the president although several are thought to be considering White House runs.
Trump has shouldered a lot of blame for the disappointing midterm election results for Republicans, with critics contending that he supported candidates in primary elections who proved unelectable in a general election.
The RealClearPolitics average of polls of Republican primary voters examines support for Trump and his hypothetical Republican opponents. The current RealClearPolitics average, consisting exclusively of polls taken after the 2022 midterms, shows a plurality of Republican primary voters (44.3%) favoring Trump. Florida Gov. Ron DeSantis, a rumored 2024 White House hopeful who recently won re-election by a massive landslide, is in second at 30.5%, while all other prospective candidates listed have support in the single digits.
Polling data compiled by RealClearPolitics before the midterms showed Trump leading by wider margins in all but one poll.