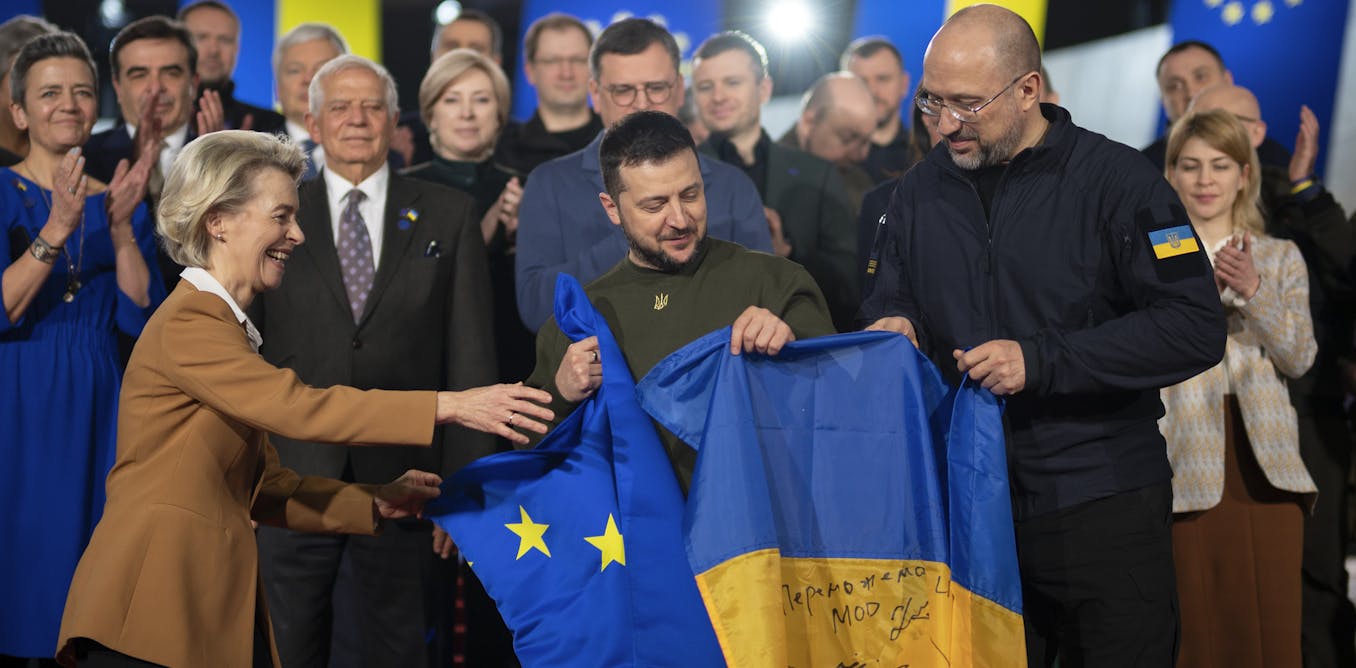 Ukraine recap: Kyiv keeps its friends close, but will they send the latest warplanes?
The latest dispatches from the Institute for the Study of War make for sobering reading. After a few months in which the initiative on the battlefield was generally considered to be firmly with Ukraine, the pendulum appears as if it could be swinging gradually back Russia's way.
This is by no means to say that Russia is suddenly "winning the war", but since early December, with heavy fighting continuing around the city of Bakhmut in the Donbas region, Russian troops have been able to regroup and the war has entered what the ISW calls "positional warfare", with both sides jockeying for advantage. There is also a fresh Russian push underway further south around the town of Vuhledar.
In its daily bulletin for January 31, the ISW – an independent Washington-based think tank founded in 2007, which can call upon an impressive list of military thinkers including former CIA director David Petraeus – asserted that delays in the supply of sophisticated western military tech has a lot to do with this:
Western reluctance to begin supplying Ukraine with higher-end Western weapons systems, particularly tanks, long-range strike systems, and air-defense systems, has limited Ukraine's ability to initiate and continue large-scale counter-offensive operations.
Last week, much of the talk around the war focused on the possibility of the supply of German and American main battle tanks to Ukraine. The German chancellor, Olaf Scholz, had been dragging his feet over whether to send state-of-the-art Leopard 2 tanks to help Kyiv, despite pleas from Ukraine's president Volodymyr Zelensky and urging from Germany's friends and allies in Europe, notably Poland and France. Washington, meanwhile, had been reticent about supplying its Abrams tanks, ostensibly because they were thought to be incompatible with Ukraine's other military hardware.
Happily for Zelensky and Ukraine, these issues have been resolved and the tanks will soon be en route to the battlefield. But it will take time for Ukrainian troops to be trained for their use and to integrate them into the country's overall military strategy. As the ISW says, these were discussions that should have been resolved last June, which would have meant that Ukraine could have more decisively pressed home the advantage gained in its autumn counter-offensives.
Now the talk has turned to the air war, which at present is in a stalemate. Ukraine is begging for the west to provide it with modern F-16 fighters, which could give it the edge it needs to properly influence the situation on the ground. James Pritchett, an expert in air warfare at the University of Hull, believes that – while getting hold of these sophisticated multi-role aircraft would certainly boost Ukraine's defensive capabilities – it would take some time to train up pilots and integrate them into Ukraine's air defence systems.
In any case, Washington remains adamant it will not supply Kyiv with these aircraft, but – as with the tanks – there's a great deal of pressure from various European countries which have equipped themselves with F-16s. But there is also a degree of concern at how Moscow would react to what they would almost certainly paint as further Nato provocation.
---


Read more:
Ukraine war: how US-built F-16 'Fighting Falcon' could help Kyiv move on to the offensive


---
---
This is our weekly recap of expert analysis of the Ukraine conflict.
The Conversation, a not-for-profit newsgroup, works with a wide range of academics across its global network to produce evidence-based analysis. Get these recaps in your inbox every Thursday. Subscribe here.
---
The truth about casualties
Truth, runs the old adage, is the first casualty of war – and as with conflicts reaching back into prehistory, reported death tolls are very often wildly inaccurate. Lily Hamourtziadou, an expert in security studies at the University of Birmingham, has compiled a series of reports of casualty figures which vary hugely depending on who is doing the counting.
Having worked for years on the Iraq Body Count, Hamourtziadou knows whereof she speaks. In this fascinating discussion, she highlights the way warring nations will overestimate their foes' death tolls while underestimating their own. It happens on all sides. Propaganda, she writes, is also a weapon of war and there are few more potent pieces of propaganda than "your side is losing loads more soldiers than ours".
---


Read more:
Ukraine war: casualty counts from either side can be potent weapons and shouldn't always be believed


---
Women on the frontline
Inevitably some of those military dead have been women, thousands of whom have voluntarily joined Ukraine's armed forces since 2014, when Russia's occupation of Crimea and territories in eastern Ukraine began. They started serving in combat roles in 2016 and all military roles were opened to women in 2022. Jennifer Mathers, an expert in international politics at Aberystwyth University, and Anna Kvit, a visiting research fellow at UCL, say this is changing the traditionally patriarchal attitudes in Ukraine's armed forces, something of which Kyiv is understandably very proud.
---


Read more:
Ukraine war: attitudes to women in the military are changing as thousands serve on front lines


---
But women who have been taken prisoner by the Russians have complained of extremely rough treatment at the hands of their captors and the threat of sexual violence is ever present. Meanwhile, fairly typically, many female recruits join up only to discover how difficult it is to find uniforms, body armour and boots that fit them.
Away from the battlefield
Supplies of news weapons and other support, financial and otherwise, are high on the agenda with Zelensky hosting the president of the EU Commission, Ursula von der Leyen, and senior EU officials in Kyiv this week. Leyen has said that the EU will support Ukraine "for as long as it takes" – but, as the University of Birmingham's international security expert Stefan Wolff points out, at present this will not include fast-tracking Ukraine's membership.
Kyiv sought – and was granted last year – candidate membership status, but the process from candidate to accession can take decades. However, up to now, the EU has given more in military and financial aid to Kyiv even than the US and, as Wolff points out recent moves to root out corruption in Ukraine's political elite will not just help the war effort. It will encourage the EU to persist in its support for a country that – as he puts it – "is standing on the battlefield in a war against an aggressor that has sought to destabilise European democracies for years".
---


Read more:
Ukraine war: Kyiv summit with EU will bring the two sides closer, but fast-track membership is unlikely


---
Over the past year, we've heard many times from Vladimir Putin and his cronies about Russia's nuclear capabilities, always – you understand – in the sense that Russia would never be the first to resort to their use, but that if this conflict did escalate, then Russia has a huge nuclear arsenal.
So it's somewhat depressing to hear this week from the US State Department that Russia is not complying with the countries' last remaining nuclear arms agreement, which was renewed for five years in 2021. New START limits the development of nuclear weapons and their delivery systems and allows both countries to regularly, and with limited advance notice, inspect each other's nuclear weapons arsenals.
Nina Srinivasan Rathbun, a professor of international relations at USC Dornsife College of Letters, Arts and Sciences, provides a brief history of arms limitations treaties and warns that the lack of transparency and assurance that would result from the failure of this treaty could lead to pressure for both countries to develop new nuclear weapons and delivery systems will increase, along with the risk of miscalculations.
---


Read more:
Russia is violating the last remaining nuclear treaty with the US, according to Washington


---
Ukraine Recap is available as a weekly email newsletter. Click here to get our recaps directly in your inbox.