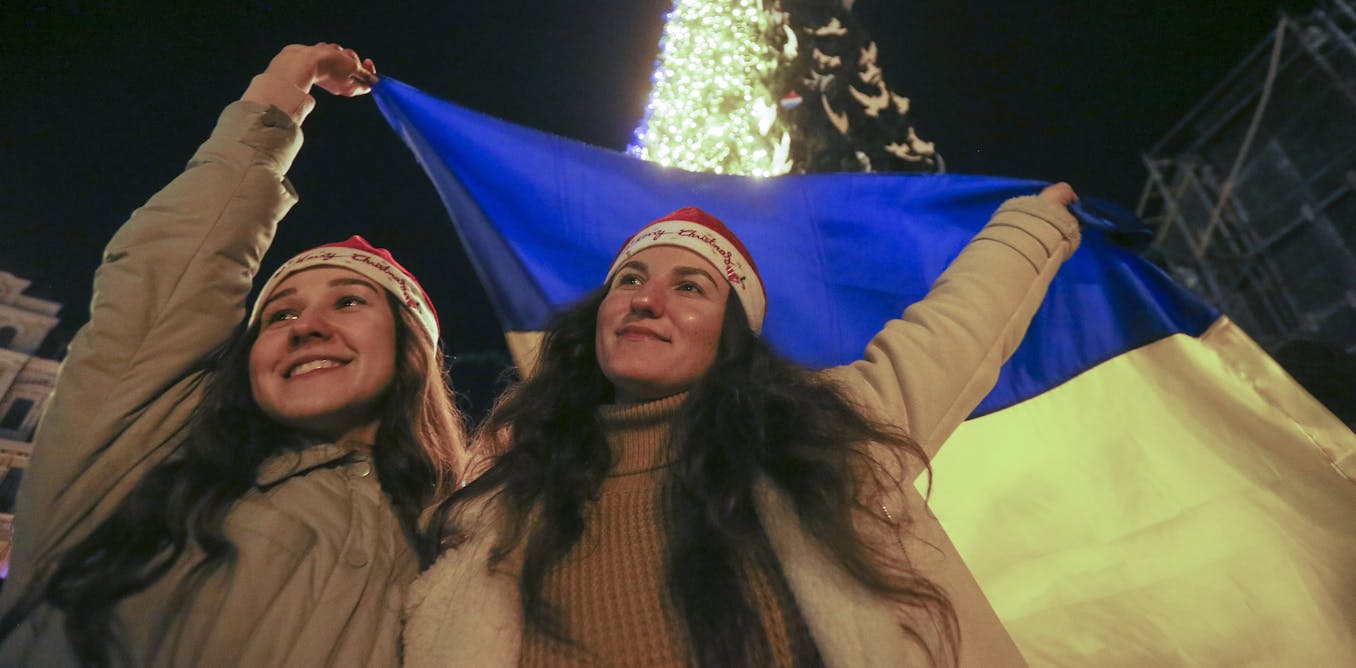 Ukraine recap: Russian strikes failed to dampen Christmas spirit – but still no end in sight for the war
Over the holiday period, a pedal-powered Christmas tree became the symbol of Ukraine's defiant resistance against Russia's relentless bombing campaign which Vladimir Putin hoped would spoil everyone's Yuletide. Usually the Orthodox church would celebrate Christmas on January 7, but a decision was made by the Ukraine church to give its parishes the option to mark the festival on December 25, as a way of breaking from the Russian Orthodox church, which has been a vocal supporter of Putin's war from the beginning.
Russia has been trying, with some success, to target Ukraine's power grid, putting many basic services from healthcare to sanitation at risk. But while this has resulted in blackouts across the country at the coldest time of the year, on the whole the country still appears as defiant as ever.
Putin, meanwhile, has called a ceasefire to allow Russians to celebrate Orthodox Christmas on January 7.
And, as Stefan Wolff – an expert in international security from the University of Birmingham and regular contributor to our coverage of the conflict – writes, there are plenty of reasons for Ukraine to be cautiously optimistic. Much of the territory gained by Russia in the first months of the war has been recaptured in Ukraine's autumn counteroffensive.
The visit by Ukrainian president, Volodymyr Zelensky, to Washington in December yielded a pledge of an additional US$1.85 billion (£1.5 billion) in security assistance – including, significantly, American Patriot air defence systems, which will give Kyiv the capability to strike targets insides Russia if it chooses. Meanwhile a missile strike against Russian troop concentration area in Makiivka, close to Donetsk in eastern Ukraine on New Year's Day is reported to have dealt another severe blow to Russian military morale.
But Wolff also warns that Russia is far from a spent force and, with the prospect of further mobilisation in coming months, there is – sadly – no end in sight for this tragic and illegal conflict.
---


Read more:
Ukraine war: despite Russian setbacks, an end to the conflict is not yet in sight


---
This is our weekly recap of expert analysis of the Ukraine conflict.
The Conversation, a not-for-profit newsgroup, works with a wide range of academics across its global network to produce evidence-based analysis. Get these recaps in your inbox every Thursday. Subscribe here.
---
Ever closer to Nato
Looking back to this time last year, when the Russian troop build-up near the Ukraine border was fuelling fears that an invasion might be imminent (despite Putin's repeated assertions to the contrary), one of the Russian president's repeated claims was that a right-wing (even neo-Nazi) cabal which had seized power undemocratically was steering the country towards Nato membership.
This, Putin insisted, was in breach of an agreement that the western alliance would not expand into what Moscow considered to be its traditional sphere of influence. The "special military operation" was partly launched to prevent that.
If that was indeed a Kremlin war aim, it has misfired dramatically. Kristin M. Bakke, a professor of international relations at University College London, and a team of academics from the US and UK have been taking opinion surveys in Ukraine for some years and have monitored people's views towards the west in general and Nato in particular.
Between 2019 and October 2022, Bakke writes, there has been a massive swing in the number of people in Ukraine who identify with the west, while support for joining Nato has risen from 44% to 77% – the highest level ever recorded. And, while in 2019 the majority of people favoured Ukrainian neutrality, this situation has been reversed by eight months of conflict.
These trends are most strongly reflected in the views of respondents between the ages of 18 and 30, more than 70% of whom disagreed with the statement that it would be "best for our country's security to be neutral and stay out of military alliances".
---


Read more:
Putin's plan to stop Ukraine turning to the west has failed — our survey shows support for Nato is at an all-time high


---
Hearts and minds
Meanwhile, what appears to be a deliberate attempt by Russia to target Ukrainian schools will also do nothing to win the hearts and minds of the country's young people. As Katja Kolcio an expert in education at Wesleyan University in the US writes, more than 2,500 schools have been damaged by artillery during the war.
Kolcio, who has been conducting research in Ukraine since the Russian incursions in 2014, believes this is of a piece with what she sees as a deliberate campaign to weaponise education. She notes that when Russia occupies a city or town, one of the first things it does is forcibly replace the curriculum with one that is in line with a Kremlin agenda of erasing Ukrainian history while teaching children to identify with Russia.
---


Read more:
Ukraine schools remain a key battlefront in fight for nation's future


---
But if Kristin Bakke's surveys are anything to go by, this might prove as futile as Putin's aim to prevent Ukraine from moving ever closer to the west and Nato.
Since we've been compiling these weekly recaps we've received some very positive feedback from readers as well as requests to cover specific issues relating to the conflict. This is really useful, so if you have any particular areas you'd like us to find an expert to write about, please don't hesitate to get in touch.
Ukraine Recap is available as a weekly email newsletter. Click here to get our recaps directly in your inbox.