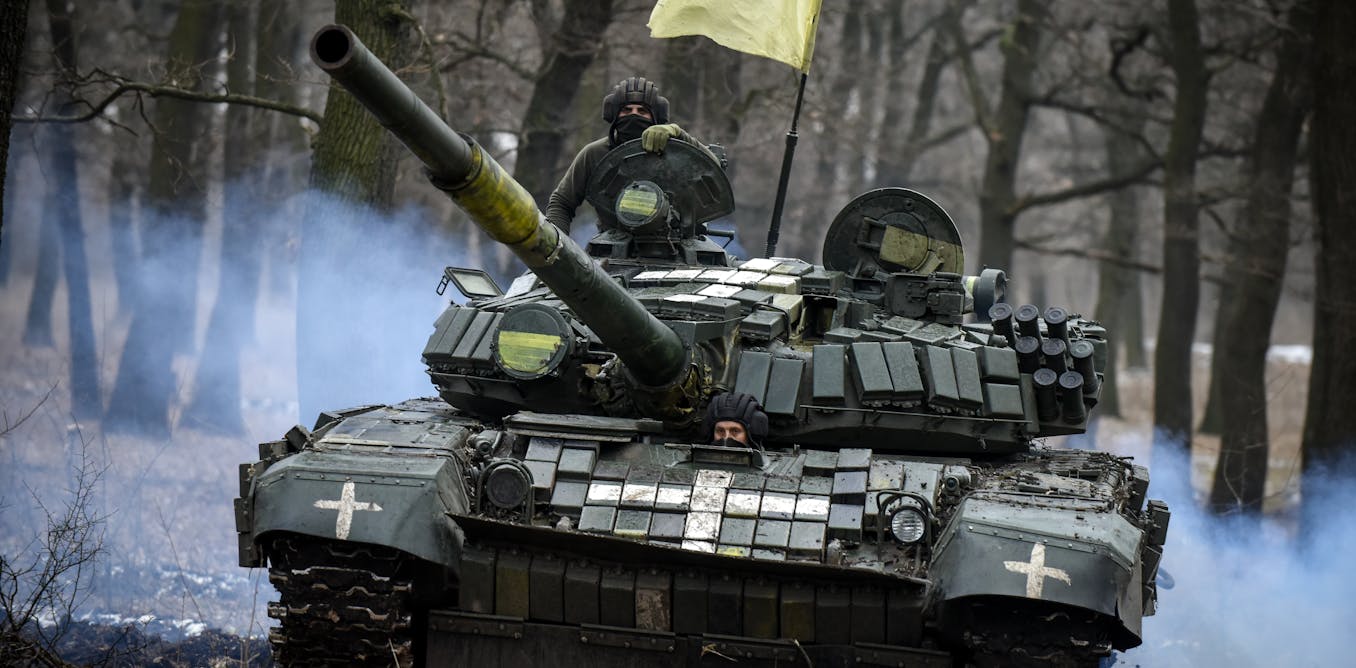 Ukraine recap: world leaders gather at Davos to make the case for more military aid to Kyiv
"We're tired of fighting Putin with rubbish kit". This recent headline in The Times was an eloquent expression of the feelings of a Ukrainian tank sergeant, part of the 24th Mechanised Brigade fighting in Bakhmut in the country's east. "Spider" Bogdan, whose Soviet-era T-62 had ground to a halt, dreams of a more modern tank: ""Would we like to have a Challenger instead? What do you think? It would be a gift from the heavens."
Bogdan's T-62 had apparently seen action in Afghanistan 40 years ago and – like so much of the military hardware that Ukraine has depended on in fighting against the Russians in the Donbas since 2014 – is falling apart.
But the sergeant's dream may be about to be realised if he is among one of the lucky crews to get their hands on one of the Challenger 2 tanks that the UK has promised to send as a matter of priority. The UK's military aid package is part of a massive push by Nato countries to get more modern and sophisticated weapons to Kyiv that is also likely to include German Leopard 2 and the US Abrams as well as modern US infantry fighting vehicles (IFVs), crucial in what is known as "combined arms warfare", where infantry and armour combine to form effective and fast-moving fighting units.
Frank Ledwidge, an expert in military strategy at the University of Portsmouth and a former military intelligence officer with experience in the region, walks us through the new military hardware that has been promised by Kyiv's western allies and explains how they could give Ukraine an edge on the battlefield.
Ledwidge believes that, together with the training being provided by Nato countries, Ukraine's armed forces are gradually pulling closer to Nato's – whether or not Kyiv's bid to join the alliance is successful any time soon.
---


Read more:
Ukraine war: supply of advanced tanks will give Kyiv an edge over Russia and move it closer to Nato


---
Supplying Kyiv with the weapons it needs to prevail in this war is high on the agenda at the World Economic Forum in Davos this week. Boris Johnson, appearing at a breakfast panel to open day three of the forum and flourishing some of his trademark rhetoric to ensure himself a headline, injected himself into Canadian deputy prime minister Chrystia Freeland's ice hockey metaphor to quip that Russia should "get the puck out of Ukraine".
Johnson also insisted that Putin would not resort to nuclear weapons, comparing Russia's president to "the fat boy in Dickens who wants to make our flesh creep", which had reporters reaching for their copy of The Pickwick Papers.
Meanwhile, the Russian leader has been unveiling some rhetoric of his own, comparing Russia's invasion of Ukraine to the "great patriotic war" in which the Soviet Red Army destroyed the Nazi war machine, something that still resonates hugely in Russia today. His remarks coincided with the anniversary of the first breakthrough of the siege of Leningrad in January 1943. His foreign minister Sergey Lavrov, meanwhile, went one step further by asserting (and you'll need a strong stomach to read this) that the west is "using Ukraine to wage a proxy war against Russia with the old aim of finally solving the 'Russian question', like Hitler, who sought a final solution to the 'Jewish question'".
Stefan Wolff, an expert in international security at the University of Birmingham, who has written regularly about the conflict since last February's invasion, believes that Kremlin rhetoric is designed to keep Ukraine's western allies off balance and perhaps to delay agreements about arms supplies to Kyiv.
---


Read more:
Ukraine war: as Russia falters on the battlefield, Putin is trying to raise the stakes


---
---
This is our weekly recap of expert analysis of the Ukraine conflict.
The Conversation, a not-for-profit newsgroup, works with a wide range of academics across its global network to produce evidence-based analysis. Get these recaps in your inbox every Thursday. Subscribe here.
---
One country pressing hard to secure an agreement to supply Kyiv with more sophisticated weapons is its neighbour Poland. Polish president Andrzej Duda is putting particular pressure on Germany, whose Leopard 2 tanks are considered to be state of the art. Poland wants to send some of the Leopards it has purchased from Germany across to help Ukraine, but needs German permission to re-export them. Christoph Bluth, a professor of international relations and security at the University of Bradford, explains Poland's motivations.
As Ukraine's neighbour it has taken in the most refugees and – as a through route for western supplies to Ukraine – it is most exposed to any accidental targeting of Ukraine's supply lines close to the border. In the event of a Russian victory in Ukraine, Poland is clearly the most exposed to any future aggression, Bluth writes.
---


Read more:
Ukraine war: why Poland is piling pressure on allies to increase military support for Kyiv


---
Cost of war
The US Defense Department has announced it will allocated a further US$3.1 billion (£2.5 billion) in military aid to Ukraine to add to the estimated US$25 billion it approved in 2022 (along with a further US$25 billion in other aid). Put into context, writes Monica Duffy Toft, a professor of international politics at Tufts University in the US, this is an enormous sum, even by Washington's standards. The US, writes Toft, gave its long-term ally Israel only US$3.8 billion in 2020.
While a majority of Americans support supplying Ukraine with aid, a lot will hinge on Republicans in Congress who want to see the US cut back on aid to Ukraine, she writes – quoting Georgia representative Marjorie Taylor Greene as saying that with the GOP controlling the House of Representatives, "not another penny will go to Ukraine". Whatever the right or wrong of this stance, Toft also believes that military aid can only feed a war of attrition and that smart diplomacy will be the only thing that will bring the war to an end.
---


Read more:
US military spending in Ukraine reached nearly $50 billion in 2022 – but no amount of money alone is enough to end the war


---
Left divided
Interestingly, the war in Ukraine is one of the few things that have made bedfellows out of the far left and the far right. For a far-right view of the conflict you only have to tune in to Tucker Carlson on the Fox network who has been spouting Kremlin talking points since the invasion started.
And then there is the far left. Let's take as our proxy the American linguist and philosopher Noam Chomsky, who bought wholeheartedly into Russia's narrative of aggressive Nato expansion as a reason for the invasion, for example telling an audience at Edinburgh that: "The crucial issue is integration of Nato – of Ukraine within Nato."
Ian Klinke, an expert in human geography at the University of Oxford, has run a ruler over the growing divide on the left between those who remain critical of Nato and what he calls new "Atlanticists", who have (for the moment at least) stifled their distaste for the US-led alliance to condemn what they see as out and out aggression on Russia's part. It's a really fascinating discussion.
---


Read more:
What's next for the anti-Nato left after Ukraine?


---
Ukraine Recap is available as a weekly email newsletter. Click here to get our recaps directly in your inbox.