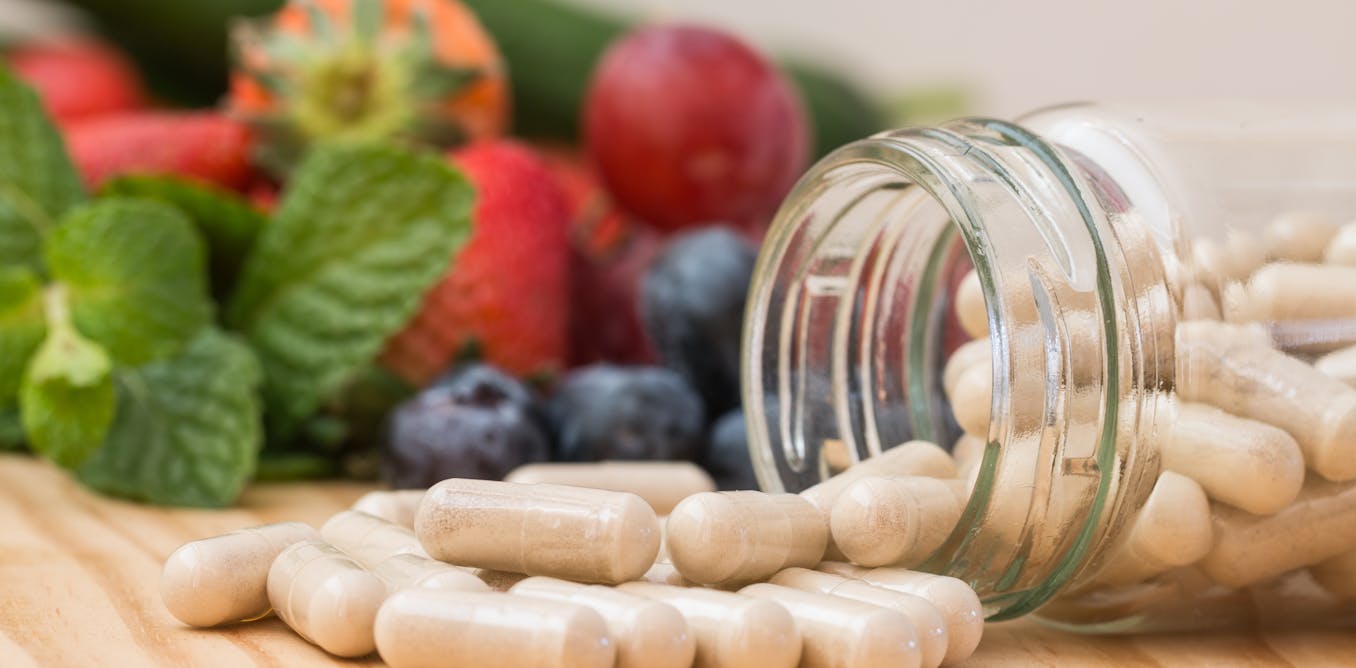 Vitamins and supplements: what you need to know before taking them
If you were to open your medicine cabinet right now, there's a fair chance that you'd find at least one bottle of vitamins alongside the painkillers, plasters and cough syrup.
After all, people are definitely buying vitamins: in 2020, the global market for complementary and alternative medicines, which includes multivitamin supplements, had an estimated value of US$82.27 billion. The use of natural health products such as minerals and amino acids has increased – and continues to rise, partly driven by consumers' buying habits during the COVID-19 pandemic.
People sought out vitamins C and D, as well as zinc supplements, as potential preventive measures against the virus – even though the evidence for their efficacy was, and remains, inconclusive.
Multivitamins and mineral supplements are easily accessible to consumers. They are often marketed for their health claims and benefits – sometimes unsubstantiated. But their potential adverse effects are not always stated on the packaging.
Collectively, vitamins and minerals are known as micronutrients. They are essential elements needed for our bodies to function properly. Our bodies can only produce micronutrients in small amounts or not at all. We get the bulk of these nutrients from our diets.
People usually buy micronutrients to protect against disease or as dietary "insurance", in case they are not getting sufficient quantities from their diets.
There's a common perception that these supplements are harmless. But they can be dangerous at incorrect dosages. They provide a false sense of hope, pose a risk of drug interactions – and can delay more effective treatment.
Benefits
Vitamins are beneficial if taken for the correct reasons and as prescribed by your doctor. For example, folic acid supplementation in pregnant women has been shown to prevent neural tube defects. And individuals who reduce their intake of red meat without increasing legume consumption require a vitamin B6 supplement.
But a worrying trend is increasing among consumers: intravenous vitamin therapy, which is often punted by celebrities and social media marketing. Intravenous vitamins, nutrients and fluids are administered at pharmacies as well as beauty spas, and more recently "IV bars". Users believe these treatments can quell a cold, slow the effects of ageing, brighten skin, fix a hangover or just make them feel well.
Intravenous vitamin therapy was previously only used in medical settings to help patients who could not swallow, needed fluid replacements or had an electrolyte imbalance.
However, the evidence to support other benefits of intravenous vitamin therapy is limited. No matter how you choose to get additional vitamins, there are risks.
Warning bells
Most consumers use multivitamins. But others take large doses of single nutrients, especially vitamin C, iron and calcium.
As lecturers in pharmacy practice, we think it's important to highlight the potential adverse effects of commonly used vitamins and minerals:
Recommendations
People need to make informed decisions based on evidence before consuming health products.
Regular exercise and a well-balanced diet are more likely to do us good, as well as being lighter on the pocket.
Seeking advice from a healthcare professional before consuming supplements can reduce the risk of adverse effects.
Be aware of the potential adverse effects of vitamins and seek a healthcare professional's guidance if you have symptoms.