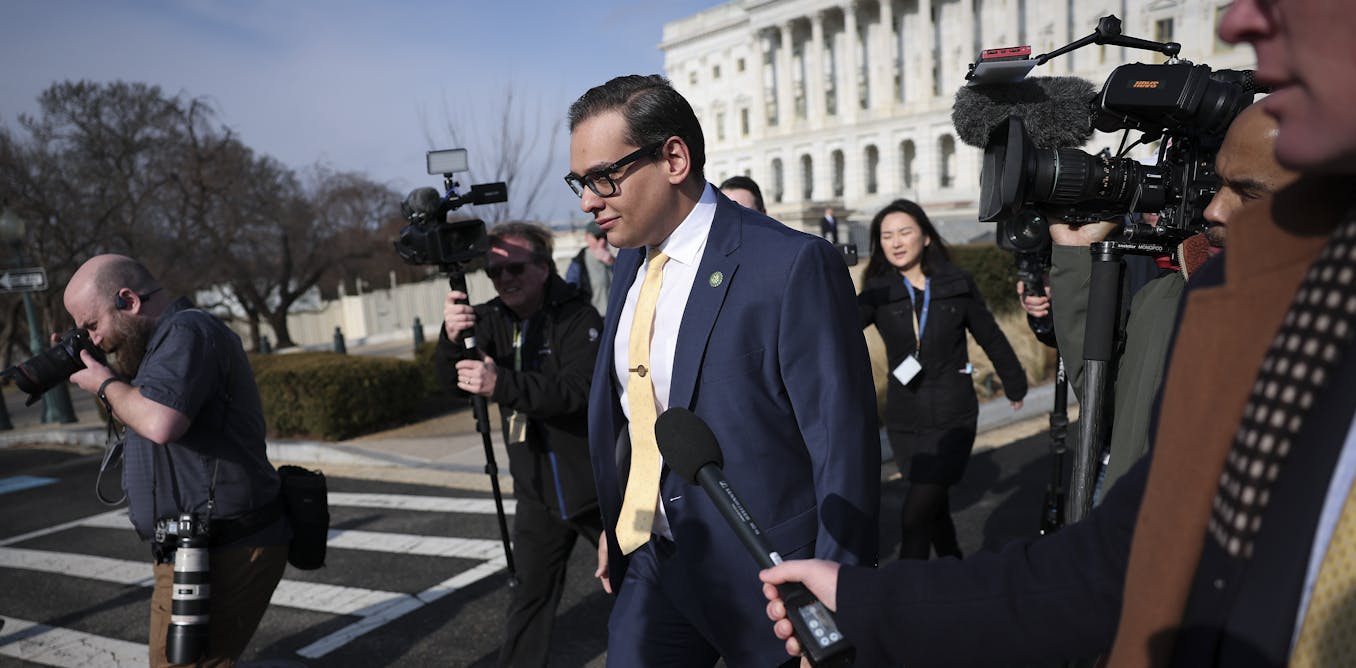 Voters have few options to remove George Santos from Congress – aside from waiting until the next election
There are mounting calls from both politicians and voters to force the newly elected apparent fabulist U.S. Rep. George Santos from Congress following revelations he fabricated his background and other details of his life.
But New York's 3rd Congressional District voters, who elected Santos as their representative in November 2022, cannot directly force him out of office until the next election, in November 2024.
It appears that Santos, who beat Democrat Robert Zimmerman during the 2022 midterm election, has woven a web of lies about his personal and professional background, some of them touching on on major historical and tragic events. Santos falsely claimed, for example, to have Jewish ancestry and said that his maternal grandparents fled to Brazil during the Holocaust. He also said that the Sept. 11, 2001, terrorist attacks seemingly "claimed" the life of his mother – who actually died in 2016.
Santos said he graduated from Baruch College in the top 1% of his class and from NYU's Stern School of Business – but he never attended either institution, nor did he graduate from college.
He also lied about his work experience, falsely claiming Citigroup and Goldman Sachs as former employers.
Santos has since admitted to embellishing parts of his résumé and said that he has not worked for CitiGroup or Goldman Sachs – and does not have a college degree.
Although a local weekly newspaper raised questions about his background in September, the story did not gain traction until The New York Times published its own story in December 2022. If the voters had known about these lies before the election, Santos might have lost.
As a scholar of constitutional law and public policy, I think it is important to understand that voters have limited options at this point. Forty states provide for the recall of state and local elected officials. But there is no federal recall law that could lead to the removal of someone like Santos from Congress.
There are few federal options to remove Santos
The Nassau County Republican Committee and other local offices in Santos' Long Island district are calling for him to step down. Several Republican House members have joined the chorus.
Santos, meanwhile, has said that he will not resign.
"I was elected by 142,000 people. Until those same 142,000 people tell me they don't want me, we'll find out in two years," Santos recently said.
He may be right.
The Constitution says that members of Congress can be impeached and removed for treason, bribery or other offenses. The Constitution does not specify grounds for expulsion – or actually removing someone from office – leaving that to each chamber of Congress to determine.
The Constitution also says nothing about recall elections.
The Supreme Court has also never specifically addressed the legality of a federal recall, but two other rulings suggest that such a law would be unconstitutional. The court first determined in 1969 that Congress may not refuse to seat a duly elected member who meets the constitutional qualifications for office. And it also ruled in 1995 that states may not impose term limits on members of Congress, because that would add an additional qualification for membership beyond the citizenship, age and residency requirements mentioned in the Constitution.
Even if a federal law authorizing the recall of members of Congress were adopted and survived a legal challenge, the legislative and legal processes would consume virtually all of Santos' two-year term. So recalling Santos is not a promising option, even if it were legal.
Critics might also try to get the House to expel Santos. But expulsion is exceedingly rare. The House has expelled only five members in its entire history, most for joining the Confederacy during the Civil War.
Ethics concerns are at play, though
Santos would not be committing any crime simply by telling lies. Maybe he did other things that violated the law – state, federal and Brazilian authorities are currently investigating whether he used campaign funds for personal expenses, and whether he committed fraud in Brazil by using someone else's checkbook to pay his bills.
But Santos will not automatically lose his office even if he is convicted of any crime. The House does not require members to forfeit their office in those circumstances – or even if they go to prison.
Santos' case, however, does raise ethics concerns that members of Congress can address. Two House Democrats from New York have filed ethics complaints against Santos with the House Ethics Committee regarding incomplete financial disclosure forms.
This bipartisan committee investigates alleged law violations by Congress members and makes recommendations to the full House. Ethics Committee recommendations are not legally binding. The House itself must consider them, though. In any event, this process probably would extend far into or beyond Santos' term.
Santos might also resign if the Ethics Committee recommended his expulsion. That has happened on several occasions. In 1986, Sen. Harrison Williams resigned when facing an Ethics Committee's recommendations that he be expelled because of corruption. In 1995, Sen. Robert Packwood left his post for the same reason.
Rep. Mario Biaggi of New York also stepped down before an expulsion vote in 1988.
No clear exit ahead
In short, Santos would be able to serve most or all of his term even if the House did ultimately vote to expel him. But there are additional complications. The Constitution requires a two-thirds vote to expel a member of Congress. Such a supermajority is unlikely, especially in a House with a narrow majority in which every vote counts and when Republicans might be hard-pressed to win a special election to fill Santos' vacancy.
Voters who are appalled by George Santos' apparent lies have little direct leverage to force him out of office quickly. Their first and best opportunity will come in 2024 if Santos decides to seek another term. Voters could defeat him in the Republican primary, where he surely would face opposition. And if he somehow survived the primary, he would still have to face a Democrat in the general election.