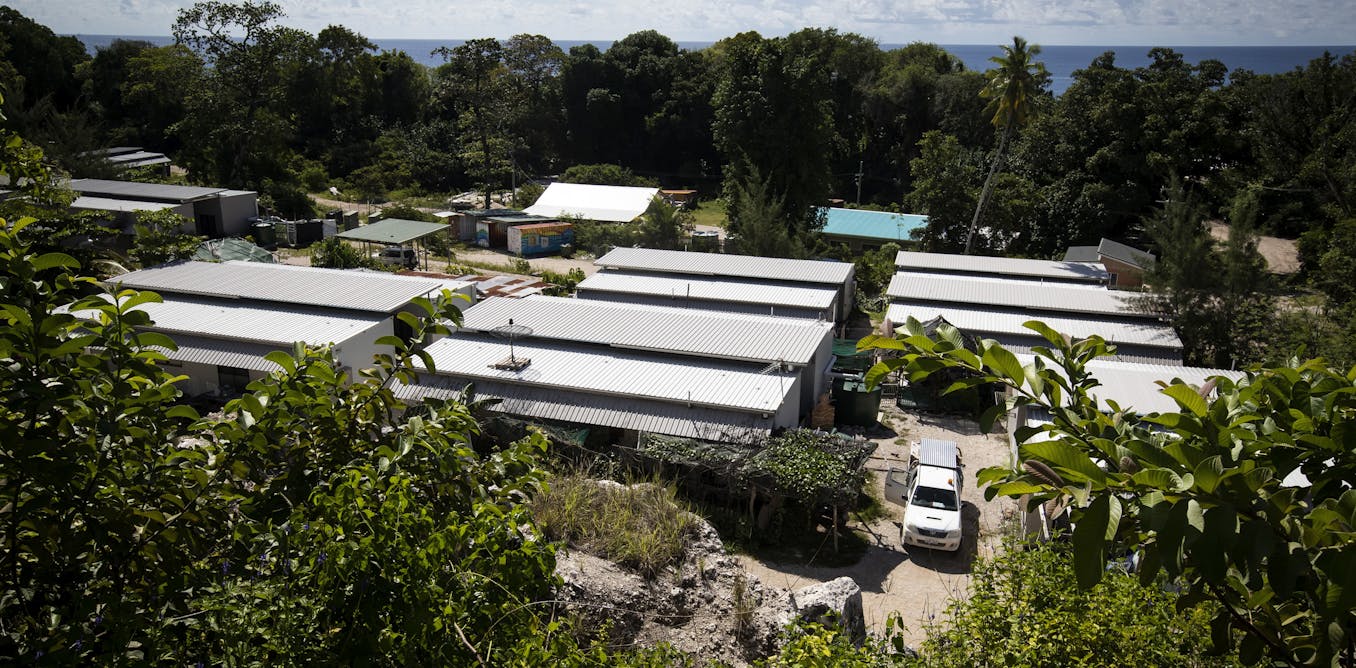 We provided health care for children in immigration detention. This is what we found
Australia's immigration policies allow for indefinite locked detention, including for children and families. Detention is mandatory for people arriving without a valid visa – all those who arrived by boat between 2009 and 2013 were held in Immigration Detention Centres in Australia, or in Australian-contracted detention in Nauru or Papua New Guinea (PNG).
Australian detention numbers peaked in mid-2013, with 2,000 children detained at this time. By mid-2014, the average duration of detention exceeded 400 days.
While the last children were released from locked detention at the end of 2018, Australian law and policy still mandate detention for children arriving without visas. While the government refers to "held" or "locked" "detention", to be plain, these children were imprisoned for seeking asylum.
We have just published a study describing the health of asylum-seeker children who experienced detention attending our Refugee Health Clinic over the past ten years.
Our team has been seeing refugee children for more than 20 years. We have extensive experience in refugee health, forensic medicine and child development, but nothing prepared us for the complexity of looking after these children.
---


Read more:
UK moves to copy Australia's cruel asylum-seeker policy – and it will have the same heavy human toll


---
Trauma, mental illness, lack of protection
Our cohort of 277 patients comprised 239 children who had been detained, including 31 infants born in detention, and another 38 children born after release to families who experienced detention.
There were 79 children from families who had been detained on Nauru/PNG, 47 children had been detained offshore. Most children had spent time in at least three different Australian detention facilities.
The duration of locked detention ranged from a few months to more than five years. Children sent to Nauru/PNG were detained for longer (typically three to five years) than those held in Australia (typically around one year), and many of this group remain in community detention.
The experience of these children was traumatic. They arrived with trauma – 62% had experienced major trauma before or during their journey to Australia, 8% had experienced the death of an immediate family member. They then experienced trauma in detention. They were exposed to self-harm, suicide attempts and violence – in unrelated adults and within their own families.
One in five children were separated from a parent in detention, often for weeks or months, and young children were left alone in detention while their parents were hospitalised. More than half the cohort had parents with mental illness, this reached 86% in the Nauru/PNG cohort, and 21% of these children had parents requiring psychiatric admission.
The trauma and deprivation of immigration detention had profound impact on children's health. Two-thirds had a mental health problem (most commonly anxiety, depression and/or post-traumatic stress disorder) and 75% presented with developmental concerns. Child protection issues were common – 19% required child protection notification and 8% were referred for sexual assault concerns in detention.
Protective systems were limited or absent. Almost half the children had interrupted education in detention. Schooling was unavailable or extremely limited for most children on Christmas Island for long periods. In Melbourne, within 20km of our hospital, school-aged children were not enrolled in school, often for months.
No health screening or follow-ups
While basic medical services were provided in detention, health screening was effectively absent – both in detention, and in the community in Victoria.
Only 1% of children had a recommended health screen before being seen in our service and only 29% of children had received routine childhood immunisation. We saw children with severe mental health, developmental and medical diagnoses that had not been recognised in detention.
In the early stages, there were some children seen once, who were transferred to another detention centre before their review appointment and never seen again. Families attended clinic with multiple guards, and were often late, completely missing their appointment time, despite the detention centre being notified well in advance.
Parents were frequently incapacitated by their own mental illness. We saw parents with severe depression, catatonic and psychotic features, and witnessed profoundly disordered attachment. Often it was difficult for them to even tell us what had happened to them and their children and what symptoms they were experiencing. In some cases, we admitted children directly to hospital, for immediate safety or medical concerns.
Documentation was unavailable, and we spent hours chasing paperwork, painstakingly piecing together health records for families, and notifying the detention health providers and the Department of Home Affairs of the issues.
Precarious migration status is traumatising too
We had not anticipated detention could, or would, last for years, or that we would still be seeing these children in 2023.
After release from detention, most children experienced improvements in family function, wellbeing and mental health. However, short-term bridging visas precluded parents working for years, and in many families, financial stress has impacted housing and food security.
The impact of detention, years of precarious migration status and trauma is ongoing, and many individuals in families in the Nauru cohort remain extremely unwell. These children have now been here nearly ten years – meaning some have entered and almost completed schooling.
The transition to permanent residency will be life-changing for the families detained in Australia, but deeply distressing for those sent offshore, who do not have access to this pathway.
---


Read more:
Are doctors ethically obliged to keep at-risk children out of detention?


---
What has to happen
Our research provides clinical evidence for the harm to children from Australian immigration detention, migration law, and related policies.
Governments must avoid detaining children and families – in Australia, and in other countries. It is unsafe and harms children.
We urge a compassionate approach to resolving the immigration status of these children and families, including those sent offshore to Nauru or PNG, that also recognises the impact of time.
These children have grown up in Australia, their identity is now Australian, and we should support them as children and young people in Australia.
---


Read more:
3 types of denial that allow Australians to feel OK about how we treat refugees


---