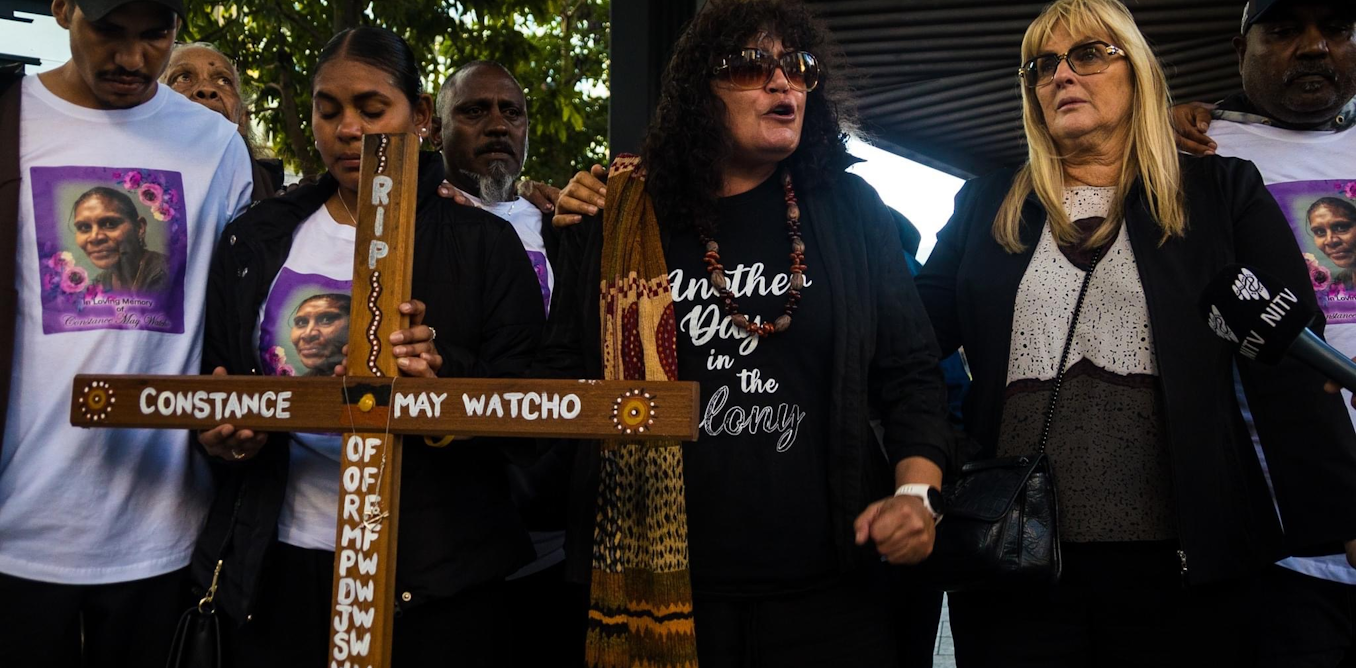 What happened to the Senate inquiry into missing and murdered Indigenous women?
The Australian Senate's inquiry into Missing and Murdered Indigenous Women was briefly on the political agenda late last year, with little media coverage.
The inquiry came after Indigenous women working across media, politics, and academia attempted to draw attention to the violence First Nations women face.
Yet even as the "landmark parliamentary inquiry" was announced, there was a striking silence.
The Senate inquiry closed public submissions last December. There is no known future schedule of public hearings, and the inquiry's methods and ways of working have not been made known to the public. Only one media release – announcing its formation – has ever been issued.
The inquiry itself seems to have gone missing, which worsens the crisis it aims to investigate. This silence speaks to the conditions that make it possible for so many Indigenous women to go missing and be murdered.
---


Read more:
Four Corners' 'How many more?' reveals the nation's crisis of Indigenous women missing and murdered


---
An unusually silent inquiry
Public inquiries are established when an issue "requires extensive public consultation and exposure" – they are intended to be part of a wider conversation.
Take as an example the recent Independent Commission of Inquiry into Queensland Police Service responses to domestic and family violence. This inquiry received extensive [media and political attention] of more than 300 publications about police misogyny and racism.
The Senate Inquiry into Missing and Murdered Indigenous women and girls has generated just 14 news reports from the time the inquiry was announced in November 2021 to present.
In Canada, grassroots movements led by Aboriginal women and families of missing Aboriginal women led to a national inquiry into missing and murdered Indigenous Women, girls and LGBTQIA+ people. It was well resourced over several years, following comprehensive work with communities.
The final report named Indigenous femicide (the murder of women and girls), as a form of racial and colonial genocide.
The Australian inquiry borrows much of its terms of reference from the Canadian report. However with the scarce detail the inquiry has provided about its processes, it did not appear to undertake the same grounded and community-led approach to inform it.
---


Read more:
Disenfranchising Indigenous women: The legacy of coverture in Canada


---
Naming the violence of silence
In our submission to the inquiry, we highlighted that missing and murdered Indigenous women, girls and gender diverse people are never simply "missing". They do not just vanish from their homes, families and Country. They are violently disappeared.
This is significant because when we examined police investigations into the disappearance of Aboriginal women, the term "missing" seemed to bring with it a pattern of inaction. Missing Indigenous women are typically framed as responsible for their own disappearance.
They do not get afforded the same effort and attention in media and investigations afforded others.
Because of this inaction, there is rarely accountability for violence against Indigenous women. This sets a dangerous pattern where perpetrators know they can get away with acts of violence. We argue this is the underlying cause of the high rates of all forms of violence experienced by Indigenous women.
This pattern of inaction can be observed at coronial inquiries into the deaths of Indigenous women.
For instance, in Queensland, the disappearance and murder of Aboriginal woman Constance Watcho was never solved, and the inquiry into her death also failed to provide any answers.
Outside the coronial inquest into her death, Ms Watcho's sister-in-law Tarita Fisher said:
No one is giving us answers and we're sick of it, treating Blackfullas like we're nothing. We're something. I'm wild I'm angry, crying for her children and her brothers, her family. We want answers, now. We can't live without knowing what happened to her.
This silence is telling. It's the same silence Indigenous families are often met with when reporting their loved ones missing to police.
Breaking the silence
The silence surrounding disappeared Indigenous women is not simply an absence. It erases these women's lives altogether and replaces Indigenous experiences of racialised and gendered violence with an alternative narrative, in which the disappearance of Indigenous women is seen as unremarkable or even inevitable.
Media reports, police investigations and coronial inquiries position these women as responsible for the violence they experience
The inquiry must understand the function of this silence if it is to disrupt it. It can do this by centring and amplifying the voices of Indigenous women and their testimonies.
Amy McQuire's work on "presencing" (as developed by Michi Saagiig Nishnaabeg scholar Leanne Betasamosake Simpson) offers a way forward for the way media, police and future inquests represent Indigenous women. Presencing is the act of telling the full story of Indigenous women's lives, not reducing them to their wounds. The purpose of this is to centre Indigenous women, in life and in death, and in seeking justice on their own terms.
It was this method of presencing that enabled the story of murdered Indigenous woman Queenie Hart to be told. In doing so, some form of justice was restored in returning her back to her home community.
Indigenous women and their families continue to speak out about silence and injustice. They are never silent, and their voices should be front and centre of the Inquiry.
Instead, their testimonies are warehoused in an obscure location on the website of the Senate inquiry. Just two hearings have been conducted to date, without adequate public notice, and no further hearings are scheduled.
This silence that shrouds the current Senate inquiry must be broken. Indigenous women have the right to live, to be heard and to be afforded the simple dignity of a response.
Acknowledgements: the authors wish to thank Tarita Fisher for her review of this article. We acknowledge her ceaseless fight for justice and that of all families of disappeared Indigenous women. We also thank Debbie Kilroy (CEO, Sisters Inside), Anna Cerreto (Research and Operations Manager, Institute for Collaborative Race Research) and Dr Alissa Macoun for their contributions to this article.