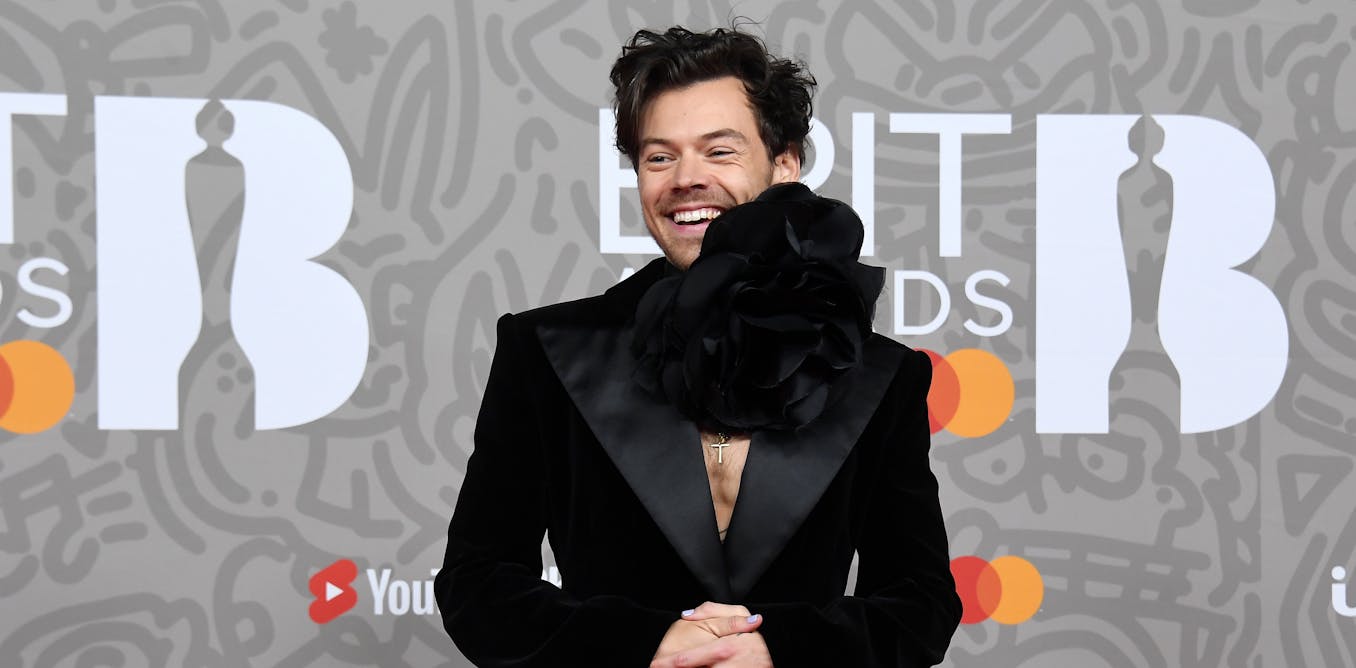 What is a 'shoey' and why did Harry Styles do one on stage in Australia?
"Shoey" is Australian slang for having a celebratory drink out of a shoe. Usually the beverage is alcoholic and the celebration follows a sweaty quest to victory. The shoey has become a popular part of some sports and music festival cultures.
As a cultural phenomenon, the shoey represents overcoming adversity – literally drinking out of the vessels that got you over the line. Newly minted Grammy and BRIT award winner Harry Styles did his first Australian concert – and we assume his first shoey – in Perth this week. Here's the, um, footage (pun intended, sorry).
One of the most famous supporters of the shoey is racing driver Daniel Ricciardo – someone for whom Styles has shown his own fandom. Footballers, surfers, musicians and various celebrities have also had a go.
Usually, it's a cultural practice undertaken by men, although marathon runner Des Lindon, inspired by Ricciardo, also celebrated in this way, as did champion golfer Hannah Green.
---


Read more:
Harry Styles is winning big because his music is a breezy pop antidote to our post-pandemic blues


---
Although Australians have claimed the "shoey", we are not its only practitioners.
Drinking from boots, or even delicate high heels, is said to have started in Europe. There are US and Russian influences too, including drinking out of silk ballet flats.
Culture of defiance
The contemporary Aussie shoey is really about defiance – claiming victory against the odds.
It's a type of attitude many different types of Australians have tapped into over generations, a classic trait of the "little battler" or "underdog" stereotype that sees triumph even after a struggle.
Importantly, there is clear humour in the shoey – this is not a win steeped in earnest glory, but deliberately crowd-pleasing and silly. The result is a soggy shoe and a terrible taste in your mouth, but also, to tap into another stereotype, making sure tall poppy syndrome is avoided.
The shoey is a great leveller – it brings everyone down to the same (albeit pretty basic) level. Like other local party tricks and traditions, it can also bring an international guest into the fold – someone willing to "do a shoey" is inevitably going to be accepted by the crowd.
The shoey does have its critics though. It is regularly called out as being messy, gross and just a bit disgusting. Styles played along but clearly didn't enjoy the actual act, joking it made him feel ashamed of himself.
---


Read more:
Creative country: 98% of Australians engage with the arts


---
Was the shoey just a shameless local reference?
Big touring artists may see hundreds of cities across a world tour. Typically these massive events are hugely formulaic and stage-managed, necessitated by the stadiums they play in and the scale they need to navigate.
To make each show memorable and, importantly, to draw audiences in, many add a specific local reference to the country or city they're playing in.
It could be a nod to the sporting team or attraction, or ideally to local artists to give them some additional exposure. In Australia, some just bring out a stuffed koala or reference a Vegemite sandwich on stage. One of the most creative local references was Amanda Palmer's ode to local slang with the song Map of Tasmania.
Styles' shoey was definitely a acknowledgement of an aspect of Australian culture – even if the beautiful designer sneaker he sipped from was a world away from a sweaty footy boot.
More impressive for mine, and less likely to cause infection, was the inclusion of a cover of Daryl Braithwaite's 1990 version of Horses, a song that has gone from cool to daggy and all the way back again.
Styles hammed it up then proclaimed:
you don't hear that song very much until you get here, but then it's like catnip… I can feel the Aussie coursing through my veins!
It's not the first time Australian audiences have asked Styles for a shoey, but only now has he obliged. At a time when anyone around the world can stream just about any event (mostly legally), finding something special about each place and its audience can be tough.
The shoey is something those present won't forget in a hurry.
For the rest of his tour, other Australian oddities Styles might want to look out for are plagues of deadly drop bears, and the "Eagle Drop" when Daddy Cool comes on the stereo.
Make sure the budgie smugglers are as clean as those sneakers though, hey?