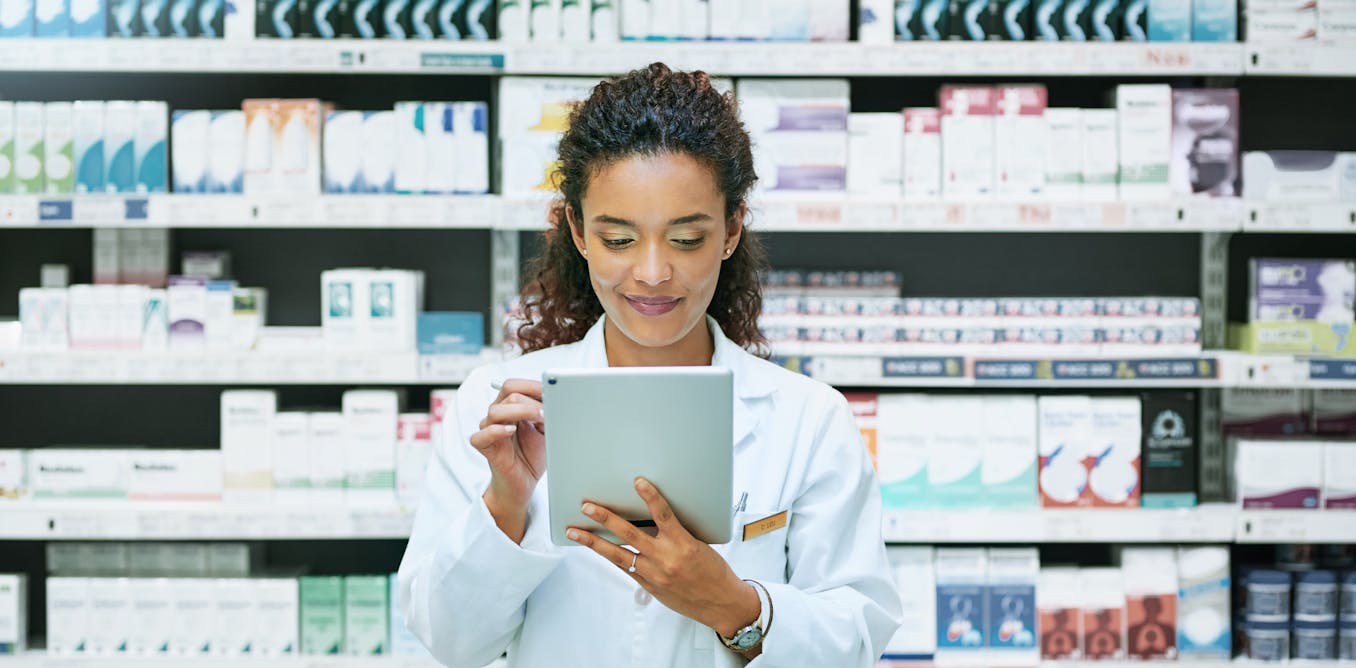 What the FDA's rule changes allowing the abortion pill mifepristone to be dispensed by pharmacies mean in practice – 5 questions answered
In early January 2023, the U.S. Food and Drug Administration modified its rules for mifepristone, a drug used for medication abortion, allowing it to be offered with a prescription by certified pharmacies. Before this rule change, mifepristone could be dispensed only in person by providers at hospitals, clinics and medical offices, as well as by some mail-order pharmacies.
The Conversation asked Grace Shih, a family physician practicing in Washington, to explain the significance of this change for health care providers and their patients.
What is mifepristone, and how does it work?
Mifepristone is a pill that is used in medication abortion during early pregnancy. It was initially approved by the FDA in 2000 and is FDA-approved for medication abortion up to 10 weeks after the first day of last menstrual period.
It can be taken as one part of a two-part pill regimen for medication abortion. Mifepristone is prescribed as a 200-milligram dose taken orally followed by an 800-microgram dose of misoprostol, which is placed in the vagina or between the teeth and cheek, where it dissolves and is absorbed, usually 24 to 48 hours later.
Mifepristone acts by blocking the hormone progesterone, which is necessary for a pregnancy to develop. This stops the pregnancy growth and softens and dilates the cervix. It also prepares the uterus for contractions, increasing its sensitivity to medications such as misoprostol.
Misoprostol is a synthetic prostaglandin. Prostaglandin is a hormonelike substance that has multiple effects, including the stimulation of uterine contractions, which helps expel pregnancy tissue such as the thickened uterine lining and the tissues that are the precursor to the placenta. Mifepristone and misoprostol are also both used in the medical management of miscarriage.
Medication abortion can also be done with misoprostol alone, known as the misoprostol-only regimen. In the misoprostol-only regimen, an 800-microgram dose of misoprostol is placed in the vagina or between the teeth and cheek every three hours for up to three doses.
Why would a person opt for one regimen or the other?
People usually don't choose the type of medication abortion they receive. Either mifepristone is available where they are seeking care or it is not.
The American College of Obstetricians and Gynecologists states that "combined mifepristone-misoprostol regimens are recommended as the preferred therapy for medication abortion because they are significantly more effective than misoprostol-only regimens."
The efficacy of the two-pill regimen is approximately 95% to 98%. However, because mifepristone is under the FDA's risk evaluation and mitigation strategy program, which places specific restrictions on mifepristone, it can be difficult to obtain.
When mifepristone is not available, the American College of Obstetricians and Gynecologists considers the misoprostol-only regimen, which has an efficacy of 76% to 88%, to be an "acceptable alternative." Thus, the FDA's permission to dispense mifepristone at retail pharmacies will help broaden access to the more effective combined mifepristone-misoprostol regimen of medication abortion.
What will the FDA's rule change mean in practice?
The recent FDA change means that retail pharmacies may dispense mifepristone by mail or at brick-and-mortar pharmacies, as long as that retail pharmacy has been certified. In other words, people who live in states where abortion is not banned can take their mifepristone prescription and get it the way they pick up other medications.
For someone able to pick up mifepristone from a local pharmacy, the process will be no different from picking up birth control pills or blood pressure medications. In this way, mifepristone and its uses for abortion care and miscarriage management will be treated as typical health care.
It is unclear whether or how the FDA's rule will affect state restrictions on abortion care. If medication abortion is not permitted in a specific state, retail pharmacies in that state may or may not be able to dispense mifepristone for abortion care. However, mifepristone could be dispensed from certified pharmacies for reasons unrelated to abortion care, such as miscarriage management.
What brought about the change?
On Jan. 3, 2023, the FDA formally modified its regulations and guidelines around mifepristone use, which were initially proposed during the COVID-19 pandemic. Previous guidelines required that mifepristone be dispensed in person.
These changes were brought about by a civil complaint that was sponsored by obstetrician-gynecologists, family physicians and reproductive justice advocates. It noted that "of the 20,000 drugs regulated by the FDA, mifepristone is the only one that patients must receive in person at a hospital, clinic or medical office," even though the medication itself can be taken orally by a person unsupervised, at any location.
The in-person requirement meant that those seeking medication abortion or miscarriage care were required to face increased risk of COVID-19 exposure simply to obtain mifepristone. There has been no documented benefit from this in-person dispensing requirement.
As a result of this complaint, the FDA placed a temporary pause on enforcement of the in-person dispensing requirement and subsequently conducted a formal review of its regulations around the dispensing of mifepristone. The Jan. 3 decision is the FDA's final decision.
Misoprostol has never been subject to the same restrictions. In addition to its use in the medication abortion regimen, misoprostol is FDA approved for management of gastric ulcers. And it is used, off-label, for cervical dilation and softening when doctors induce labor. People may continue to get their misoprostol at retail or mail-order pharmacies.
How might this rule change affect medication abortion access?
While this change is an important step in securing access to medication abortion, it does not have a clear benefit for people who live in states where abortion is banned. And it has limited benefit in states that have restrictions on medication abortion.
According to the Guttmacher Institute, a reproductive health policy organization, 29 states have some restriction on medication abortion, including 18 states that require that the clinician providing a medication abortion be physically present with the patient. Those restrictions therefore prohibit the use of telemedicine to prescribe medications for abortion.
It is unclear how many pharmacies will pursue certification and how quickly that certification can happen. Pharmacies that want to dispense mifepristone must comply with FDA pharmacy agreements to achieve certification.
This includes having systems in place to track and verify mifepristone prescribers, using a tracked shipping service and having the ability to report patient deaths to prescribers, among other requirements. CVS and Walgreens have already announced plans to become certified pharmacies.
As a practicing family physician, I see the permanent removal of the in-person dispensing requirement as essential for normalizing abortion care and improving access to medication abortion. However, many obstacles remain, including specific patient consent forms, unique and required prescriber certification and the aforementioned pharmacy certification.
Leading health professional organizations including the American College of Obstetricians and Gynecologists, the American Medical Association and the American Academy of Family Physicians have all issued statements that call for removing all restrictions around mifepristone, since there is no evidence that these restrictions improve patient care or safety.