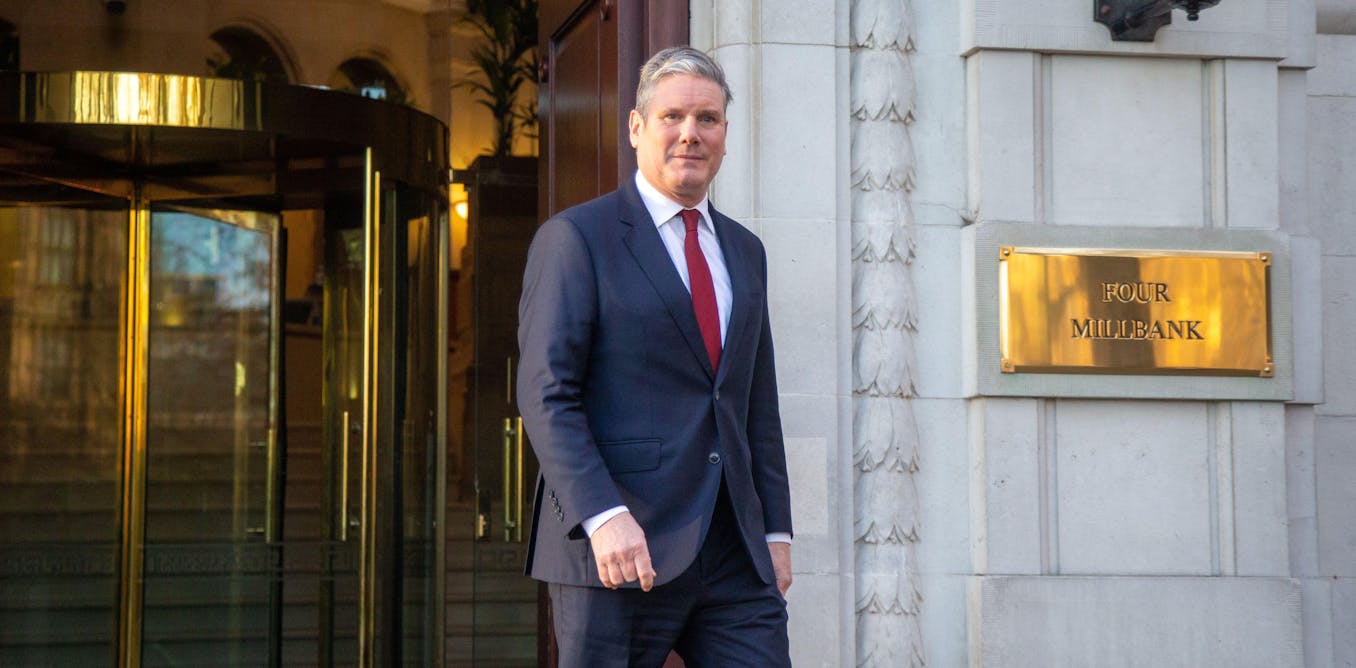 Why 2023 is a make-or-break year for Keir Starmer's Labour party
Labour has understandably begun 2023 in an upbeat mood. Polls give the party around 45% of the vote and with the Conservatives on just 19%, power once again feels within reach.
But the Labour party is a strange beast. It has an incredible capacity for snatching defeat from the jaws of victory and is unique in demonising the only leader who led it to three consecutive victories.
After over a decade of Conservative government and a succession of crises, 2023 really does mean breakthrough or bust for the Labour party. If prime minister Rishi Sunak walks back through the doors of No.10 after an election win in 2024 despite all his party has done, it would be hard to see a future for the Labour party in anything like its current form.
Polls mean very little in today's Britain. Voters are more fickle and fluid than they have ever been. To translate voting intentions into action at the ballot box the Labour party must deal with an increasingly obvious dilemma: it needs to explain what it actually stands for.
As a general election approaches the official opposition has to evolve and change for the simple reason that opposing is not enough. At some point the public will demand detailed policy positions, costed plans and evidence that a credible government-in-waiting really does exist.
And those can only come about once the party possess a sense of self-belief and collective confidence born from a clear understanding of what it is offering the British public and how it intends to govern.
This should provide the foundations for everything the party seeks to do and how it intends to govern. Having a core, undiluted political DNA not only ensures consistency and integration across policies but also forms the glue that binds the public to a shared vision of a different future.
And whether you like it or not it is the "vision thing" that really matters in politics. It is what turns a poll lead into a parliamentary majority. People vote for a different future, for new opportunities, for fresh starts.
Keir Starmer has been accused of lacking charisma and communication skills since he became leader. But being boring is not the problem. John Smith was not the most exciting person in the world but he possessed a clarity of purpose and sense of direction that allowed him to transform the Labour party under his leadership.
To some extent, Sunak and Starmer share a certain nerdy technocratic bent but whereas the public broadly know what the Tories "are about" they seem less sure about Labour. And in the absence of clarity on this point, communities in former Labour strongholds are left feeling that Labour is not "about" them.
An unlikely source of inspiration
Labour must respond in a way that signals a depth of understanding; a commitment not just to winning elections but to forging relationships and changing lives.
Let me ground this argument in a very simple example.
Kevin Sinfield is not a politician. He is a former rugby player. In recent years he has raised over £7 million for motor neurone disease charities by undertaking a series of gruelling physical challenges. This came about after his Leeds Rhinos teammate and friend Rob Burrow was diagnosed with the condition in 2019.
Sinfield is also an incredibly modest man. His demeanour is gritty but he speaks in a soft voice that commands a quiet respect.
Much like the Labour party, the England rugby union team are also facing a break or bust year. After a poor performance in 2022 and with the Rugby World Cup just nine months away, the team manager, Eddie Jones, was sacked and Sinfield was appointed as part of a new coaching team.
In a typically understated manner, he declared that his approach to turning around the team's fortunes would be based on emphasising "friendship and memories" and not just "money and medals".
Winning itself is no longer the all-encompassing aim. Shallow victories are worthless. By looking after your friends, creating positive memories and understanding that the team is far more than a collection of individuals the chances of success will, by definition, increase significantly.
"We will provide an environment" Sinfield noted, "where there is clarity, but also there is a togetherness and a fight and a spirit where they [the players] look after each other and care for each other, and that is really important to us."
The three Fs
Politics is a far messier business than rugby and sporting allusions are easy to dismiss. But Labour does need to find a similar core essence. Its answer to the question "What do you stand for?" does not have to be complex. It should not be a spin-doctored strapline but an answer that signals simplicity and a depth of understanding – a commitment not just to winning elections but to forging relationships and changing lives.
If you look at the actual evidence about what the British public care about, it's incredibly straightforward. It's broadly the three Fs: families, finance and fairness.
With these pillars in place the Labour party could present a clear and consistent message and speak directly to the issues that matter most to the people currently struggling to feed their families, get a doctor's appointment, find secure employment, heat their home.
It's true that any other party could adopt the same themes, but the intellectual and political history of the Labour party – its emphasis on community over individualism – would allow it to redefine, reimagine and reinvigorate these notions.
Labour members may well respond that they know what the party stands for and take comfort from positive polling figures. But Labour members alone will not win the next general election. My sense is that the communities that Labour really needs to reconnect with are lost in a sea of political disaffection. And with 2024 the latest an election can be held, 2023 may well prove boom or bust for the Labour party.