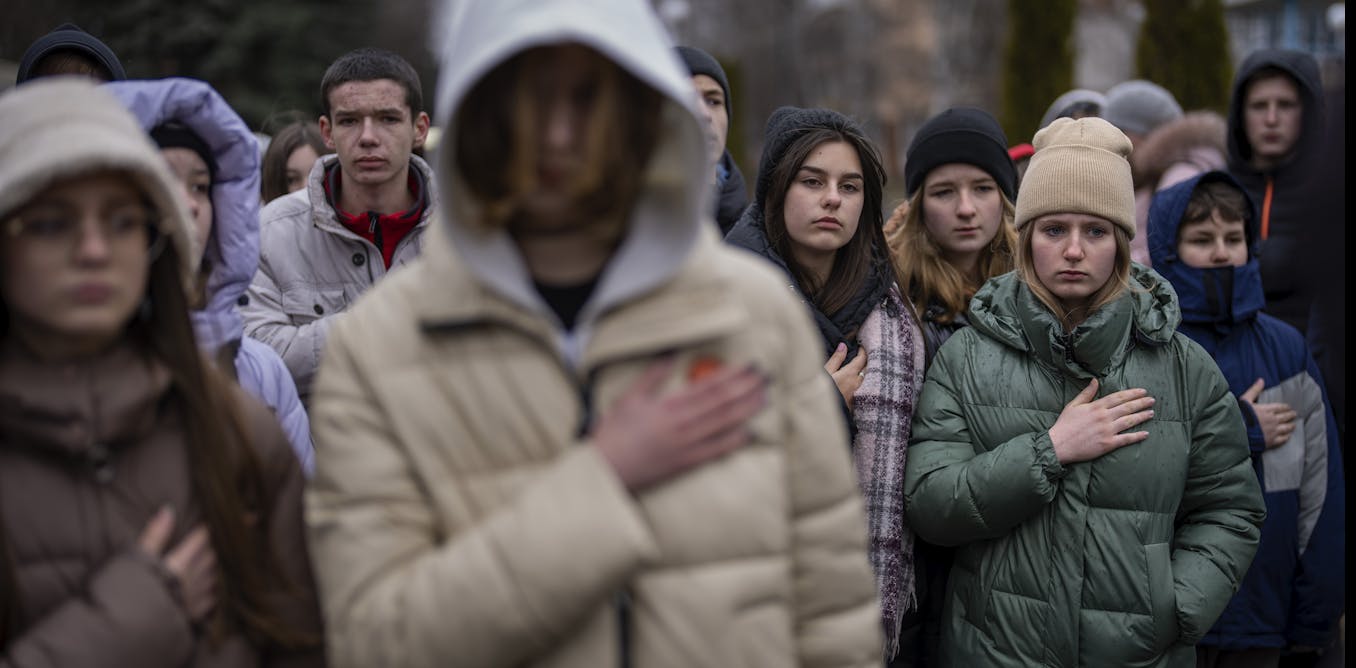 Why a new centre for civic engagement in Ukraine could help counter Russia's invasion
Shortly after Russia launched its full-scale invasion of Ukraine, I set aside my academic work as a fellow in public philosophy to report on civilian life in Kyiv, Lviv, Kharkiv and other Ukrainian cities and to examine the state of higher education in Ukraine.
Public philosophy, in dialogue with other forms of scholarship, journalism and thinking, translates esoteric ideas into accessible writing and then applies those ideas to daily life.
At its best, philosophy is an antidote to bad ideas — and as historian Timothy Snyder, an expert on Ukrainian history, recently noted in an interview, bad ideas can kill people: Russian ideas about history, culture and language have been catalysts to the current conflict.
---


Read more:
We should all be concerned that Putin is trying to destroy Ukrainian culture


---
This is one of the reasons Ukrainian academics are working to establish a centre for civic engagement at Kyiv Mohyla Academy. This centre will provide support for academic and civic institutions in Ukraine to counteract the aforementioned destabilizing impact that Russia's invasion has had on higher education and civilian life.
State of Ukrainian post-secondary education
When I arrived in Ukraine, unsurprisingly, I found Ukrainian colleges and universities in a state of disarray.
At the time, 7,000 scholars had fled Ukraine and thousands more had been displaced within the country.
To date, more than 170 Ukrainian institutions of higher education have been damaged and more than 20 have been completely destroyed. The academics who remain in Ukraine now conduct their research, teaching and public service in very challenging circumstances.
Academics remaining in Ukraine
Nearly every senior administrator noted that western universities were providing plenty of support for Ukrainian students and scholars who had left the country, but that there was little or no help for Ukrainian academics working in Ukraine.
Ukrainian students and scholars were also doing amazing work in and out of the classroom, despite nationwide cuts to education in order to fund the war.
At Kyiv Mohyla Academy, for example, students were volunteering their time to visit elderly citizens whose families had left the country.
Post-doctoral researchers were running public seminars on Ukrainian history to counter Russian propaganda. Psychology professors were volunteering their expertise to counsel civilians who spent months under Russian occupation. And political scientists were drawing on their research to offer much needed insight to foreign correspondents and the international community, generally.
A whole society effort
Of course, Ukrainian students and scholars weren't the only ones doing exceptional work in Ukraine. I met nurses and medics who were taking double shifts and then using the extra money they earned to buy necessary medical supplies for their patients.
Comedians were putting on benefit gigs and donating the proceeds to the Ukrainian army. Computer programmers were using their spare time to help secure Ukraine's digital network. And just about everyone I spoke to saw doing their day job as an act of defiance and their own small way to help keep their country going.
Witnessing daily life inside and outside the academy in Ukraine made me realize how important maintaining a functional and lively civil society is to keeping supplies moving and elevating the country's morale.
Fighting for freedom
Based on my experiences from Kharkiv to Lviv and from Odessa to Kyiv, it was also clear to me that Ukrainians from all walks of life were fighting for something we hold dear: freedom.
And they were doing this with limited resources in a state that recently took a 30 per cent hit to its GDP.
The extraordinary work Ukrainians were doing to keep their country running was inspiring, but I kept returning to the fact that as identified by senior administrators, there was little international support for students and scholars at universities staying in Kyiv, Kharkiv and Lviv.
Following the example set by Ukrainian students and scholars, I've spent much of the past year thinking about the conflict and working on an event, What Good Is Philosophy? – A Benefit Conference for Ukraine.
The Centre for Civic Engagement
This online benefit event will be broadcast on the Munk School of Global Affairs and Public Policy's YouTube channel on March 17-19, 2023. It aims to raise the funding required to establish a Centre for Civic Engagement at Kyiv Mohyla Academy.
By assisting Ukrainian students and scholars today, the centre will also help pave the way for a vibrant and engaged post-war Ukraine.
Keynotes at this benefit conference will be delivered by two of Ukraine's pre-eminent public intellectuals, Mychailo Wynnyckyj and Volodymyr Yermolenko, who in the current conflict have been drawing on their scholarship and academic background to counter Russian mythology.
---


Read more:
Putin's war on history is another form of domestic repression


---
Margaret Atwood and Timothy Snyder will also deliver lectures, as will a long list of influential philosophers writing today, including Peter Godfrey-Smith, Sally Haslanger and Jennifer Nagel.
Ukraine's ambassador to Canada, Yulia Kovaliv, will deliver the closing remarks.
This conference will be broadcast for free. But the benefit event is meant to provide members of the public, individual academics, colleges and universities, professional societies, charitable foundations and private companies a way to support students, scholars and civic institutions in Ukraine.
Finally, I appreciate that the responsibility for pushing back the Russian army belongs to the Ukrainian military and its allies in NATO. But I nevertheless believe that by doing our part to support academics in Ukraine who are defending a democratic and peaceful society, we can help keep Ukraine running — and help ensure Ukrainian civil society flourishes in the 21st century.
Parts of this story appeared on the American Philosophical Association blog.