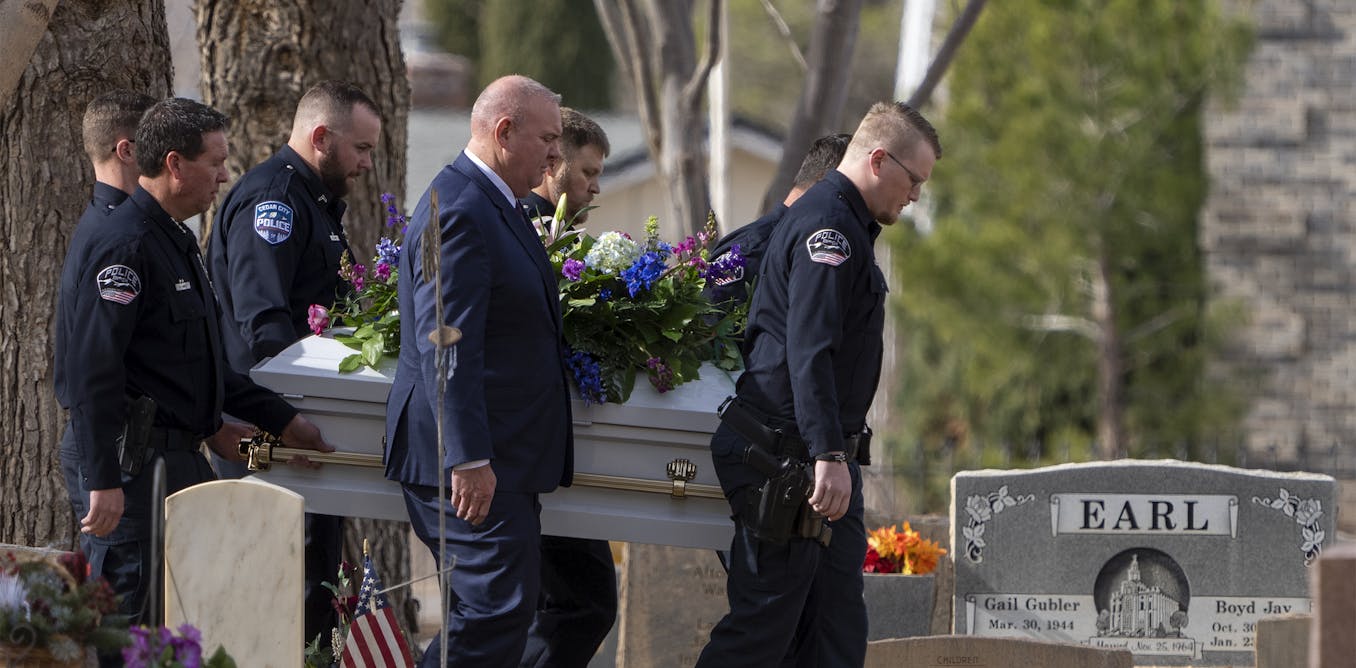 Why do men who kill their families still receive sympathetic news coverage?
As the number of mass shootings in the United States this year continues to grow, so too have family murder-suicides. It is only February, and already at least three families have been shot and killed by men who took their own lives afterwards, following a string of similar such killings in 2022.
While public mass shootings are roundly condemned in the US and generate intense debate in the media about gun control, my research has found that family mass shootings tend to receive a different, more varied kind of coverage.
Although gun control is sometimes talked about, the coverage often points to other causes – mental illness or the acts of violent men. Sometimes, they are simply portrayed as mysteries.
Compared to public mass shootings, perpetrators of family killings or "familicide" are also more likely to receive sympathetic coverage. Family members or friends sometimes ask what could lead a seemingly "loving" or "devoted" father to kill his family, shifting the focus from the victims' lives to that of an anguished man.
Such reporting profoundly silences victims and insinuates that perpetrators lack control over their actions. It also fails to provide the proper context to help us understand such hideous acts of violence.
---


Read more:
Why do men kill their families? Here's what the research says


---
Glowing obituary sparks a backlash
On January 4, Michael Haight shot and killed his five children – Macie, Briley, Ammon, Sienna and Gavin – his wife Tausha, and Tausha's mother, Gail Earl, before killing himself.
The role of mental illness in family violence was discussed in some news reporting and social media commentary on the case. This reflects similar trends in coverage of familicides in Australia and Ireland.
Perhaps most alarmingly, however, The Spectrum newspaper in Utah ran a glowing obituary for Haight, in which he was described as a doting father who "cherished" each of his children and "lived a life of service". Its publication was met with backlash and subsequently removed.
As Haley Swenson wrote for Slate,
Perhaps the statement that 'Good dads, good men, do not hurt, do not shoot, and do not kill their families' feels so obvious and uncontroversial it shouldn't need to be made. The Haight case suggests it may be worth saying out loud after all.
Families and friends cannot always provide a complete picture
Research has shown that family murder-suicides are routinely reported in a way that decontextualises them from the broader issue of domestic and family violence. Instead, these cases are often framed as unforeseeable family tragedies.
As Haight's obituary demonstrates, such sympathetic reporting is often shaped by the understandably complex responses of grieving family, friends and community members.
When Peter Miles shot and killed his wife Cynda, adult daughter Katrina and Katrina's four children – Taye, Rylan, Arye and Kadyn – in Western Australia in 2018, friends spoke of his struggles with depression.
Katrina's former partner and the father of the children who were killed initially talked about his "love" for Miles:
I still love who Peter was. If it wasn't for him, I wouldn't have Katrina, I wouldn't have her kids

It's not some random guy off the street who's taken them away from me – he gave them to me and now he's taken them away

If it had to happen, there is no better person than that.
When Fernando Manrique killed his two children, Elisa and Martin, wife Maria and himself in their New South Wales home in 2016, statements provided by neighbours and at the family's funeral also contributed to crafting a sympathetic picture in the news.
Manrique was cast as a father struggling from the "economic, social and psychological stresses" of caring for Elisa and Martin, who had autism.
In the direct aftermath of killings like these, the emotions of families and friends are still raw. People who have lost loved ones in this way often wish to "suspend analysis to enable [their] grief and loss to be felt".
And as more details come to light and people process their grief, their responses may change.
This is why media outlets shouldn't rely on these sources alone when reporting on familicides. In the absence of experts to provide context on what drives men to kill their families, an over-reliance on grieving families and friends can often present a one-sided picture of the suspect that doesn't tell the whole story.
Why violent tendencies sometimes go unnoticed
One reason these cases are perceived as happening "out of the blue" or due to mental illness is that the men are not always seen as violent or dangerous. It is common for perpetrators to hide these tendencies from those around them.
The coronial inquest into the NSW familicide, for instance, found that psychological stress from raising an autistic child likely had nothing to do with the killings. Manrique had begun planning the killings after Maria announced her intention to separate.
Tausha, her children, and mother were similarly killed two weeks after she filed for divorce from Haight. He had also been investigated for child abuse after his daughter, Macie, told police he had choked her, was verbally abusive to Tausha and exhibited controlling behaviours.
A history of domestic violence is common in familicides. Even in cases without a known history of abuse, perpetrators are driven by many of the same dynamics – a need for control and sense of entitlement over the fate of the family in decidedly patriarchal terms.
Neither good men nor aberrant monsters
These days, sympathetic coverage of perpetrators is often met with a swift rebuke.
This is encouraging. Sometimes, though, criticism of sympathetic coverage can devolve into a "monster narrative", in which perpetrators are framed as monsters, and little more.
Familicide is not the act of "nice" but ill men deserving of sympathy, nor monsters devoid of all human feeling or social context. Research suggests perpetrators commonly experience both intense, often painful emotions and a powerful sense of entitlement to control.
Setting up a binary between violent men and distressed men is unhelpful. It reinforces assumptions that violent men are always easy to identify, and that men who are experiencing distress cannot also be violent.
News reporting on familicides should focus on the humanity of the victims and hold perpetrators accountable, while not ignoring the way everyday gender norms contribute to legitimising this violence in the minds of perpetrators.