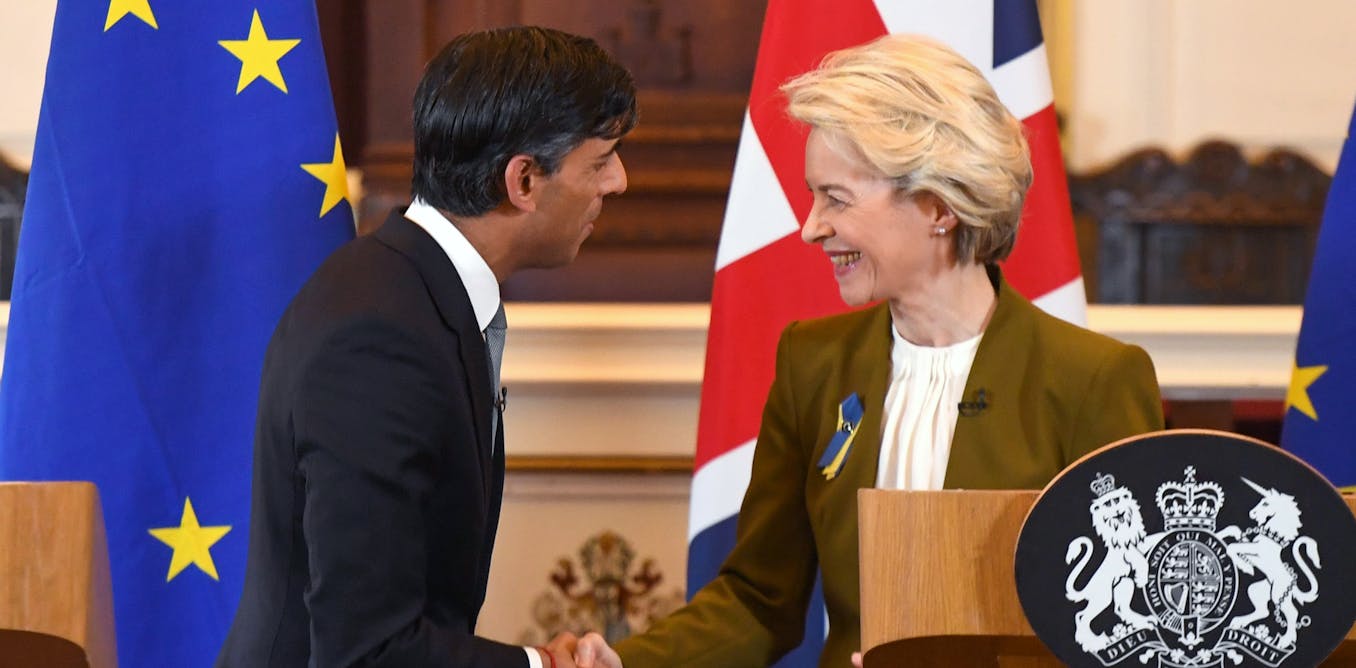 Windsor framework: why Rishi Sunak was able to secure the Brexit deal that others couldn't
For years, the EU-UK relationship has been bruised by the seemingly impossible puzzle of post-Brexit, Northern Ireland trade arrangements. Yet, after just four months of talks led by Rishi Sunak's government, we now have a new deal.
The "Windsor framework" was announced at the friendliest joint EU-UK press conference anyone can remember since at least 2016, and was crowned by a European Commission visit to the King.
The new framework amends the text and provisions of the Northern Ireland protocol, albeit without changing the fundamentals of the 2019 withdrawal agreement.
It does, however, go a surprisingly long way towards addressing the practical, day-to-day challenges of the protocol. And it sets the tone for a decidedly less acrimonious post-Brexit relationship across the channel – and, possibly, across both the Irish Sea and within Westminster.
Lawyers and political scientists are still poring over the text, but early word is that the EU has made more meaningful concessions than previously thought likely.
Most importantly, the emergency "Stormont brake" may now be invoked by representatives in the Northern Ireland Assembly to flag concerns about new EU rules that could affect it. This explicitly addresses the protocol's previous "democratic deficit" (as the UK government cleverly calls it) and is arguably the framework's biggest achievement.
Of course, the EU has covered its back. It has strengthened many safeguards, the European Court of Justice remains the "sole and ultimate arbiter of EU law" despite increased prominence of independent arbitration mechanisms, and the threshold for actually pulling the Stormont brake may also be rather higher than it seemed at first sight.
---


Read more:
Rishi Sunak's Brexit deal: how the Stormont brake could block new EU laws from Northern Ireland


---
While the jury on the deal's overall impact is still out, negotiators have clearly pulled off some ingenious resolutions to seemingly intractable problems.
Relationships of trust
Following years of ineffective circle-squaring, what has made this success possible? Former lord chancellor Robert Buckland MP, member of the Northern Ireland affairs committee, suggests it may all be due to relationships of trust – something that acts like a lubricant in the mechanisms of our modern, interdependent democracies.
After years of gratuitous swipes at European powers and a cavalier approach to truth from the highest echelons of UK political power, the anything-but-radical notion of trust indeed signals a sweeping change.
Boris Johnson and former top Brexit negotiator Lord Frost's had notoriously bullish stances towards the EU, and Liz Truss backed the ill-conceived Northern Ireland protocol bill, which would have unilaterally disapplied key parts of the protocol. So it is easy to forget that it was Theresa May who first set a blunt tone.
She also drew "red lines" on the EU's single market and customs union, which were irreconcilable with the level of market access she aspired to. Unable or unwilling to see the constraints, interests and incentives of her negotiating partners, May's tactics arguably derailed rather than furthered negotiations from the get-go.
Hard bargaining may be a legitimate negotiation tool, particularly when exercised by the more powerful partner. But it becomes self-defeating if it is not backed by credible constraints, sufficient power, or attractive alternatives, none of which the UK had at the time. It almost certainly led the EU to take a less cooperative stance of its own.
There's a case to be made that the choice for hard bargaining was deeply rooted in the makeup and culture of the UK's political institutions, in politicians' limited exposure to European ways of doing things, and a perhaps skewed perception of the UK's capacity and reasons for prior success.
But what most surprises the wearied Brexit observer was just how long it took for the government to realise its mistake of thinking the EU only responds to threats. That much was clear this week, when European Commission president Ursula von der Leyen attributed the Windsor success to "genuine political will".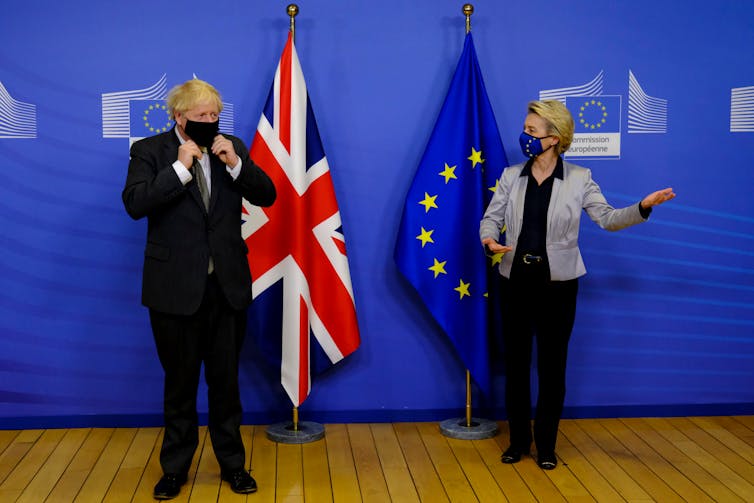 The context has also changed: the EU and UK joining forces to sanction Russia over its invasion of Ukraine, indeed the magnitude of that conflict itself, made a significant difference. Strong bilateral engagement, including with France, Germany and Brexit commissioner Maroš Šefčovič, did not go amiss either.
Domestically, in the Conservative party, the goalposts had also shifted – this time, there may also have been a pinch of fatigue in the mix. But the extent of the sea-change and its results came as a surprise for most.
Managing expectations
Another consequence of softer bargaining is that there were fewer promised concessions from government to other domestic actors, such as the European Research Group (ERG) of eurosceptic MPs, trade unions or business. Managing the expectations of involved parties and the public is essential for any deal to be perceived as acceptable.
This time, the government did not set itself up to fail by articulating unattainable goals, as the May government arguably did. Nor did it engage in a great deal of consultation with regional parties or factions of the Conservative party.
The relative secrecy of the technical negotiations, and delays to including other domestic actors, can be a double-edged sword. With May, it ended up undermining her power and reputation. With Sunak, who had to ignore some of the more hardline demands from within his own party in order to reach a deal, it has instead bolstered it.
There are still hurdles to clear. The Democratic Unionist Party is yet to pronounce itself. The ERG may find itself in a pickle but still has a lot of thirst for battle left. Boris Johnson has said he will find it "very difficult" to vote for the deal.
And the controversial retained EU law bill seeks to completely overhaul, without sufficient scrutiny, thousands of EU laws that were carried over into domestic legislation after Brexit.
The Windsor deal is a positive milestone on an ongoing journey, but whether it holds will be continually tested. Brexit will not get fully done in one day, or ever. It will be a constant management of a close, but complicated relationship between the UK and its closest partner.