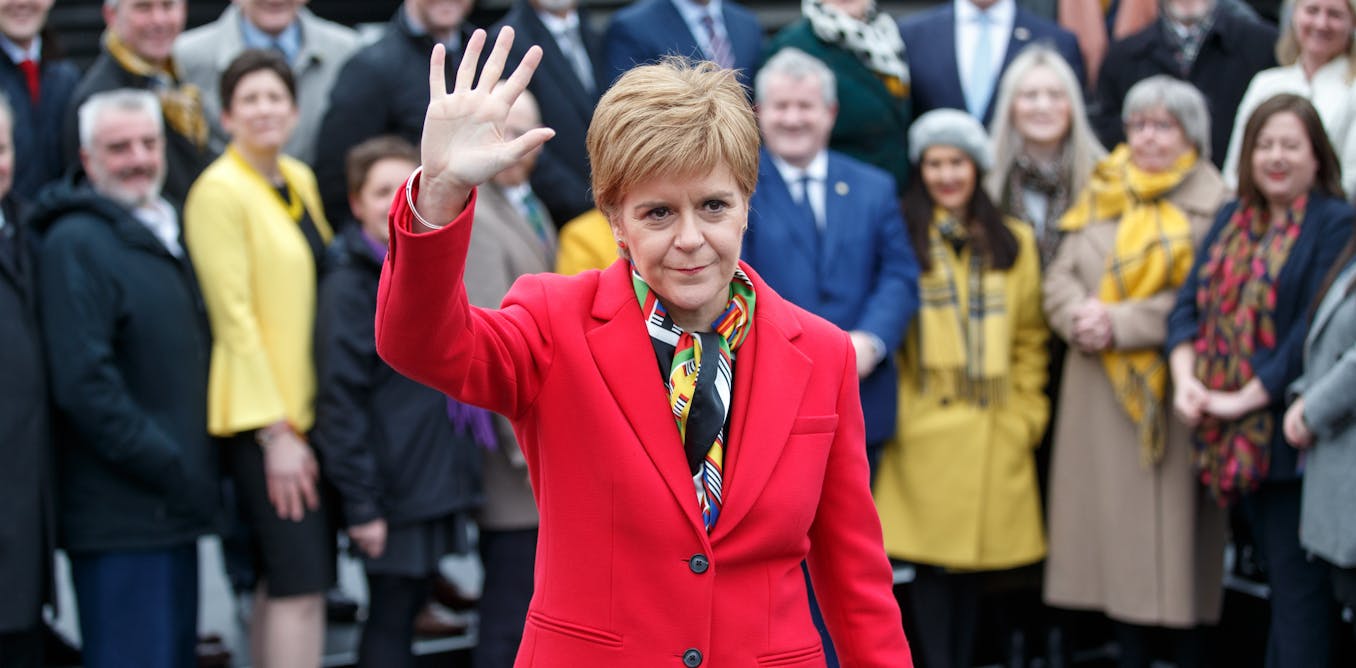 Women politicians pay too high a personal cost for their leadership
In the wake of her decision to resign, Nicola Sturgeon, Scotland's outgoing first minister, said that life for women politicians who "put their head above the parapet" is "much harsher" and "more hostile" now than at any time in her decades-long career.
Women are better represented in politics than ever and with flourishing online feminist activism such as #MeToo, more and more women publicly claim their rights. This, however, has created a backlash against women's rights that women in the public eye bear the brunt of.
There are more women than ever in political office. As of December 2022, 26.4% of parliamentarians worldwide are women and there are 30 women serving as elected heads of state or heads of government.
Yet, the UN Women agency calculates that at the current rate, it will take 130 years to reach gender equality in the highest positions of power. The trajectory is upward. The rate of progress, slow.
Having women dare to "put their head above the parapet" is important. Research has shown that most legislative changes on women's issues worldwide have been achieved thanks to pressure from feminist movements. Where women are part of the decision-making process they are able to instigate change and improve lives, not only by addressing women's issues but also by, for instance, promoting welfare policies and investing in public goods. This is also a very current issue. As we emerge from the COVID-19 pandemic, it has been argued that countries headed through the crisis by women leaders emerged form the pandemic in better shape.
Impact of abuse
All this raises a dilemma. Women's involvement in politics has been hard won but those who lead the way appear to be paying a high cost. There may be more women in offices of authority and influence than ever before, but everyday women in such positions face violence and abuse directed towards them: from sexist and misogynist comments about their appearance to death and rape threats to physical assault. This is abuse that men do not suffer to the same extent.
Violence against women serves to reinforce a gender system where the roles, responsibilities and norms of women and men are clearly defined. Those who fall outside of them are punished and forced to comply. Women challenging the idea of politics and the public sphere as a "man's world" are targeted to "show them their place in society" and that has consequences.
A report on violence against women politicians in South Asia, for example, found that 90% of women in India, Nepal and Pakistan felt that violence breaks their resolve to join politics. Another Report by the Fawcett Society this year found that 93% of women MPs in the UK said that online abuse or harassment has a negative impact on how they feel about being an MP.
For our work with Amnesty International on violence against women and girls, we had no shortage of case studies of women in the public sphere who spoke up only to be faced with online and offline violence. Often this abuse is compounded by a host of demographic factors, including race, ethnicity, class, sexuality, religion and disability. Diane Abbott, the UK's first black female MP, who has been in the job since 1987, came close to quitting due to racist and sexualised abuse.
For Angela Rayner, Labour's deputy leader, negative media attention "wasn't just about me as a woman … it was also steeped in classism and about where I come from, where I grew up".
Kim Leadbeater, sister of the murdered MP Jo Cox, was faced with a barrage of homophobic abuse while campaigning for Batley and Spen. In the UK, Jewish and Muslim women MPs face the most abuse on social media.
In only six weeks in 2022, Muslim MP Naz Shah received nearly 5,000 toxic messages on Twitter. Shah says she has come to see it as part of her routine:
I still wake up to a daily barrage of racist, Islamophobic, sexist and hate-filled tweets.
How to respond?
We need to think about how key institutions (political parties, parliaments, governments) deal with the abuse directed at women who put themselves forward. State legislation, such as the UK's online safety bill or Bolivia's 2012 law specifically criminalising political violence and harassment against women, are important steps in the right direction. But without addressing the still all-too common attitudes that assign women to the private sphere and define politics as the sphere of men, we will not be able to solve the problem.
Without creating an awareness among young adults of violence against women and girls, its causes and possible solutions, women who engage in online and offline politics will remain targets of bias based on gender. Indeed, we need political institutions to lead in this cause instead of leaving organisations such as the UN and Amnesty to bear the burden.