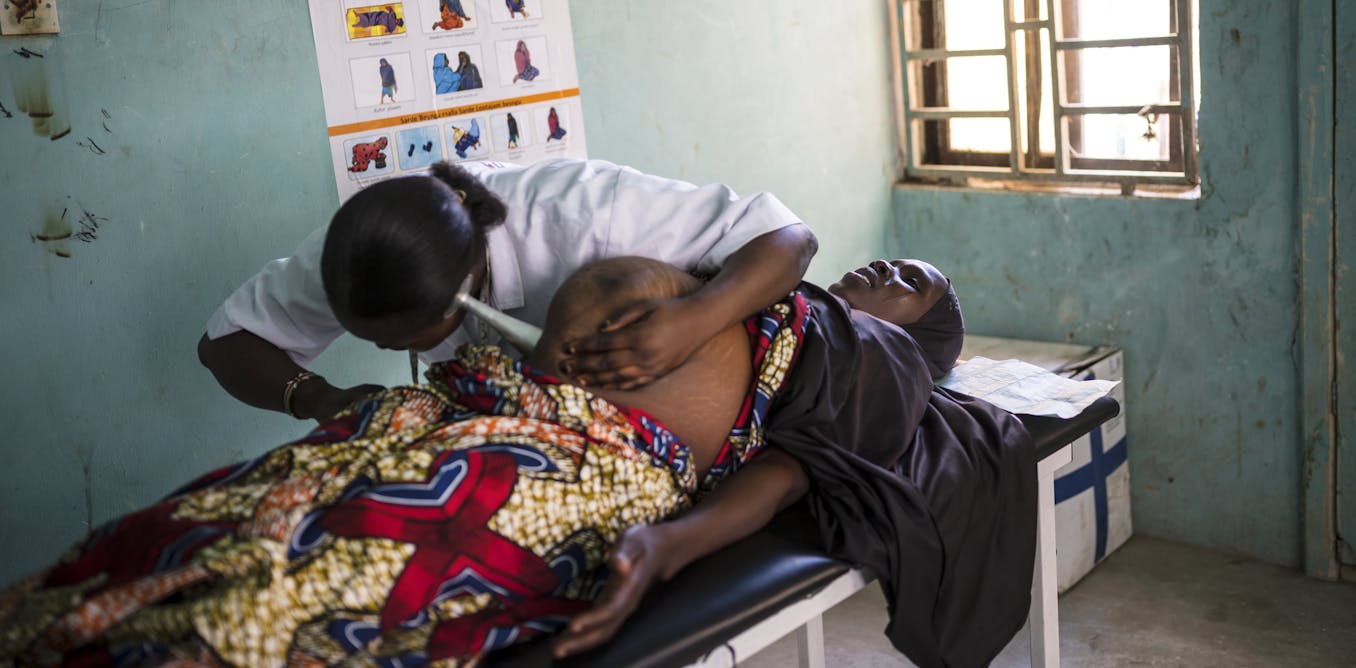 Women's rights exist only on paper in Nigeria: Five core issues a new president needs to address urgently
Violence against African women and the widespread violation of their basic human rights is shaped by societal and cultural barriers. In Nigeria, women's rights appear to be protected. The country is a signatory to many international conventions and norms such as the Convention on the Elimination of all forms of Discrimination Against Women and the Solemn Declaration on Gender Equality in Africa. Yet this protection is mostly on paper.
In a recent book chapter about African women in politics, I've noted that an African woman is too commonly labelled by her marital position as a wife of an African man. She is seen as an appendage of that man, a mere shadow.
But this has not always been the case. History tells us that there have been many great African women who rose to leadership and pioneered innovation. In Nigeria, activists like Funmilayo Ransome Kuti and Margaret Ekpo come to mind. History professor Bolanle Awe is another.
Yet the subjugation of women's rights, interests, benefits and endowments is a key issue facing Nigeria. When women have opportunities, a country's economic productivity and development is enhanced across the board. Therefore Nigeria's leaders would do well to pay urgent attention to five areas of concern: education for girls, gender-based violence, representation of women in politics, maternal health, and women's economic empowerment.
1. Education for girls
Education enhances the decision-making power of women and imparts the knowledge and skills required to contribute to society. And the right to education is enshrined in section 18 (1) of Nigeria's Constitution 1999. The provision enjoins the government to direct its policy towards ensuring there are equal and adequate educational opportunities at all levels. Education should be free and compulsory for all children of school age.
But in Nigeria there is a large disparity between the education of boys and that of girls. In 2010, the female adult literacy rate (ages 15 and above) for Nigeria was 59.4% while the literacy rate for males was 74.4%. Of more than 10 million children who are out of school or do not have access to adequate education past a certain age, 60% are girls.
Some families, especially in the North East and North West don't want to expose their girl children to abduction and abuse. Some girls are "given" in marriage at a very young age. About 43% of girls in Nigeria are married before their 18th birthday and 16% are married before the age of 15.
Nigeria has experienced growing abduction and kidnapping of school children, with many girls forced into marriage or impregnated by their kidnappers. At least 1409 students have been kidnapped from their schools in Nigeria since the first incident in the country's latest school abduction epidemic which started in March 2020.
2. Gender-based violence
Women in Nigeria, regardless of demographic factors like age, social status, education, ethnicity, religion, and mental and physical ability, have been subjected to varying degrees of violence.
There is a need for the government to enforce the laws that punish offenders. Nigeria's constitution provides that every individual's dignity should be respected and nobody should be subjected to torture or to inhuman or degrading treatment. The Violence Against Persons Prohibition Act also prohibits all forms of violence in private and public life, while providing maximum protection and effective remedies for victims and punishment for offenders.
States that have not passed this into law should do so. As at June 2021, only 18 out of 36 states of the Federation had passed similar laws.
3. Women in politics
In Nigeria, only 6% of women are active in politics. Of the 109 senators in the parliament, only eight (7.34%) of them are women.
Nigeria is yet to reach the benchmark by the Beijing Declaration Platform for Action endorsed by the Economic and Social Council of having 30% women in positions at decision-making levels by 1995. Quotas would increase the number of women occupying positions of leadership in governance. This would help to have more women representing their own interests and the interests of the larger society.
Intimidation adds to the low representation of women in governance. In a democracy, all citizens should have an equal say in the governance of the country, and benefit equally from their outcomes. Women have been the targets of violence during elections, to discourage them from vying for positions. They have faced physical, sexual, psychological and socio-economic violence. The government must ensure that political parties provide a level playing ground for all and punish any act of violence against women.
4. Maternal health
Nigeria accounts for over 34% of global maternal deaths. The lifetime risk of dying during pregnancy, childbirth, postpartum, or after an abortion for a Nigerian woman is one in 22, compared to one in 4,900 in developed countries.
Government must provide free and adequate healthcare for expectant mothers and their babies.
5. Economic empowerment
More than 18% of households in Nigeria are headed by women. But they often lack access to, and control over, productive resources, and are not recognised as fully participating economic actors. With limited income, it's difficult to provide for their households.
Training, networking and mentoring, orientation and enlightenment, legislative and value changes, financial support and empowerment can contribute to changing this.
Equality and trust
Nigeria's leaders should not relegate women to the background and treat them like second class citizens. Giving everyone equal opportunities enhances trust in government and brings about good governance in the long run.